Emily Ratajkowski Turns Heads in Sheer Gold Mini Dress for Odell Beckham Jr.'s Birthday Party
However, her night was far from over as she continued to captivate onlookers when she later attended Odell Beckham Jr.'s birthday party.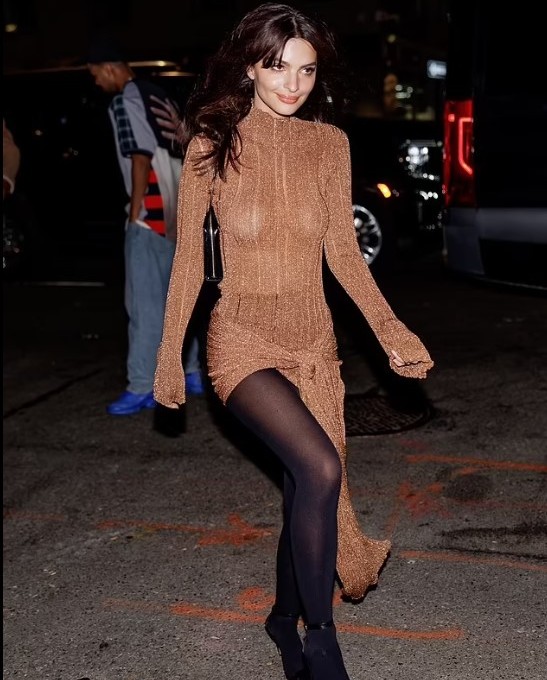 The 32-year-old supermodel left little to the imagination, opting to go braless in a sheer gold mini dress that showcased her sensational figure. The daring attire featured long sleeves and a cinched waist, with a lengthy sash gracefully trailing behind her as she moved through the evening.
To complete her striking ensemble, Emily paired the golden dress with black tights and towering platform heels, confidently making her way into the star-studded bash. Among the attendees were other renowned figures like Winnie Harlow and Kim Kardashian.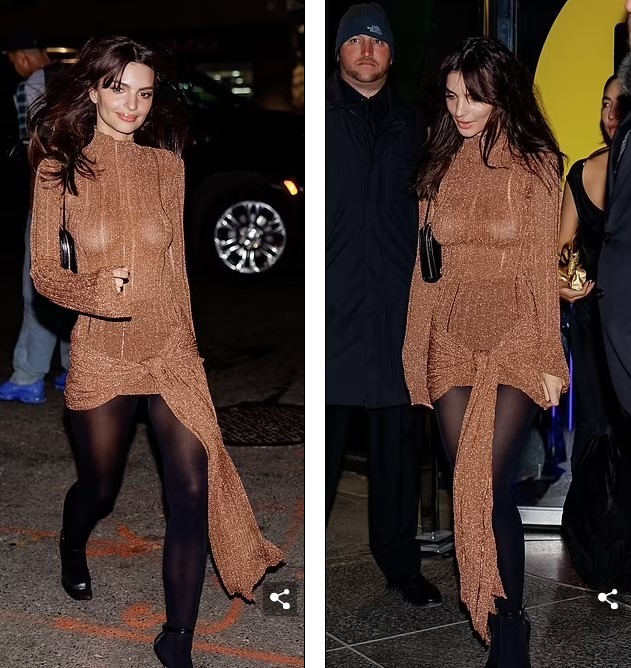 Earlier in the evening, Emily graced the annual CFDA Fashion Awards, hosted at the American Museum of National History. For this event, she sported a pale green one-shoulder dress with a hemline that tantalizingly grazed her thigh.
The supermodel appeared in high spirits as she enjoyed her night out in the Big Apple, following her recent travels to France. During her stay in Paris, Emily garnered attention when she was spotted sharing a passionate kiss with comedian Stéphane Bak.
The pair were captured sipping wine outside on a city street before embracing in a heartfelt kiss. Nonetheless, insiders have clarified that their public display of affection does not indicate a serious relationship.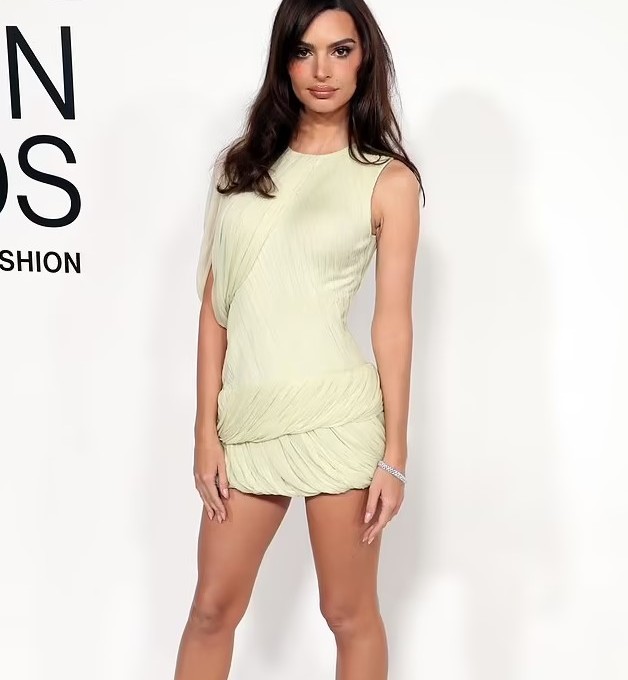 A source exclusively informed DailyMail.com, stating, "If you are funny, you have a chance with Emily - and Stéphane is very confident, has a great sense of humor, and is easy to get along with. It is just a good time."
The insider further emphasized that Emily is "all about living her life and seeing who enters it," taking things as they come with an open heart.
Emily's romantic escapade with Stéphane follows her high-profile kiss with former One Direction member Harry Styles in Tokyo seven months ago. She has previously been linked to various celebrities, including Eric Andre and former SNL comedian Pete Davidson.
Previously married to Sebastian Bear-McClard from 2018 until their split in July 2022, Emily's primary focus now centers on raising her two-year-old son, Sly, whom she shares with her ex-husband.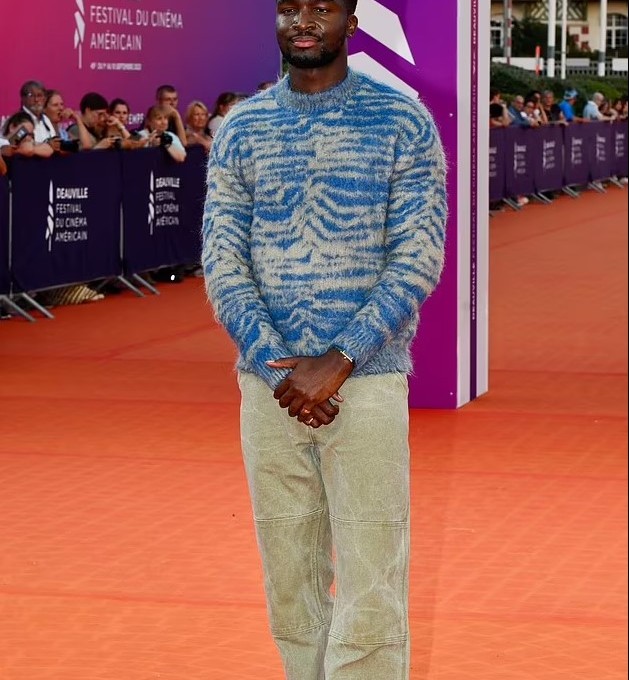 Emily Ratajkowski is a famous American model, actress, and author. She is known for her stunning good looks, her provocative photoshoots, and her outspoken views on sexuality and feminism.
Why is Emily Ratajkowski so famous?
Emily Ratajkowski became famous in 2013 when she appeared in the music video for Robin Thicke's song "Blurred Lines." The video was controversial for its sexualized content, but it made Ratajkowski a household name.
Ratajkowski's fame continued to grow in the years that followed. She appeared in magazines such as Vogue, Sports Illustrated, and GQ. She also starred in films such as Gone Girl and We Are Your Friends.
Ratajkowski is also a successful author. She released her memoir, My Body, in 2021. The book is a candid account of her experiences as a woman in the modeling industry and her thoughts on sexuality and feminism.
How did Emily Ratajkowski lose weight?
Emily Ratajkowski has not publicly disclosed how she lost weight. However, she has said that she eats a healthy diet and exercises regularly. She has also said that she does not believe in crash diets or quick fixes.
What movies has Emily Ratajkowski played in?
Emily Ratajkowski has appeared in the following films:
Gone Girl (2014)
We Are Your Friends (2015)
Entourage (2015)
I Feel Pretty (2018)
Lying and Stealing (2019)
Call of Duty: Modern Warfare (2019)
Cruella (2021)
What high school did Emily Ratajkowski go to?
Emily Ratajkowski attended San Dieguito Academy in Encinitas, California. She graduated in 2009.
Emily Ratajkowski is a talented and successful model, actress, and author. She is also a strong advocate for women's rights and body positivity.
Emily Ratajkowski Net Worth 2023: As of January 2023, Emily Ratajkowski's net worth was estimated to be around $8 million. Keep in mind that her net worth can change over time due to various factors, including her work and investments.
Emily Ratajkowski Pete Davidson: Emily Ratajkowski and Pete Davidson are not known to be romantically linked. They have not been reported to be in a relationship or have any significant public interactions together.
Emily Ratajkowski Baby Father: Emily Ratajkowski's son, Sylvester Apollo Bear, was born in March 2021. His father is Emily's husband, Sebastian Bear-McClard. Sebastian and Emily got married in February 2018.
Emily Ratajkowski Ethnic Background: Emily Ratajkowski has a diverse ethnic background. Her father, John David Ratajkowski, has Polish, Ukrainian, and Polish Jewish ancestry, while her mother, Kathleen Balgley, is of English, Irish, German, and Polish descent. Emily has often discussed the complexities of her identity, being proud of her mixed heritage.
Emily Ratajkowski and Brad Pitt: There have been no reports or indications of a romantic relationship between Emily Ratajkowski and Brad Pitt. They have not been publicly linked in any significant way.
Emily Ratajkowski Husband Height: Sebastian Bear-McClard, Emily Ratajkowski's husband, is approximately 6 feet 3 inches (190 cm) tall.
Emily Ratajkowski IMDb: Emily Ratajkowski has an IMDb (Internet Movie Database) page where you can find information about her filmography, acting roles, and other related details. You can visit her IMDb page to explore her work in the entertainment industry.