Eva Longoria, 48, Stuns in Revealing Dress at Star-Studded Gala Despite Recent Loss
The 48-year-old actress attended the Audi Q8 e-tron at the 12th Annual LACMA Art+Film Gala in Los Angeles.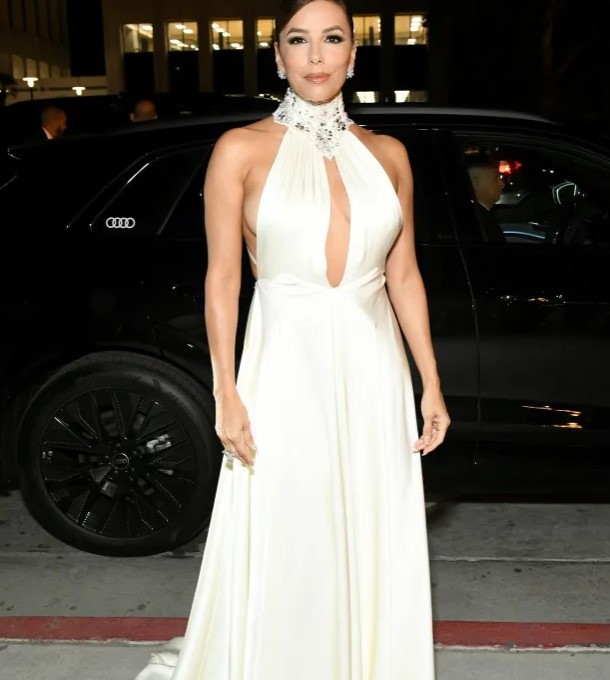 Eva Longoria, best known for her role in "Desperate Housewives," showcased her timeless beauty in a captivating silky white gown with a design reminiscent of Marilyn Monroe's iconic style. The gown featured a daring plunging neckline that elegantly gathered at the waist and gracefully flowed outwards. Eva confidently flaunted a stunning look, complete with a display of cleavage and side boob, adorned with beautiful crystal gems at the neckline.
The star complemented her attire with full glam makeup and elegantly styled her brunette hair in a sophisticated bun. She graciously smiled for the cameras and engaged in conversations with friends at the star-studded gala.
Eva Longoria's public appearance followed the tragic news of her ex-husband, Tyler Christopher, who passed away at the age of 50. Tyler Christopher was renowned for his roles in daytime soap operas, notably "Days of Our Lives."
The news of Tyler Christopher's passing was shared by General Hospital star Maurice Bernard, who expressed deep sadness over the loss. Tyler passed away due to a cardiac event in his San Diego apartment. He was remembered as a talented actor who brought joy to his loyal fans through his performances. He was also an advocate for better mental health and substance use treatment, openly discussing his struggles with bipolar depression and alcohol.
The news of Tyler Christopher's passing prompted an outpouring of heartfelt messages from fans and colleagues, expressing their sorrow and offering condolences to Tyler's family and friends.
Tyler Christopher's death followed a history of personal struggles, including a previous arrest for public intoxication. Despite these challenges, he is survived by two children, Greysun and Boheme, whom he shared with his ex-wife, Brienne Pedigo, who is also an actress. As of now, Eva Longoria has not released a statement regarding his passing.
Eva Longoria, known for her ageless beauty and captivating appearances in recent events and ad campaigns, continues to inspire her fans with her grace and style. Her recent appearances, including the National Hispanic Media Coalition's Annual Gala, where she nearly faced a wardrobe malfunction in a stunning red dress, demonstrate her ongoing influence and glamorous presence on the red carpet.
Eva Longoria confidently displayed her impeccable figure in a form-fitting red turtleneck gown with a daringly high slit along the left leg. Gold buttons adorned the dress, holding the gap together as it extended up her hip and into her waistline. The gown also featured matching gold buttons along the shoulders and a train that gracefully swept the floor.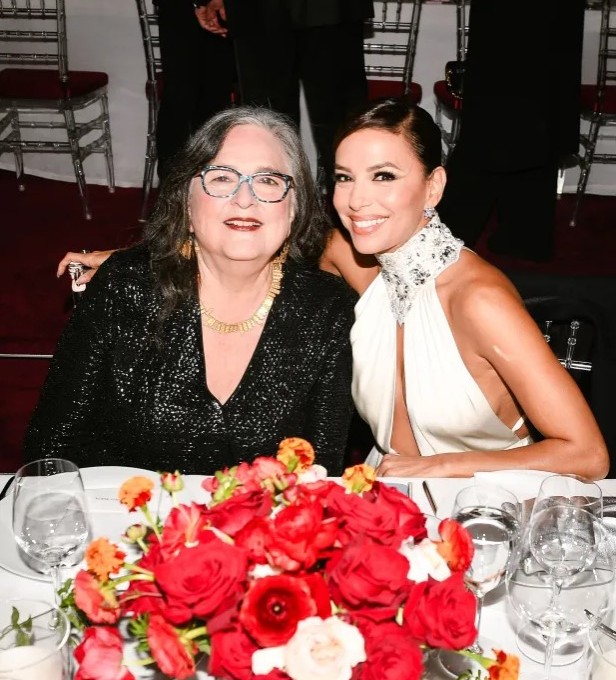 Eva Longoria does have biological children, a son named Santiago Enrique Bastón. She is 5'3" tall. Tyler Christopher was married to Eva Longoria from 2002 to 2004.
Eva Longoria Young: Eva Longoria, born on March 15, 1975, in Corpus Christi, Texas, came to prominence in her early career through roles in soap operas and later gained widespread recognition for her role as Gabrielle Solis in the TV series "Desperate Housewives." She was in her late 20s when she began her career in the entertainment industry, and her youthful appearance and talent contributed to her rapid success. Eva Longoria's youthful appearance has been one of her distinguishing features throughout her career. Please note that her age may have changed since my last update, and you may need to check for the latest information on her.
Eva Longoria Movies: Eva Longoria has had a successful career in both television and film. Some of the notable movies she has appeared in include "Desperate Housewives" (TV series), "Over Her Dead Body," "The Sentinel," "Harsh Times," "The Heartbreak Kid," "For Greater Glory," "Lowriders," and "Dora and the Lost City of Gold," among others. She has showcased her versatility as an actress in various genres.
Eva Longoria Children: In January 2022, Eva Longoria has one child. She gave birth to her son, Santiago Enrique Bastón, on June 19, 2018. Santiago's father is Eva's husband, José "Pepe" Bastón, a prominent businessman. Please note that there may have been developments or changes since my last update.
Eva Longoria Height: Eva Longoria stands at a height of 5 feet 2 inches (157 cm). She is known for her petite stature and has been a prominent figure in the entertainment industry despite her relatively shorter height.
Eva Longoria Net Worth: Eva Longoria is an American actress, producer, director, and businesswoman known for her work in television and film. Her estimated net worth as of 2022 is approximately $80 million. Longoria has built her wealth through her acting career, endorsement deals, and various business ventures, making her one of the wealthiest actresses in Hollywood.