Florence Pugh steals the show in black beaded crop top as she reunites with ex Zach Braff at premiere of A Good Person
The actress, 27, who split from her partner of three years Zach, 47, last year, looked incredible in a pair of grey checked trousers.
She teamed them with a high-necked black crop top that showed off her toned tummy and was encrusted in sparkling beaded detailing.
The Oscar-nominated movie star added a pair of black gloves for an added dramatic touch, which had black fabric draped from them that flowed to the floor.
Florence added a few extra inches of height to her petite frame in a pair of black high heels.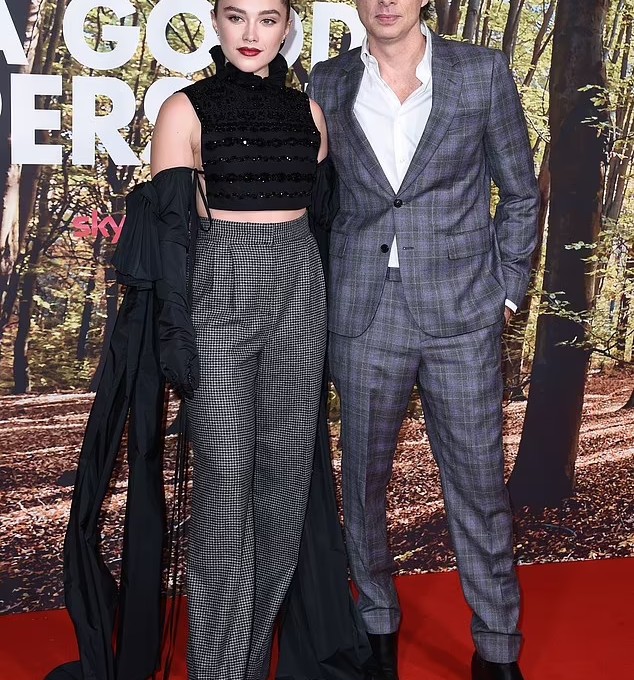 Florence sported a full face of glamorous make-up to enhance her natural beauty, including a dusting of blush and a slick of dark red lipstick.
Meanwhile, Zach cut a dapper figure in a grey plaid blazer, that he teamed with a coordinating pair of trousers.
He added a pair of shiny smart black shoes and a white shirt which he left unbuttoned at the collar.
Also in attendance at the premiere was Anna Shaffer, who put on a leggy display in a black velvet minidress.
She kept the cold at bay by adding a pair of sheer black tights and elevated her height in a pair of matching high heels.
Her brunette locks were styled in her natural curls and she finished her look with a light palette of make-up.
She was joined by Tanya Burr who cut a stylish figure in a black velvet zip-up jumpsuit with black boots.
Conrad Khan looked smart in a navy blue jumper, grey slacks and a pair of shiny black loafers.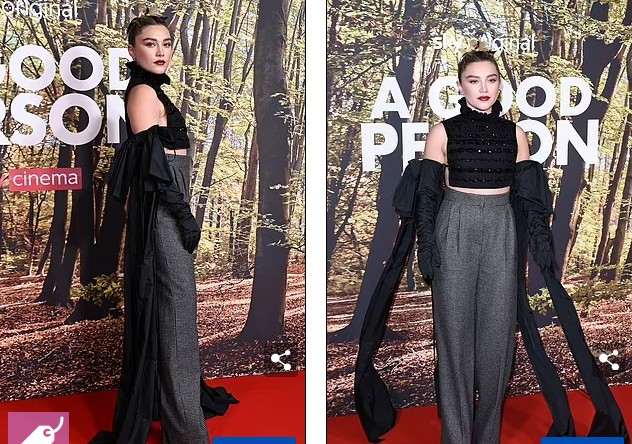 In August last year, Florence announced she and her boyfriend Zach had split up after three years together.
The actress revealed in an interview with Harper's Bazaar she and the Scrubs star had gone their separate ways.
The pair worked to keep their relationship out of the public eye, with Florence saying they wanted to break up in private.
She said: 'We've been trying to do this separation without the world knowing, because it's been a relationship that everybody has an opinion on.
'We just felt something like this would really do us the benefit of not having millions of people telling us how happy they are that we're not together. So we've done that. I automatically get a lumpy throat when I talk about it.'
Florence did not reveal when exactly she and Zach broke up, but they were still together in April when she wished him a happy 47th birthday on Instagram.
The Little Women star posted several photos of the actor with their pet pooch Billie to her stories and wrote: 'Happy Birthday Zachary'.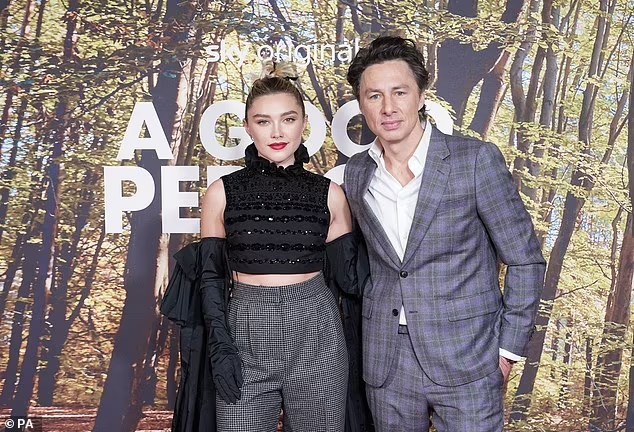 The 21-year age gap between the pair drew attention during their three-year courtship.
In 2021, Florence spoke to The sunday Times about the cruel comments she received from trolls after wishing Zach a happy 46th birthday.
She said: 'I think it bugs people that it's not who they expected. But it's my life and I'm not doing anything to please people or to make it a better headline or story. I want to also be a person!'
Prior to their split, Florence and Zach were working on the film A Good Person together, which he directed.
Zach sang Florence's praises during the production of the project, calling her 'one of the best actresses working' today.
Speaking to Collider, he said: 'Florence Pugh's performance in the movie, I know I'm biased, but it's the most miraculous thing you will ever see.
The former couple first met on the set of his short film In the Time It Takes to Get There, and they first ignited romance rumours in April 2019 when they were spotted holding hands, but neither confirmed anything until the following December.