Former 'Bachelorette' Gabby Windey Opens Up on 'The View': Reveals New Relationship with a Woman
Gabby Windey's Courageous Journey to Self-Discovery and Authenticity

In a world where personal authenticity is increasingly valued, the journey of Gabby Windey stands as a shining example of self-discovery and the power of embracing one's truth. The reality TV star, known for her appearances on "The Bachelor" and "The Bachelorette," captivated the hearts of fans and viewers not only through her appearances on the shows but also through her candid revelation about her newfound happiness in a same-sex relationship. Her appearance on "The View" marked a pivotal moment in her life, sparking conversations, garnering support, and leaving an indelible impact on her audience.

The Rise to Fame: From "The Bachelor" to "The Bachelorette"

Gabby Windey's journey to self-discovery began on the 26th season of the popular reality show "The Bachelor." As a contestant, she competed for the affection of Clayton Echard, capturing the attention of viewers with her charm, wit, and authenticity. Her presence on the show earned her a loyal fan base that continued to follow her journey even after her initial appearance.

Later, Gabby's journey took an unexpected turn as she co-headlined "The Bachelorette" season 19 with Rachel Recchia. This decision marked a significant moment in the franchise, as it showcased a diverse and inclusive approach to finding love. Gabby's appearance on "The Bachelorette" was marked by her openness and willingness to explore her emotions and connections, leading to moments that resonated deeply with her audience.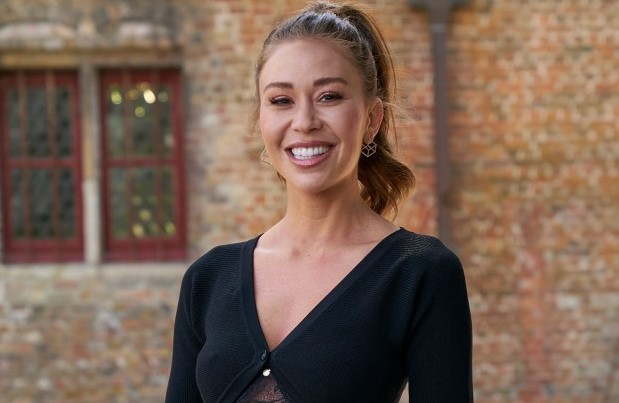 A Heartfelt Engagement and a Heartbreaking Split

Following her time on "The Bachelorette," Gabby's romantic journey seemed to take a positive turn as she got engaged to fellow contestant Erich Schwer. The couple's relationship was celebrated by fans and followers, and their engagement became a symbol of hope for those who believed in the authenticity of reality TV relationships. However, as life often presents unexpected challenges, Gabby and Erich announced their split in November 2022. The news of their separation surprised many, leaving fans wondering about Gabby's next steps.

A Period of Reflection and Curiosity

After her highly publicized split, Gabby Windey chose to take a step back from the spotlight. Her presence on social media became less frequent, and she refrained from sharing intimate details about her personal life. This period of silence led to heightened curiosity among her fans, who wondered about the direction her life was taking.

The Courageous Revelation on "The View"

Amidst the curiosity and speculation, Gabby Windey made a triumphant return to the public eye with an appearance on the popular daytime talk show "The View." In a heartfelt and candid moment, Gabby shared her journey of self-discovery, courageously revealing that she was in a happy relationship with a woman. This revelation came as a surprise to many, given Gabby's previous relationships portrayed on reality television.

Embracing Authenticity and Overcoming Challenges

Gabby's decision to come out as being in a same-sex relationship was met with admiration and support from both her fans and the hosts of "The View." However, this decision was not without its challenges. Gabby openly discussed the emotions of shame and uncertainty she had experienced while navigating her sexual identity. Her willingness to share these vulnerable moments highlighted the common struggles faced by individuals when confronting their true selves.

Throughout her journey, Gabby's resolve to prioritize her authentic self remained steadfast. Her decision to come out reflected her deep desire to live in alignment with her truth and to embrace the love that had entered her life.

The Importance of Supportive Voices

The hosts of "The View," including Sara Haines, Sunny Hostin, and Joy Behar, responded to Gabby's revelation with warmth and encouragement. Sunny Hostin acknowledged the unexpected nature of the revelation, and Gabby herself humorously acknowledged the twists and turns her love life had taken. This positive response underscored the significance of acceptance, understanding, and empathy in matters of personal relationships and self-identity.

A Trend of Authenticity in the Reality TV World

Gabby Windey's decision to come out as being in a same-sex relationship aligns with a growing trend of authenticity among former contestants of "The Bachelor" franchise. Notably, Becca Tilley, who appeared on multiple seasons of the show, publicly revealed her relationship with singer Hayley Kiyoko in May 2022. These brave revelations contribute to a broader cultural shift towards acknowledging diverse identities and celebrating personal authenticity.

An Inspiration for Many

In the aftermath of her appearance on "The View," Gabby Windey's journey to self-discovery and self-acceptance serves as an inspiration to countless individuals. Her story demonstrates the power of vulnerability, courage, and the pursuit of personal happiness. As conversations surrounding her revelation continue to unfold, Gabby's authenticity and honesty stand as a testament to the importance of living true to oneself, regardless of public scrutiny.

In a world that often demands conformity, Gabby Windey's journey reminds us that embracing one's truth is a transformative act of empowerment. Her courage and openness inspire others to embark on their own journeys of self-discovery, paving the way for a more inclusive and compassionate society.