Georgina Rodriguez Commands Attention at Football Match in High-End Style While Supporting Cristiano Ronaldo
The 29-year-old Netflix star, who has shared a relationship with the 38-year-old professional footballer since 2016, showcased her captivating figure in a pair of sleek and body-hugging Guess skinny jeans, with an approximate market value of £100. She completed her outfit with a tied-up yellow Al-Nassr jersey, radiating solidarity with her husband's team.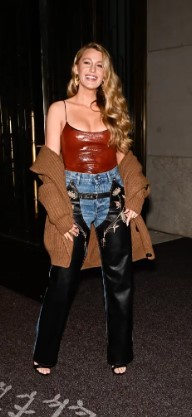 However, Georgina's attire was a celebration of high fashion as she accessorized with a pale blue Birkin Alligator handbag, estimated to be worth around £115,000. The Spanish beauty made an impactful entrance onto the football pitch in Saudi Arabia, no doubt catching the attention of spectators and fans.

Georgina was present to support her beloved husband during the thrilling Al-Nassr FC (KSA) vs. Al-Duhail SC (QAT) match, part of the AFC Champions League 2023-24. Cristiano Ronaldo delivered a masterful performance, earning him the title of Man of the Match, contributing significantly to Al-Nassr's 4-3 victory over Al-Duhail, with Ronaldo netting two of the team's goals.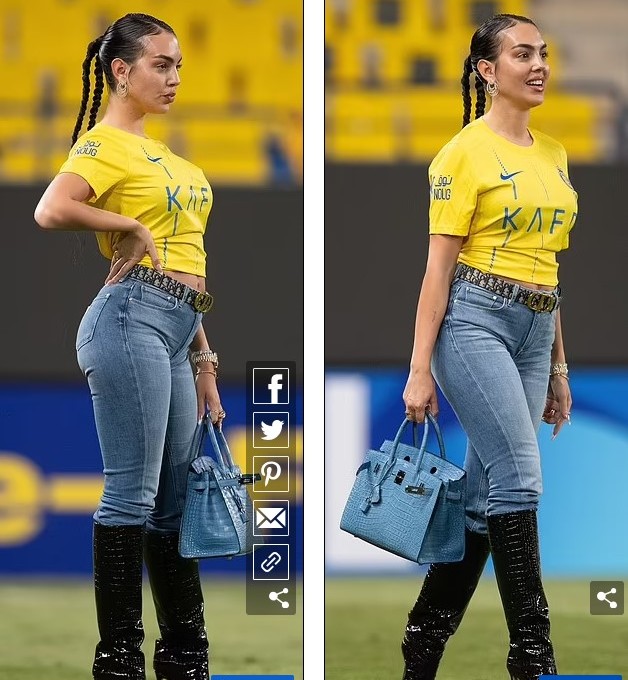 In addition to her haute couture, Georgina further accentuated her ensemble with elegant black crocodile print heels from Le Silla, an investment piece exceeding £1,000 in value, and a £330 Dior belt that cinched her waist perfectly. Her raven locks were elegantly swept back into a sleek double-plait ponytail, exuding grace and sophistication.

Taking to her popular Instagram account, Georgina shared a series of captivating snapshots from the memorable match, adding the heartwarming caption: "We won #family." This gesture was an acknowledgment of the strong bond and support the couple shares both on and off the field.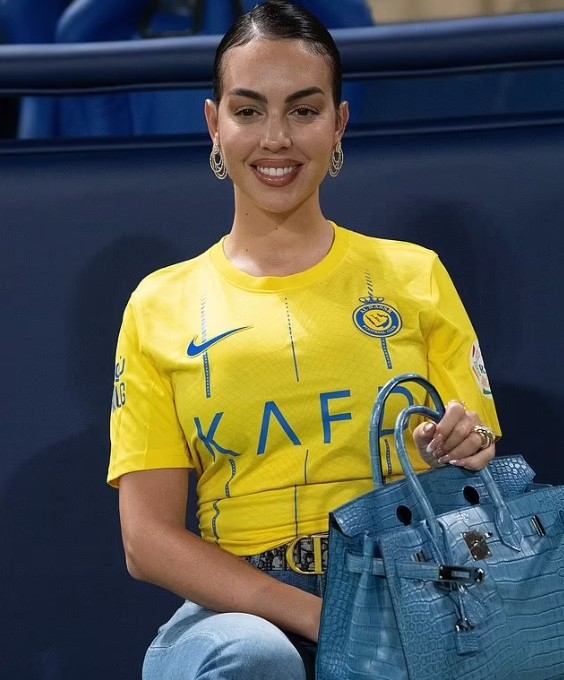 Ronaldo and Georgina are devoted parents to two adorable children, Alana, who is five years old, and Bella, who is 18 months. Tragically, they experienced the heartbreaking loss of Bella's twin brother, Angel, during childbirth in April 2022.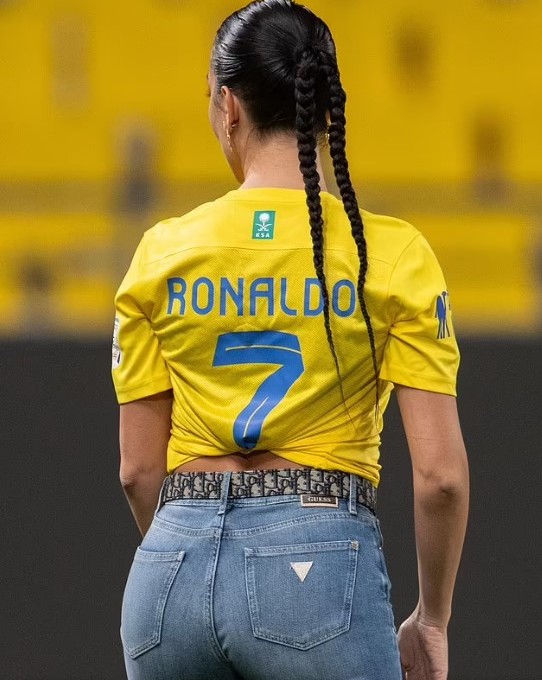 Georgina also plays the role of a loving stepmother to Ronaldo's three children, namely Cristiano Jr., aged 13, and the six-year-old twins Mateo and Eva. A glimpse into their family life was offered as Georgina shared an endearing selfie with Mateo, both sporting football jerseys, with the little one flashing a playful thumbs-up for the camera.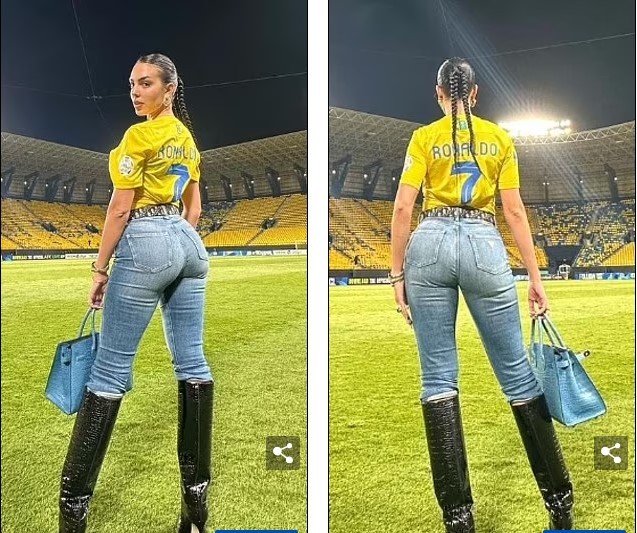 In a lighter moment, Georgina also posted a delightful image of her latte, featuring a foam art rendition of her own face, showcasing her playful and artistic side.

Tragically, Georgina previously opened up about her personal journey, revealing that she had suffered three miscarriages before experiencing the devastating loss of her newborn son, Angel. Speaking on her Netflix show, she recounted the emotional turmoil she endured during the pregnancy, emphasizing the relief and joy that followed the successful birth of her twins.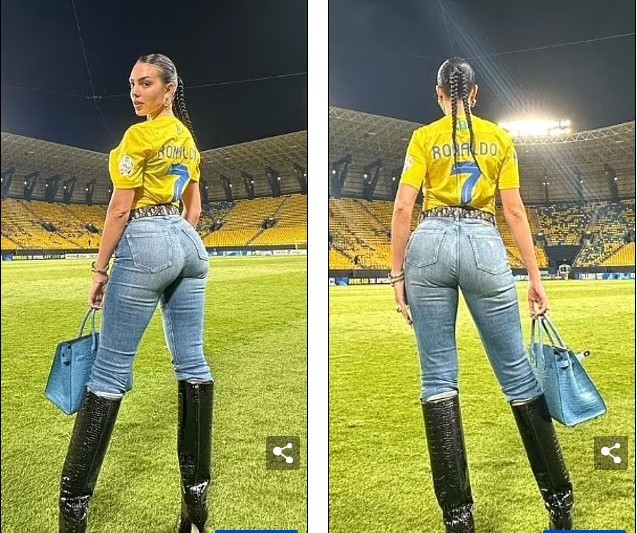 Georgina shared that she had kept her other children in the dark about Angel's loss initially, assuring them that he would be born later than his sister. Eventually, Cristiano Ronaldo informed the children of their brother's passing, a moment Georgina described as a "dose of reality."

The strength and resilience displayed by Georgina Rodriguez, both on and off the field, continue to inspire many, making her an influential figure in both the world of fashion and family life.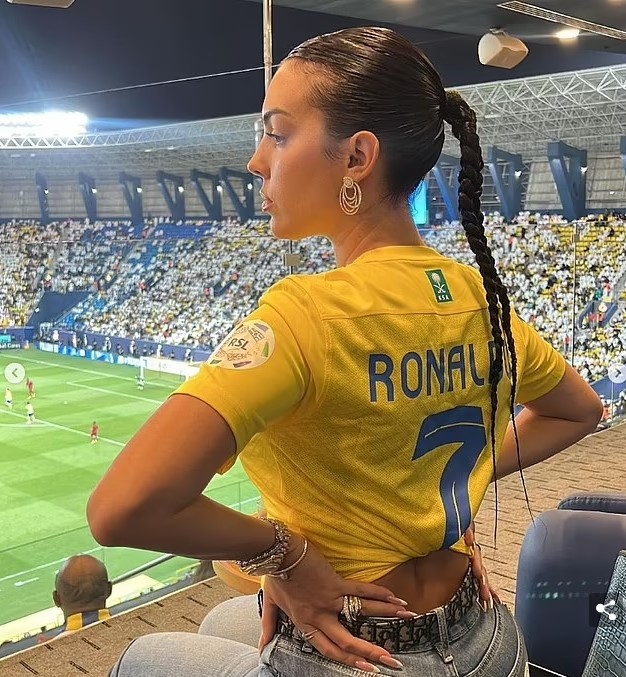 Georgina Rodriguez was in her early twenties when she first crossed paths with Cristiano Ronaldo. Their love story began, and they have since built a life together as a family.
Georgina Rodriguez Age When She Met Ronaldo: The Start of a Love Story
Georgina Rodriguez's early life, including her first marriage, remains relatively private. She gained significant attention after her relationship with Cristiano Ronaldo.
Georgina Rodriguez First Husband: Unraveling Her Early Life
Georgina Rodriguez's Instagram account, with millions of followers, is a visual diary of her life. Her profile showcases her modeling career, family moments, and her unique sense of style.
Georgina Rodriguez Instagram: Keeping Up with Her Online Presence
Georgina Rodriguez is a loving mother to her children. She shares two daughters, Alana Martina and a daughter named Eva, with Cristiano Ronaldo. Additionally, she is actively involved in the lives of Ronaldo's other children.
Georgina Rodriguez Kids: An Introduction to Her Beautiful Family
Prior to her relationship with Cristiano Ronaldo, Georgina's personal life was relatively private. Her past partners and relationships have not been widely disclosed in the public domain.
Georgina Rodriguez Ex: Insights into Her Past Relationships
While exact figures can vary, Georgina Rodriguez's net worth is estimated to be in the millions, primarily due to her modeling career, social media influence, and relationship with Cristiano Ronaldo.
Georgina Rodriguez Net Worth: Assessing Her Financial Success
Born on January 27, 1994, in Buenos Aires, Argentina, Georgina Rodriguez is currently 29 years old, embracing her prime years with grace and style.
Georgina Rodriguez Age: Exploring the Spanish Beauty's Birthdate
Georgina Rodriguez, a Spanish model and influencer, has captured the world's attention. Her Wikipedia page offers a comprehensive overview of her life, including her career, relationships, and family.
Georgina Rodriguez Wikipedia: A Glimpse into Her Life and Career
Cristiano Ronaldo's Wikipedia page is a valuable resource for those looking to delve deeper into his life, career, achievements, and more. It offers a comprehensive and well-documented perspective on this football legend.
Cristiano Ronaldo - Wikipedia: A Comprehensive Overview of His Life and Career
The year 2009 was significant in Cristiano Ronaldo's career. It marked a pivotal moment when he made a high-profile move to Real Madrid. Learn more about this crucial transition in his football journey.
Cristiano Ronaldo Dates Joined 2009: A Pivotal Year in His Career
Cristiano Ronaldo boasts an impressive net worth, estimated in the hundreds of millions. This title provides insights into his various income streams, endorsements, and business ventures.
Cristiano Ronaldo Net Worth: Understanding His Financial Success
Cristiano Ronaldo, born on February 5, 1985, in Madeira, Portugal, is currently 38 years old. Explore his incredible journey through the years, which continues to defy the passage of time.
Cristiano Ronaldo Age: Tracking His Timeless Career
Cristiano Ronaldo's personal life is a topic of immense interest. Get to know his wife, Georgina Rodriguez, and the love story that brought them together.
Cristiano Ronaldo Wife: Insights into His Personal Life
Cristiano Ronaldo Jr, often referred to as "CR7 Jr," is the eldest son of Cristiano Ronaldo. Discover more about the young talent and his life in the spotlight.
Cristiano Ronaldo Jr: The Next Generation of a Football Dynasty
Cristiano Ronaldo, one of the world's most celebrated footballers, has had a storied career. This title provides an overview of the key dates when he joined various clubs and teams during his illustrious journey.
Cristiano Ronaldo Dates Joined: A Timeline of His Career Moves