Gisele Bündchen turns heads as she shows off her incredible abs in a green bikini during beach stroll in Costa Rica
Gisele Bündchen, 42, was pictured walking along the beach with her daughter Vivian on Wednesday
Outing came hours before it was revealed she has been quietly seeing billonarie property tycoon Jeffrey,55
The supermodel looked relaxed and happy as she walked barefoot on the beach with her child and two dogs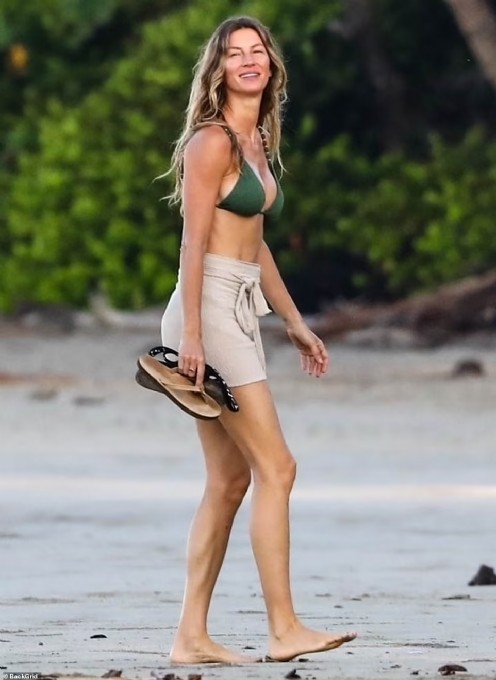 The 42-year-old fashion star appeared to be in her element as she walked along the sand barefoot, showing off her enviable figure and ripped abs in a green bikini top and a beige wrap skirt, while holding her sandals in one hand.
Gisele was joined for the stroll by her 10-year-old daughter Vivian - whom she shares with her ex-husband Tom Brady as well as two dogs, the same pets that she was seen walking with her hunk jiu-jitsu instructor Joaquim Valente just a few days ago.
But while rumors of a romance between Gisele and the athletic sports coach have swirled for weeks now, DailyMail.com revealed today that it is another man who has been responsible for putting the beaming smile on the model's face.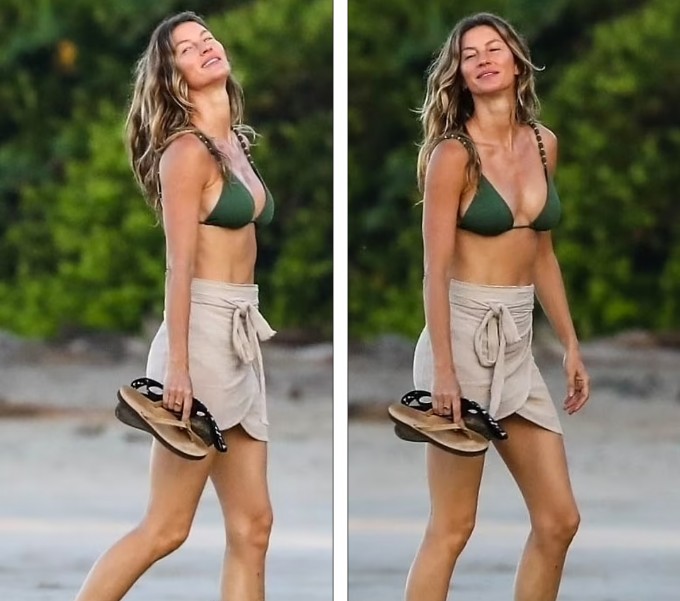 Just hours after she was pictured on her mother-daughter beach walk, an insider revealed that Gisele has been quietly seeing billionaire property mogul Jeffrey, 55, who is a friend of her ex-husband Tom.
'Gisele has been spending time with Jeffrey Soffer,' the well-placed inside source shared. 'They've been seeing each other for several months now and meet secretly about once a week.'
Although Jeffrey does not appear to have joined Gisele for her latest trip to Costa Rica - where she and Tom, 45, purchased a home together in the earlier years of their marriage, which came to an end in October 2022 amid a quickie divorce, following months of speculation that the relationship was on the rocks.
Since her split from Tom, Gisele has been spending plenty of time in the Nicoya Peninsula area where the property is located - and where she is currently thought to be staying with the two children she shares with the NFL star, daughter Vivian and 13-year-old son Benjamin.
Gisele's latest outing comes just days after she sparked fresh speculation about a potential romance between herself and jiu-jitsu instructor Joaquim after the pair were pictured walking her dogs together in the same area.
However, those rumors were put to rest when DailyMail.com revealed that the real man in Gisele's life is someone much closer to home... and closer to her former spouse.
Developer and hotelier Jeffrey owns a host of luxury properties including Miami's iconic Fontainebleau Hotel, and was married to supermodel and actress Elle, 58, until their divorce in 2017.
The pair married in Fiji in 2013 and had five children between them – two from Elle's previous marriage to French financier Arpad Busson, 60, and three from Jeffery's prior relationship.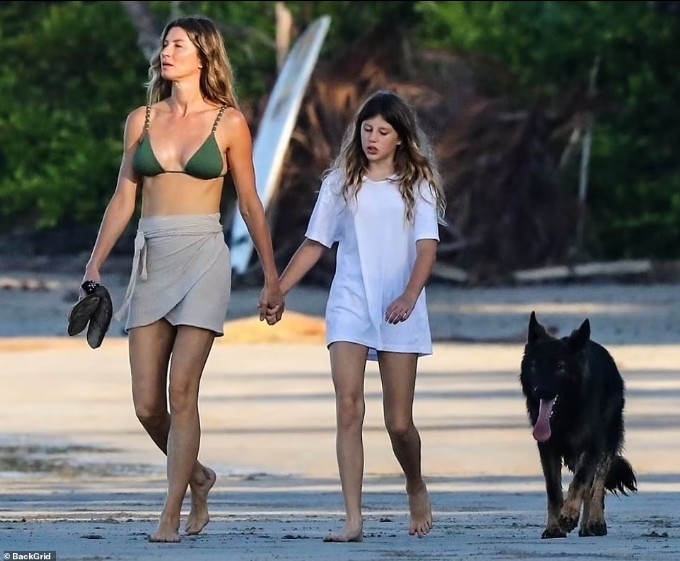 Today, he is worth an estimated $2.2 billion - in comparison to Tom's net worth of around $512 million - and boasts a bevvy of impressive toys at his disposal, including private jets, a superyacht and expansive properties.
But Gisele's new romance is not without its complications, namely Jeffrey's close connection to Tom, with the source revealing that the pair have been friends for many years.
Tom and Jeffrey were spotted hanging out together as recently as January, when the football star was seen enjoying some quality time with Vivian.
They were seen later that day hanging out in Miami with mutual pal David Beckham and his children for a night of pizza-making at Miami Slice.
In May last year, the two friends were pictured courtside together enjoying an NBA game along with sports broadcaster Jim Gray and Tom's sister, Julie, in Las Vegas, Nevada.
And when Tom was looking for a plot of land on which to build his 'forever home' with Gisele back in 2020, he plumped for a property right next door to his pal Jeffrey's expansive Miami mansion.
Cementing their bond further, when Tom and Gisele paid $17 million for the lot at 26 Indian Creek Island Road – an enclave known as 'Billionaire Bunker' – records show that they did so via an LLC managed by executives at Jeffrey's company, Fontainebleau Development.
Tom and Gisele finalized their divorce on October 28 last year, calling time on their marriage with a gracious public announcement shared on social media.
The NFL star wrote: 'In recent days, my wife and I finalized our divorce from one another after 13 years of marriage. We arrived at this decision amicably and with gratitude for the time we spent together.'
But if her slightly tangled web of romantic partners was causing any stress for the model, she certainly didn't let it show as she enjoyed her casual mother-daughter outing, at one point holding her daughter by the hand as they walked along the sand.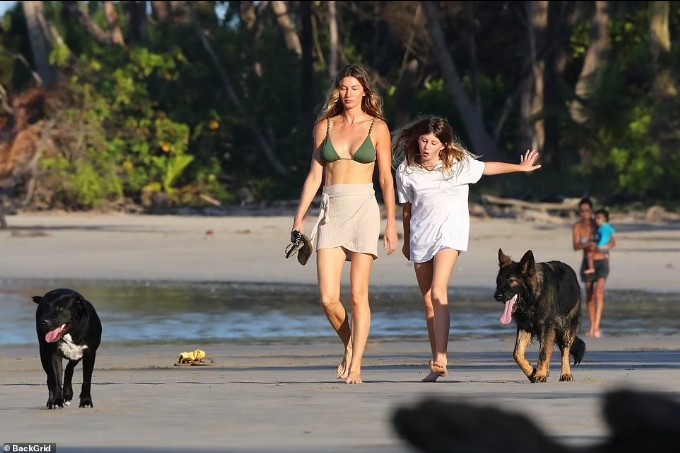 The model was the picture of serenity during the stroll and had a wide smile on her face for much of the walk.
Although Gisele has been spending plenty of time in Costa Rica since her split from Tom, she has - according to a source - still found space to dedicate to her burgeoning relationship with Jeffrey, while also dedicating herself to reigniting her fashion career, which she put on the backburner during her marriage to the NFL star.
The mother-of-two thrust herself back to the forefront of fashion earlier this month when she posed for a raunchy new campaign in which she worked a stripper pole.
Images and video showed Gisele sporting a very low cut black leotard - complete with a thong back that showed off her toned derriere - while modeling long blonde hair extensions that hung to her waist.
That campaign - for shoe brand Arezzo - came shortly after the star made an unrecognizable appearance on the cover of Vogue Italia, her first major shoot since her split from Tom.
While Gisele has graced 142 international Vogue covers during her decades-long career, her latest was undoubtedly one of her most dramatic, with the fashion star sporting a devilish look for the front of the fashion bible that saw her trademark blonde locks dyed a vibrant red, while her eyebrows were concealed completely and replaced with pin-thin red pencil lines.
Inside the magazine's pages, Gisele sported an array of salacious ensembles, including one that was comprised of a pink lacy bra, a see through skirt and a chunky green belt.
Before she and Tom officially announced their split, Gisele hinted that she was rady to return to modelling, revealing in a candid interview with Elle that, while she felt 'very fulfilled, as a mother and as a wife', she was ready for it to 'be her turn' as far as professional opportunities were concerned.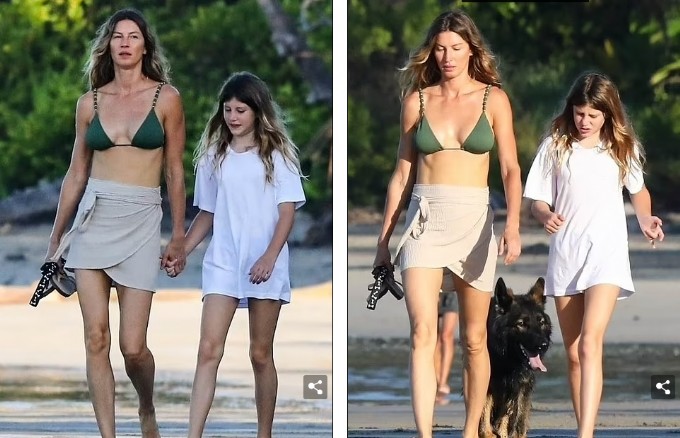 Gisele's relationship with the football star reportedly hit the rocks after she returned home from a solo trip to Costa Rica because of his decision to un-retire as the Tampa Bay Buccaneers quarterback after a glittering career.
During her interview with Elle, the model said she felt as though she had been portrayed as being 'desperate' for her husband to end his football career - which she insisted was not the case - although she admitted that she had 'concerns' about his safety in the sport.
'I think this is the system we've been living in. That's what society has accepted and what society hasn't accepted,' she said.
'Obviously, I have my concerns—this is a very violent sport, and I have my children and I would like him to be more present.
'I have definitely had those conversations with him over and over again. But ultimately, I feel that everybody has to make a decision that works for [them]. He needs to follow his joy, too.'
The interview was published just six weeks before she and Tom officially announced that they were divorcing after 13 years of marriage.
Those same concerns about safety will likely not be an issue in Gisele's new relationship with Jeffrey - who is the son of real estate developer Donald Soffer, who famously transformed an area of Florida swampland into what is now known as the city of Aventura.
Jeffrey is also well versed in the world of model romances, having been married to Elle, 58, for four years before their split in 2017.