Giulia Gwinn Turns Down Playboy Offer, Misses Women's World Cup Due to Injury
Giulia Gwinn, a talented midfielder for Bayern Munich women's team, made the difficult decision to decline an offer for a Playboy magazine photoshoot in order to maintain her focus on securing a spot in the final squad for the 2023 Women's World Cup in Australia and New Zealand.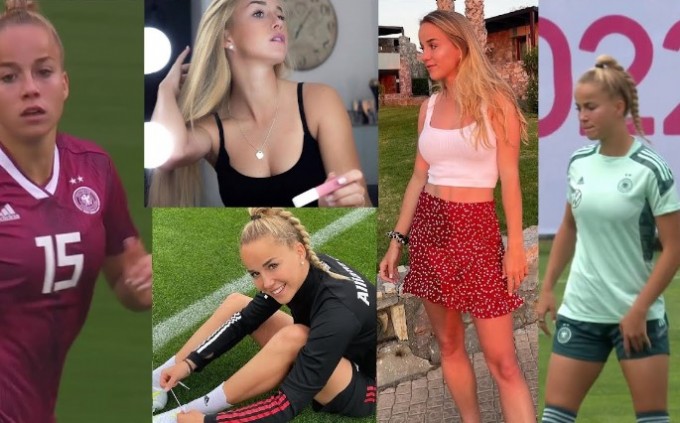 Regrettably, Gwinn's hopes of representing Germany in the prestigious tournament were shattered as she was unable to fully recover from an anterior cruciate ligament injury. Consequently, she found herself empty-handed – no photoshoot opportunity and no World Cup participation.
Playboy's lucrative offer turned down by Giulia German newspaper Bild reported that Giulia Gwinn was approached by Playboy magazine, which sought a prominent German player with a strong fan following. The publication presented a financially enticing proposal to the midfielder, but she made the difficult decision to decline the offer in order to avoid any negative publicity that could jeopardize her chances of making it to the World Cup squad in 2023.
Florian Boitin, President of Playboy Europe, expressed admiration for Gwinn, acknowledging her outstanding athletic abilities and captivating beauty, making her an appealing personality for Playboy.
Injury setback sidelines Giulia from the World Cup In October 2022, Gwinn suffered a significant anterior cruciate ligament injury. Despite her relentless efforts to recover in time for the Women's World Cup, the midfielder was unable to fully regain her fitness, ultimately leading to her exclusion from the final squad for the German Women's National Team.
Proud of her recovery journey Sharing the news of her omission from Germany's World Cup squad on her Instagram account, which boasts 528,000 followers, Giulia expressed her sadness and disappointment. However, she also emphasized her immense pride in the dedication and determination she demonstrated throughout her recovery process.
Germany's national team announced their squad for the upcoming Women's World Cup at the end of May, solidifying Gwinn's absence from the prestigious tournament.