Hailey Bieber displays er culinary skills as she starts own COOKING spin-off series titled What's In My Kitchen? on her YouTube channel
The Rhode founder, 26, who recently put on a leggy display during a night out in NYC, shared a scrumptious chicken wing recipe to her viewers to kick off the six-episode first season.
In a press release, per the Hollywood Reporter, the supermodel herself explained that the show is a 'natural spin-off' to her other YouTube series, Who's In My Bathroom?, where she also ate yummy treats with her celebrity guests.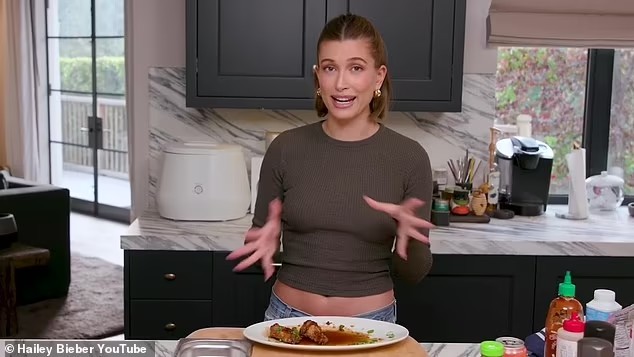 'Creating new formats and IP for my channel has been really empowering, as my team and I get to truly create everything from concept to screen, and I can't wait for everybody to see what's next,' Hailey further expressed in a statement.
The star started her own YouTube channel a little over two years earlier in March 2021, and his since garnered a whopping 2 million subscribers.
The new series will also prioritize giving back to the community, with the model using ingredients supplied by the women-run Village Market Place from the nonprofit organization Community Services Unlimited, according to the outlet.
The goal of the nonprofit, 'is to foster the creation of communities actively working to address the inequalities and systemic barriers that make sustainable communities and self-reliant life-styles unattainable,' per the offical website.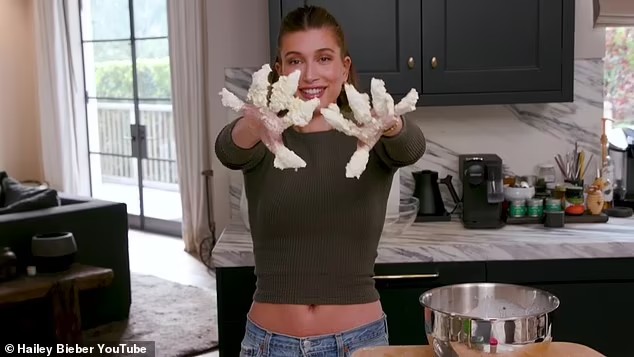 HexClad will also give a donation to the Accion Opportunity Fund, which 'is a financial support system for small businesses that advances racial, gender, and economic justice for all.'
The CEO of OBB Media, Michael D. Ratner, who is also the director of What's In My Kitchen?, also explained that viewers will have a huge role in the show itself. 'The fans are just as much a producer as any of us.'
'This instantaneous feedback loop is what makes the evolving landscape of new media so exciting, and we can't wait to roll out the show that fans want.'
In the episode that previously aired on Wednesday, Hailey proudly cooked her chicken wing recipe, which she claimed was 'gonna do something for your life.'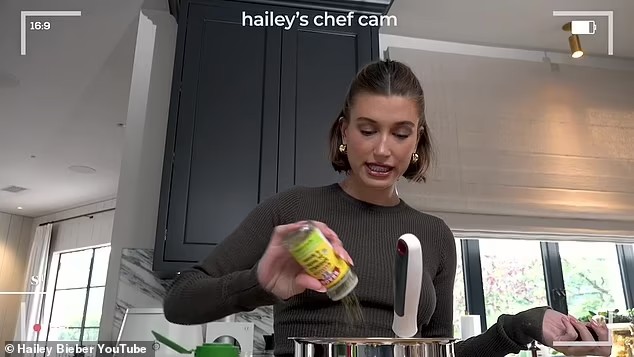 'Hi you guys!' Bieber exclaimed as she greeted her viewers while personally holding a 'chef cam' that was angled towards her face. 'I'm back with another episode of What's In My Kitchen? presented by HexClad and today I am going to be making wings.'
The beauty could be seen standing inside of a bright and airy kitchen that contained sleek, marble countertops and dark gray cabinets.
She opted for casual comfort for the cooking segment and slipped into a pair of classic blue jeans along with a long-sleeved, off-gray tank top that flashed her midriff.
Her short locks were pulled back and styled into a chic, half ponytail, allowing the remaining strands to fall down behind her.
Hailey accessorized her look with a pair of gold-hooped earrings for a flashy touch while her makeup was classically done. She added a light brown, smoky shadow around her eyes, while her lips were plumped with a glossy tint.
A warm blush along with a layer of contour was added to better accentuate her cheekbones for a finishing touch.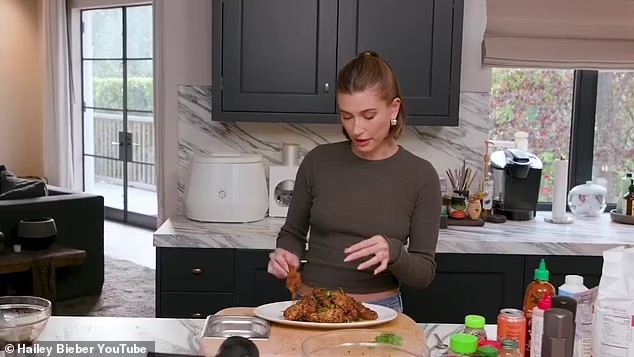 She revealed that there was 'no special name' for the chicken wing recipe, but stated that she would show her fans how she had actually 'come up' with the meal.
Hailey firstly made a buttermilk marinade which she placed her wings in and let them set in the refrigerator for exactly one hour. After that time had passed, she mixed her dry ingredients together which she would coat her wings with.
The star explained that cornstarch was used to add a special crunch to the chicken wings.
The media personality went for a more healthy approach when cooking the chicken, and chose to put the wings in an air fryer rather than cooking in greasy oil.
While the wings were frying away, Bieber made her own sauce, which consisted simply of Bachan's Japanese barbeque sauce, honey, Sriracha, and also 'a dash' of cayenne pepper for a bit of extra spice and flavor.
After mixing the sauce and wings together in a clear bowl, she did a taste test for her fans, with the crew members also diving in to try out the wings themselves.
'I think this is the best version of them that I have ever made,' she gushed as she bit into a wing. 'Not even kidding.'
To conclude the 10-minute long video, Hailey listed the ingredients needed for each part of the chicken wing recipe, as well as giving step-by-step instructions to the viewers.