Hailey Bieber flaunts her incredible figure in lime green bikini on tropical getaway in Cabo
Hailey bieber was spotted having fun in the sun during a tropical getaway in Cabo San Lucas, Mexico, on staurday.
The 26-year-old model sported a lime green bikini underneath a white coverup set and a red baseball cap as she sipped on a drink and enjoyed water activities with her friends.
Later, the Rhode Skin founder shed the sheer long-sleeve top and the matching pants to ride down a slide and dive into water with her group of gal pals.
Over the weekend, the influencer — who has been underpublic amid drama involving her and her husband Justin Bieber's Selena Gomez wore the bold-colored, revealing bikini and the matching shorts.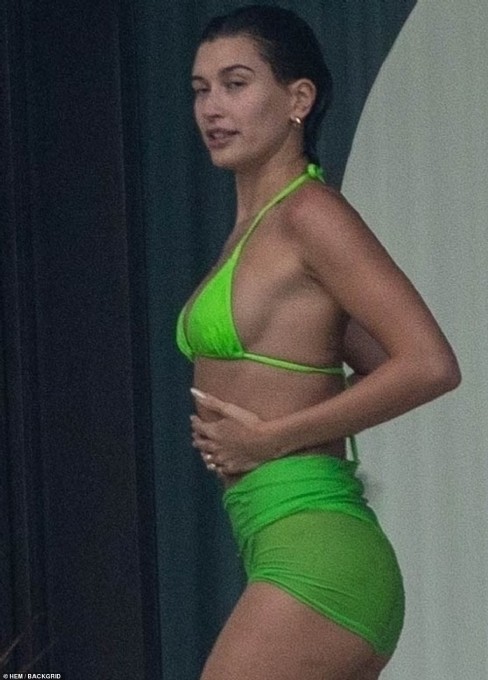 She kept the rest of her look simple and natural as she showed off her slim figure in the tiny triangle bikini top and the cheeky bottoms.
Over the bikini bottoms, she sported a pair of high-waisted swim shorts that she kept on even after taking off her red New York Yankees cap.
The former ballerina kept her chin-length ashy brown bob in a natural style.
Hailey opted for a makeup-free look to showcase her natural beauty.
To finish off her look, she wore a pair of small, chunky gold hoop earrings and several rings.
At one point, she was also spotted carrying a black Prada tote with a wooden handle and a bottle of sunscreen.
For her weekend getaway, she rocked her standard sheer chrome manicure.
Before heading to the pool, she looked dazzling in a pinstriped sheer ruffled top that she wore off-shoulder and with matching low-rise pants.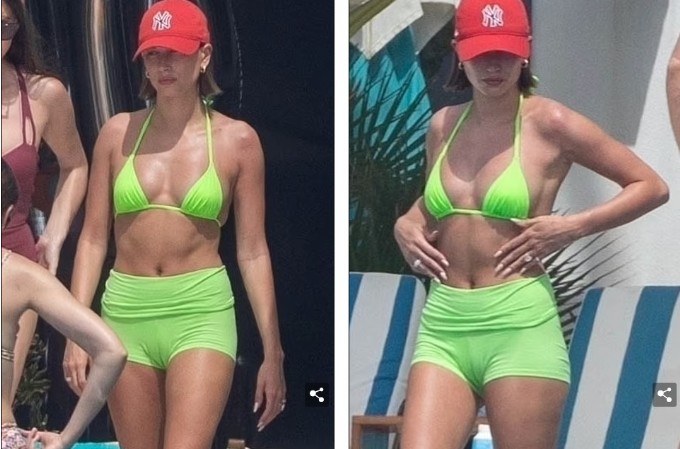 She tied another white coverup around her waist as she arrived with only her phone in tow.
The social media personality seemingly took time to get away from the drama involving the ex-girlfriend of her husband Justin Bieber, 28.
Before heading off on her girls trip, the runway veteran appeared to have limited comments on her Instagram account.
This comes after Selena Gomez, 30 announced that she was taking a break amid apparent internet drama between the two beauties.
Earlier this week, old footage resurfaced and showed Hailey Bieber mocking Taylor Swift during the time she cohosted the show dropp The Mic.
Fueling the flames, Gomez commented on the video: 'So sorry, my best friend is and continues to be one of the best in the game.'
Subsequently, internet users started dubbing Hailey as a 'mean girl' since she had also previously shared a TikTok video of herself with Kendall Jenner and Justine Skye lip-syncing to an audio saying: 'I'm not saying she deserves it, but I'm saying God's timing is always right'.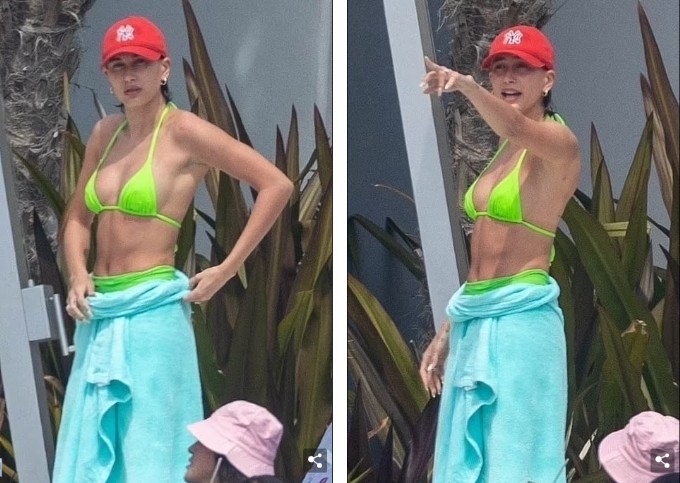 TikTok commenters took the now-deleted clip to correlate with the body shaming and hate Gomez had been receiving as of late.
Hailey's close friend Kylie Jenner has also been the subject of scrutiny as of late after she shared a post to Instagram seemingly mocking Selena.
The Instagram Story was a screenshot of Hailey and Kylie showing off their eyebrows during a video call.
Just hours before, Selena had shared a video to social media revealing she had laminated her eyebrows 'too much', and Instagram users speculated the two socialites were being 'mean girls'.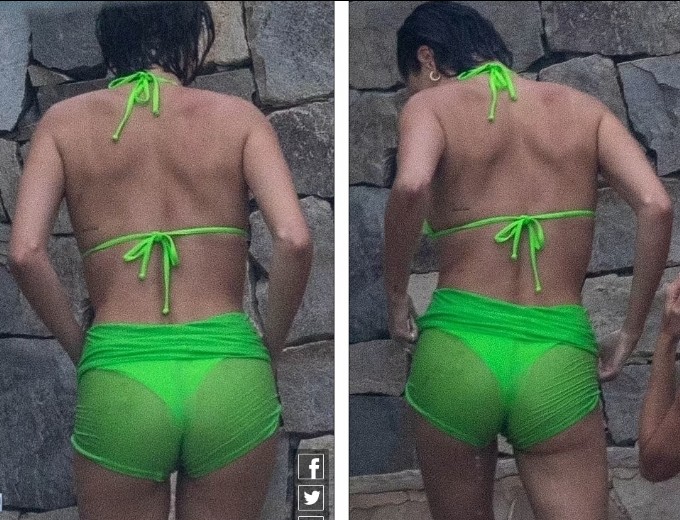 Afterwards, both Kylie and Selena addressed the hate and cleared the air.
The two stars left comments shutting down the rumors and showing there was no beef.