Heidi Klum's Daughter Leni Enjoys Sun-Drenched South of France Getaway on Father's Yacht
The 19-year-old model was spotted embracing the sun's rays in a stylish bikini while aboard her father Flavio Briatore's yacht. Leni's sun-kissed escapade has attracted attention, showcasing her relaxation and enjoyment with friends.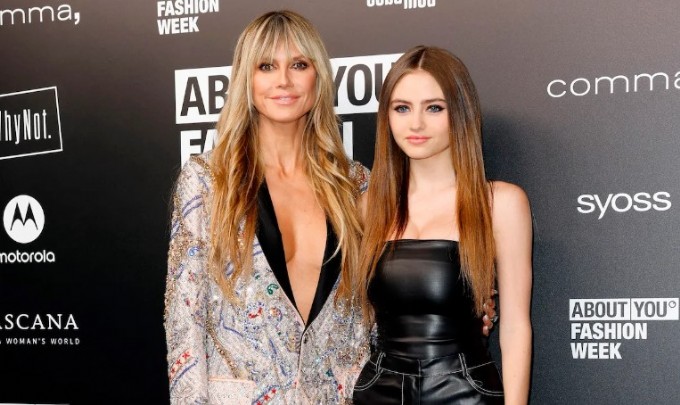 Luxurious Getaway: Leni, the daughter of model Heidi Klum and Italian businessman Flavio Briatore, is currently enjoying a lavish holiday in the South of France. The 19-year-old model has been photographed basking in the sun on her father's yacht, savoring the picturesque surroundings of the region.
Chic Bikini Style: Leni made a fashion statement in a vibrant blue and orange string triangle bikini that accentuated her figure. The bikini, which featured a stylish tie design at her hip and back, perfectly complemented her sun-kissed glow.
Relaxation and Joy: Leni appeared to be thoroughly enjoying her time on the yacht, engaging in various leisure activities. She was seen relaxing with friends, lounging on the vessel, and playfully splashing into the water, capturing the essence of a carefree vacation.
Following Modeling Footsteps: Heidi Klum's daughter, Leni, has embraced a modeling career, following in her mother's footsteps. Her statuesque body was on full display as she frolicked around the luxury yacht with friends. Leni's modeling journey gained momentum when she graced the cover of Vogue Germany two years ago.
Positive Encouragement: Heidi Klum expressed her pride and support for her daughter's modeling endeavors. She lauded Leni's individuality and determination, noting that Leni knows her own path and desires. Heidi's words of encouragement showcased her support for Leni's independence and personal growth.
Promising Career: Leni's modeling career has flourished since her debut on the cover of Vogue Germany. She has collaborated with renowned brands such as Versace and Dior, marking her presence in the fashion world.
Strong Family Connections: Leni's relationship with her father, Flavio Briatore, had faced challenges over the years. However, recent images indicate that the pair has reconnected and are on good terms during her sun-soaked holiday.
Personal Growth and Independence: Leni's journey has been marked by determination and a commitment to carving her own path in the modeling world. She addressed online allegations of being a "nepo baby" (offspring of celebrities), asserting that while she received initial support, she is putting in the effort and time to establish her own career.
Stepping into Adulthood: Leni, a social media personality with a significant following on Instagram, embarked on a new chapter by moving to New York City to begin her college education. Heidi Klum shared her feelings about being separated from her daughter during this transition, reflecting on the challenges and moments of worry that come with distance.
Leni Klum's luxurious vacation in the South of France highlights her enjoyment of the sun, sea, and relaxation on her father's yacht. Her burgeoning modeling career, supportive family connections, and pursuit of personal growth underscore her determination to establish herself in the fashion industry. As she embraces independence and navigates her own path, Leni continues to shine in her unique journey.