HollyShorts Film Festival Announces Star-Studded Lineup for 2023
Projects featuring, produced or directed by Tom Hanks, Eva Longoria, Alden Ehrenreich, Queen Latifah, Tom Holland, Keke Palmer, Cate Blanchett, Matt Damon, Ben Affleck, John Travolta and more will be screened at the festival, which runs from August 10-20.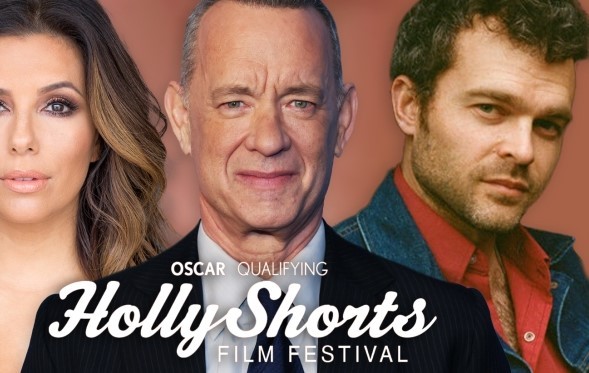 One of the highlights of the program is Harry Holland's Last Call, which stars his older brother Tom Holland. Alden Ehrenreich directs and stars in Shadow Brother Sunday, and Jamie-Lynn Sigler of The Sopranos stars in Michael Spiccia's I'm On Fire.
Other live-action short film entries include Iain Softley and Disney+' The Shepherd, produced by Alfonso Cuarón and starring John Travolta; Christopher Patrick Macken's For the Safety of Theo executive produced by Charlie Day; Jenn Shaw's Gaps, produced by Queen Latifah; Bella Thorne's Paint Her Red; Oscar winner Chris Overton's In Too Deep, Charles Whitcher's Mundo, executive produced by Eva Longoria; For People in Trouble directed by Alex Lawther and executive produced by Matt Damon alongside Ben Affleck, and Lauren Finerman's Flower produced by and starring prima ballerina Misty Copeland.
On the nonfiction side, HollyShorts will screen How to Rig an Election: The Racist History of the 1876 Presidential Contest directed by Emily Kunstler and Sarah Kunstler and narrated by Tom Hanks. Oscar winner Ben Proudfoot (The Queen of Basketball) brings his latest to the festival – the short Forgiving Johnny, which centers on an attorney in the Los Angeles County Public Defender's Office. Oscar winner Rayka Zehtabchi (Period. End of Sentence.) returns with They Came From All Over.
The festival will also screen a selection of music videos including Keke Palmer's Big Boss, and Ron Mael, Russell Mael and Richie Starzec's Sparks starring Cate Blanchett. Animation short film entries feature WB's Daffy in Wackyland, directed by Max Winston, and Oscar nominee Andrew Pierce Chesworth's The Brave Locomotive.
The full list of official selections for the festival is available here.
HollyShorts was founded by Theo Dumont and Daniel Sol, who serve as festival co-directors. The event will wrap with an awards gala on August 20.
The festival is a regular on the MovieMaker Magazine Top 50 Festivals Worth the Entry Fee list, and it also engages its community and spotlights short films year-round through monthly screenings, panels, and networking events.