Hollywood Strikes Update: When Will the Writers and Actors Return to Work?
Key CEOs from major studios, including Disney, Netflix, Warner Bros. Discovery, and NBCUniversal, have engaged in discussions with the union to tackle issues surrounding pay, benefits, and guaranteed work. However, the entertainment industry has been grappling with the strike's repercussions, which have disrupted American movies, TV dramas, sitcoms, and late-night talk shows. Additionally, a subsequent actors' strike on July 14 further exacerbated the situation.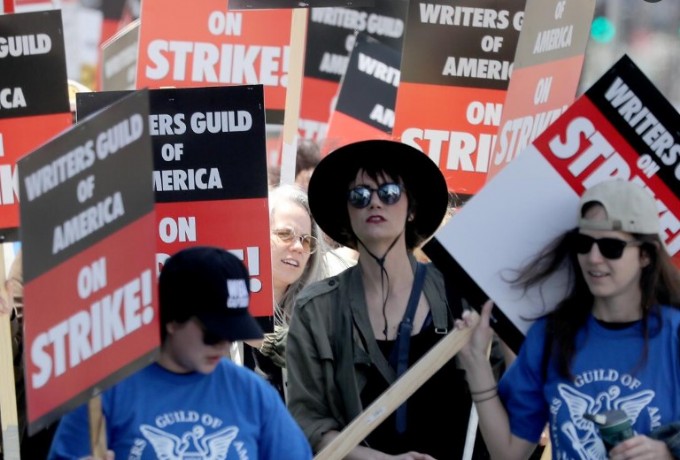 Screen Actors Guild president Fran Drescher, known for her role in "The Nanny," has stood firm in support of the actors' strike, expressing understanding of the impact on various industry professionals, including caterers and makeup artists, who have been left jobless. Drescher emphasized the gravity of the commitment while recognizing the necessity of taking action to secure their livelihoods.

Current Status of the Hollywood Strikes
The Hollywood strikes are not yet resolved. To resume normal operations, the Writers Guild of America (WGA) must first reach a tentative agreement with the Alliance of Motion Picture and Television Producers (AMPTP), which represents eight major studios and streaming services in labor negotiations. Subsequently, the entire WGA membership must vote on the settlement terms before work can recommence.

Furthermore, the Screen Actors Guild-American Federation of Television and Radio Artists (SAG-AFTRA) will need to negotiate its own settlement. Experts anticipate that the terms agreed upon by WGA may serve as a template for SAG-AFTRA negotiations.

What's at Stake?
Both writers and actors claim they are earning less in an era of streaming, where TV seasons have become shorter. While network sitcoms used to guarantee 22 episodes a year, streaming shows often produce as few as eight to ten episodes. Additionally, royalty payments from syndication or overseas broadcasts have decreased, as streaming platforms demand exclusive worldwide rights to content.

Impact on Talk Shows
Late-night talk shows were among the first casualties of the writers' strike. These shows can return immediately once the strike ends. However, hosts like Jimmy Kimmel, Stephen Colbert, Jimmy Fallon, and Seth Meyers will face limitations in booking actors for movie and TV promotions until the actors' strike is resolved, as promotion is explicitly prohibited by SAG, even on social media. Other talk shows that do not depend on guest appearances, such as HBO's "Last Week Tonight With John Oliver" and "Real Time With Bill Maher," can also return.

Daytime talk shows have already resumed, with some exceptions operating under separate contracts. However, iconic shows like NBC's "Saturday Night Live" are unlikely to return until both strikes are settled.

Why Studios Seek Resolution
Studios are increasingly motivated to resolve the strikes due to various factors. Declining stock prices for many studios during the strike have put financial pressure on them. While they save money on production costs, they lose revenue from box office earnings and reduced advertising income due to lower TV ratings. Streaming services also risk subscriber loss if they run out of fresh content.

Potential Consequences of Failed Talks
If both strikes are not resolved in the coming weeks, the traditional TV season, scheduled to begin shortly, may face disruptions. Networks may resort to reality competitions, game shows, reruns, and foreign imports with fewer recognizable stars. Some studios have prepared episodes of new and returning dramas, but even these are not guaranteed.

Streamers and movie studios, with longer lead times, have not yet felt significant effects. However, a settlement will not immediately restore a full pipeline, leading to fewer shows in the upcoming year as producers catch up. Delays in premieres of new movies and series are anticipated.

When to Expect the Return of Popular Shows
If writers return to work by next month and actors follow suit, production could resume late in the year, with new TV episodes potentially airing by February. Sitcoms may return more quickly, while dramas require additional production and editing time. Shows like "Grey's Anatomy" and "NCIS" are likely to produce fewer episodes, while "SNL" could return sooner but with a shortened season.
Writers Guild of America Average Salaries: How Much Do Writers Earn?

The Writers Guild of America (WGA) is a labor union that represents over 20,000 writers in the film, television, and radio industries. The WGA negotiates contracts with employers on behalf of its members, and it also provides a variety of services and support to writers.
According to the WGA, the average salary for a Professional Writer in the United States falls within the range of $44,007 to $63,423, with an average annual income of $53,148. However, salaries can vary depending on a number of factors, such as experience, job title, location, and the type of work being done.
For example, a screenwriter with a lot of experience may earn over $100,000 for a single script. A television writer may earn a salary of over $100,000 per year, depending on the show they work on. And a writer for a video game may earn a salary of over $60,000 per year.
It is important to note that the WGA salary data is based on surveys of its members. This means that the salaries reported may not be representative of all writers in the industry. However, the WGA data does provide a good starting point for understanding how much writers can expect to earn.
Here are some additional factors that can affect a writer's salary:
Union status: Unionized writers typically earn more than non-unionized writers. This is because unions negotiate contracts with employers that set minimum wages and benefits for their members.
Location: Writers who live in major metropolitan areas, such as Los Angeles and New York City, tend to earn more than writers who live in smaller cities or rural areas. This is because the demand for writers is higher in major metropolitan areas.
Genre: Writers who write for popular genres, such as action and comedy, tend to earn more than writers who write for less popular genres, such as drama and horror. This is because popular genres typically generate more revenue for employers.
Experience: Writers with more experience tend to earn more than writers with less experience. This is because employers are willing to pay more for experienced writers who have a proven track record.
If you are interested in becoming a writer, there are a few things you can do to increase your chances of earning a good salary:
Get a good education: Many employers prefer to hire writers who have a bachelor's degree in English or a related field.
Gain experience: You can gain experience by writing for student publications, internships, and freelance projects.
Network with other writers: Networking with other writers can help you learn about job openings and get your foot in the door.
Join a union: Joining a union can help you earn more money and get better benefits.
Becoming a successful writer takes hard work and dedication, but it is a rewarding career that can provide you with a good salary and a lot of creative satisfaction.