Italian Heiress Sisters Maria Carolina and Maria Chiara of Bourbon Two Sicilies Enjoy St Tropez Outing Amid Royal Dating Rumors
Born to Prince Carlo, Duke of Castro, and Princess Camilla, Duchess of Castro, the Italian heiress sisters are adorned with a lineage intricately woven into the fabric of the now-defunct throne of the former House of Bourbon-Two Sicilies.

The recent emergence of these sisters in the radiant setting of Saint Tropez has ignited a whirlwind of whispers and speculations, particularly surrounding the younger of the two siblings, Chiara, at the tender age of 18, who is rumored to be entwined in an alleged romantic liaison with none other than Denmark's very own Prince Christian, merely 17, and poised to ascend the Danish throne in the future. The spark of gossip caught ablaze when the two were captured side by side, sharing the atmosphere of camaraderie and excitement at the prestigious Monaco Grand Prix, an event that exudes prestige and allure. The young Danish prince, caught in a moment frozen by the lens, found himself in close proximity to Chiara, whose Roman origins have endowed her with a captivating allure that is simply undeniable.

Delving deeper into the tapestry of their connections, it becomes evident that the threads binding these families together are woven tightly. Prince Christian's parents, the esteemed figures of Crown Princess Mary and Crown Prince Frederik, share a close bond with the parents of Carolina, aged 19, and Chiara. The intricacy of these interwoven relationships has unquestionably added layers to the already fervent speculation swirling around the potential blooming of a royal romance.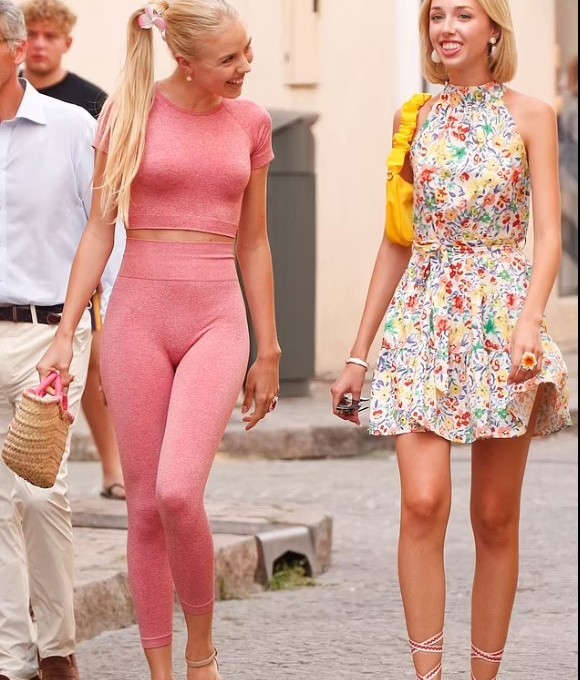 In the warm embrace of the current summer season, the Italian sisters have chosen to imprint their presence upon the radiant canvas of St Tropez, leaving an indelible mark that the world is keen to observe. It's Chiara, however, who has become the focus of numerous lenses, the subject of countless photographs, as she was spotted partaking in a seemingly simple yet undeniably charming act: sharing an ice cream outing with none other than Prince Christian. A gesture as innocent as sharing an ice cream cone has been immortalized, becoming an emblem of the intrigue that surrounds these young hearts.

Their most recent outing serves as a canvas on which the signature strokes of the sisters' style are artfully painted. In a masterful display of fashion prowess, the older of the two, Carolina, opts for a sporty and coordinated ensemble, bringing together a cropped pink t-shirt that harmonizes seamlessly with matching leggings. The ensemble is elevated by the choice of nude wedge sandals, adorned with a heel crafted from natural straw, a choice that perfectly complements the overall aesthetic. Completing her look is a straw holdall bag, an accessory that ties the entire ensemble together with a touch of rustic elegance.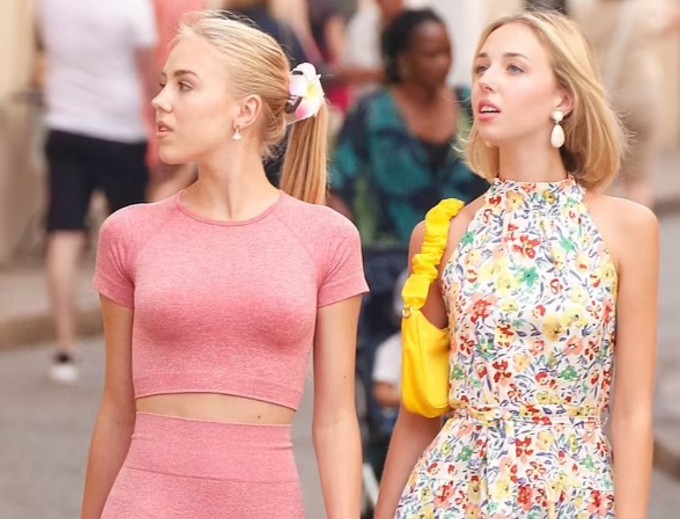 Turning our gaze to Chiara, we witness a different facet of style and expression. Embracing a halter neck top that exudes a touch of sophistication, she effortlessly merges it with a belted minidress that proudly showcases a white cotton fabric adorned with a vibrant tapestry of multi-colored floral patterns. The harmonious blend of elements is further accentuated by the presence of wedge heels, which do not merely bestow an air of elegance but also provide a practical advantage as she navigates the cobblestone streets with grace and poise. To complete this picturesque look, a bright yellow bag rests casually upon her shoulder, an accessory that injects a playful dash of color into the ensemble while retaining an air of effortless charm.

The illustrious House of Bourbon-Two Sicilies, tracing its lineage back through the annals of history to the esteemed Spanish Royal Family's Capetian Dynasty, stands as a testament to the bygone era when its dominion extended over the lands of Southern Italy and Sicily during the epoch of the 18th and 19th centuries. Though bereft of official dominion, this family's legacy endures through their unwavering commitment to noble causes and charitable pursuits, as well as their dedication to advancing the interests of Southern Italy.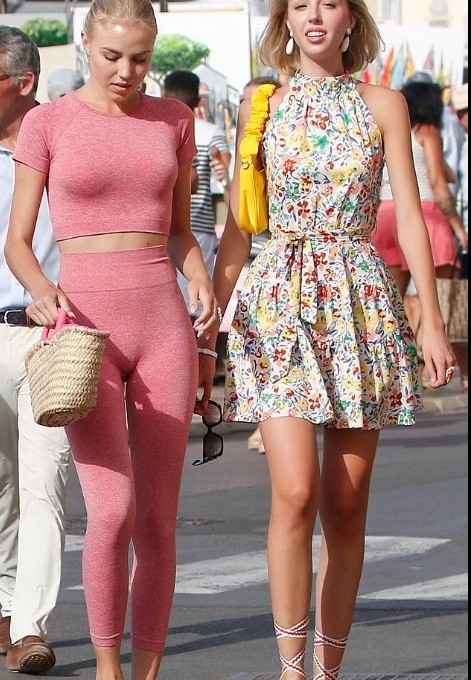 Maria Chiara and Maria Carolina, emblematic of the next generation, have seamlessly melded their roles as both charitable crusaders and socialites within the circles of Europe's elite. Fluent in three languages—English, French, and Italian—they have garnered a substantial following by providing tantalizing glimpses into their opulent lives through the lens of platforms like Instagram and TikTok. With every post, they invite the world to witness their luxurious existence, granting fleeting but enchanting glimpses into their sartorial choices, extravagant escapades, and the overall magnetic tapestry of their lives.