Jenna Ortega and Devin Booker: Debunking the Rumors of Their Alleged Relationship
Speculation has been swirling around her dating life, specifically her alleged relationship with NBA star Devin Booker.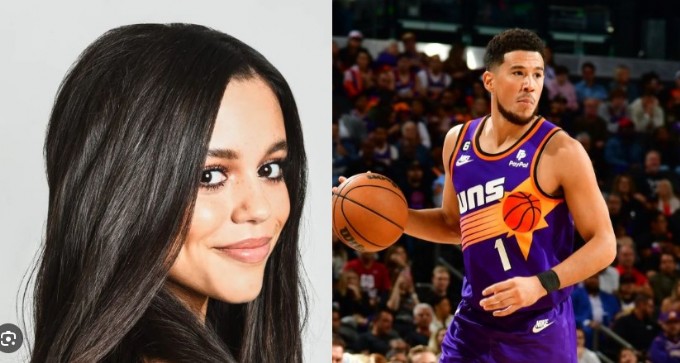 The 20-year-old Californian actress has gained significant attention in recent years, especially for her role as Merlina in the popular Netflix series bearing the same name. However, it was her rumored connection to Phoenix Suns player Devin Booker that captured the spotlight, causing a buzz across social media platforms.
Not all fans are pleased with the reported relationship, as Booker has been linked to several celebrities since making his NBA debut in 2015. He was previously confirmed to be dating Kendall Jenner in June 2020, although their relationship ended in November 2022, following a brief reconciliation in August of the same year.
However, it turns out that the supposed photo capturing Jenna Ortega and Devin Booker together was nothing more than a cleverly edited fake. A fan took the liberty of manipulating the image to create the appearance of a romantic date between the two stars.
In the era of fake news, it's important to separate fact from fiction. The rumors surrounding Ortega and Booker's relationship gained momentum partly due to the actress publicly expressing her admiration for the NBA player as her favorite. Yet, as it stands, there is no romantic involvement between the two. Both stars remain fully dedicated to their respective careers in acting and basketball.
On a positive note, Jenna Ortega recently scored another success with the release of the sixth installment of the "Scream" film franchise, in which she plays a significant role. The movie topped the US box office, generating an impressive $44.2 million in its opening weekend. This marked the franchise's strongest opening since the first film's debut in 1996, despite the absence of Neve Campbell, who starred in the previous five films due to a salary dispute with the production company.
As the truth emerges, it's important to separate reality from speculation, allowing Jenna Ortega and Devin Booker to focus on their individual careers, while fans continue to enjoy their performances on-screen and on the basketball court, respectively.