Jennifer Lopez Flaunts Dazzling Legs in Glamorous Ad for Delola Cocktails
The globally admired dancer and singer showcased her breathtaking legs in a high-cut lime green gown, defying the autumn chill.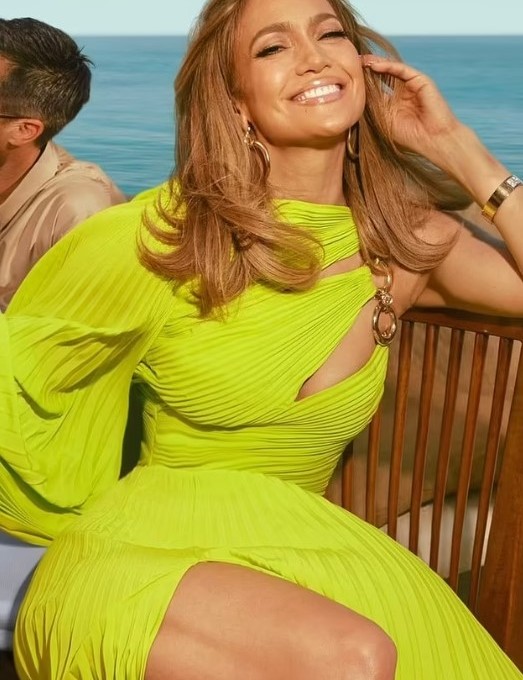 In the captivating commercial, Lopez exuded glamour, descending a stone staircase with her caramel locks bouncing over her shoulders. The fluttering gown, with a thigh-high slit and a touch of cleavage, added a trendy asymmetrical flair as it gracefully fell off one shoulder.
The scene transitioned to a sun-drenched veranda filled with lively revelers, enjoying a dazzling ocean view. Jennifer, the epitome of elegance, poured herself a Delola cocktail over ice, toasting with her megawatt Hollywood smile.
Delola, J-Lo's venture into the ready-made cocktail market, debuted earlier this year, raising eyebrows as the singer, known for her infrequent indulgence in alcohol, entered the spirits industry. Despite some initial trolling, Lopez remains undeterred and radiates positivity in her latest commercial.
In an April interview with People, Jennifer shared her perspective on the venture, admitting she's not a frequent drinker and emphasizing the importance of a pleasant taste. The lime green gown and the vibrant setting perfectly complement the refreshing image of her Delola brand.
While Jennifer Lopez and her Delola brand shine in the spotlight, her personal life, particularly her relationship with actor Ben Affleck, also captures attention. Ben, a recovering alcoholic, has been open about his struggles, with ex-wife Jennifer Garner providing support during challenging times.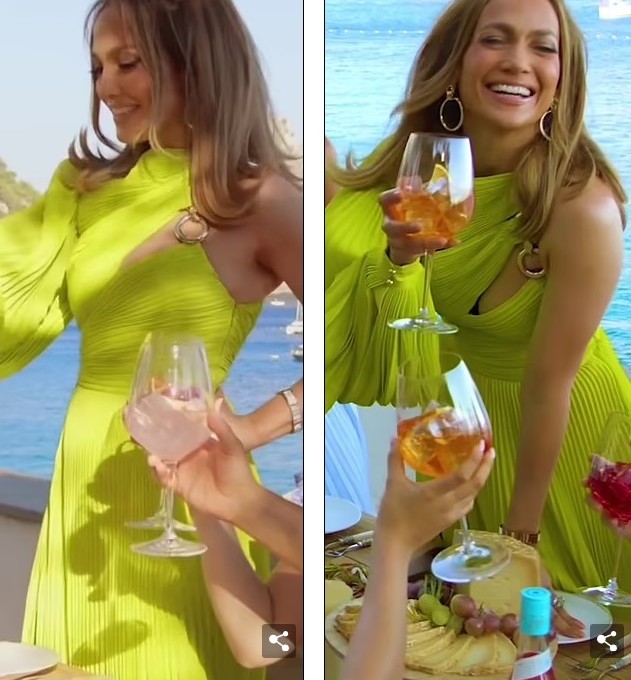 The blended family dynamic between Ben, Jennifer Garner, and J-Lo, who co-parent three children with Affleck, reflects an amicable co-parenting situation. Reports suggest that the supportive atmosphere has contributed to a positive equation between the two ex-wives.
Contrary to rumors, the insider shared that Ben and Jennifer Lopez are "very much in love with each other," dispelling any notions of tension in their relationship. The couple, described as "happy" and drama-free, continues to thrive, with their blended family enjoying a harmonious coexistence.
As Jennifer Lopez takes center stage in her career, from dazzling performances to entrepreneurial ventures like Delola, her magnetic presence and enduring success continue to captivate audiences worldwide. Stay tuned for more updates on J-Lo's multifaceted journey and the success of Delola cocktails.
Jennifer Lopez has been married 4 times.
She is currently married to Ben Affleck since 2022.
Her ex-husbands are:
Ojani Noa (1997-1998)
Cris Judd (2001-2002)

Marc Anthony (2004-2014)
Jennifer Lopez is 53 years old.

Yes, Jennifer Lopez has 3 kids with her ex-husband, Marc Anthony:
Emme Maribel Muniz (2008)
Maximilian David Muniz (2008)
An interesting fact about Jennifer Lopez is that she is a self-made billionaire. She is one of the few female entertainers in the world to achieve this milestone.
Yes, Jennifer Lopez is still married to Ben Affleck. They got married in July 2022.
As of August 4, 2023, Jennifer Lopez and Ben Affleck are still together and happily married. They are often seen together in public and on social media. They are also working on new projects together.
Jennifer Lopez and Ben Affleck's Relationship, Daily Mail Updates, Age, Children, Instagram, and Nationality
Jennifer Lopez and Ben Affleck, a Hollywood power couple, have been making headlines for their enduring romance. The couple's journey has been closely followed by media outlets like the Daily Mail, providing regular updates on their relationship, public appearances, and personal lives.
At the age of 54, Jennifer Lopez continues to command attention with her timeless beauty and multifaceted career. As a mother, she shares parenting responsibilities with her ex-husband, Marc Anthony, for their 15-year-old twins, Max and Emme. In addition, J-Lo is part of a blended family with Ben Affleck, who co-parents three children—Violet, Seraphina, and Sam—with his ex-wife, Jennifer Garner.
Jennifer Lopez's social media presence is vibrant, with her Instagram account serving as a platform for sharing glimpses into her life, career, and philanthropic endeavors. Fans and followers can stay updated on J-Lo's latest projects, fashion statements, and moments with loved ones through her engaging Instagram posts.
Regarding Jennifer Lopez's ethnicity, she is of Puerto Rican descent, born in the Bronx, New York. While she has embraced her Latin heritage in various aspects of her career, she is not Mexican. Lopez's parents, Puerto Rican natives, have contributed to her rich cultural background.
As for Ben Affleck, he has been candid about his personal struggles, particularly his journey with alcoholism. Despite challenges, Affleck and Lopez have created a supportive and loving environment for their blended family. Reports suggest that both Jennifer Garner and Jennifer Lopez maintain a friendly relationship, fostering a positive co-parenting dynamic.
In summary, Jennifer Lopez and Ben Affleck's relationship, along with Jennifer's age, children, Instagram updates, and cultural background, continue to be subjects of interest for fans and media outlets alike. Stay tuned for further updates on this dynamic couple's journey and individual achievements.