Jennifer Lopez Makes a Stylish Statement by Swapping Her 'BEN' Necklace for 'JENNIFER'
The 54-year-old megastar was spotted outside the exclusive Soho House club in Malibu, showcasing a new gold necklace that spelled out "Jennifer."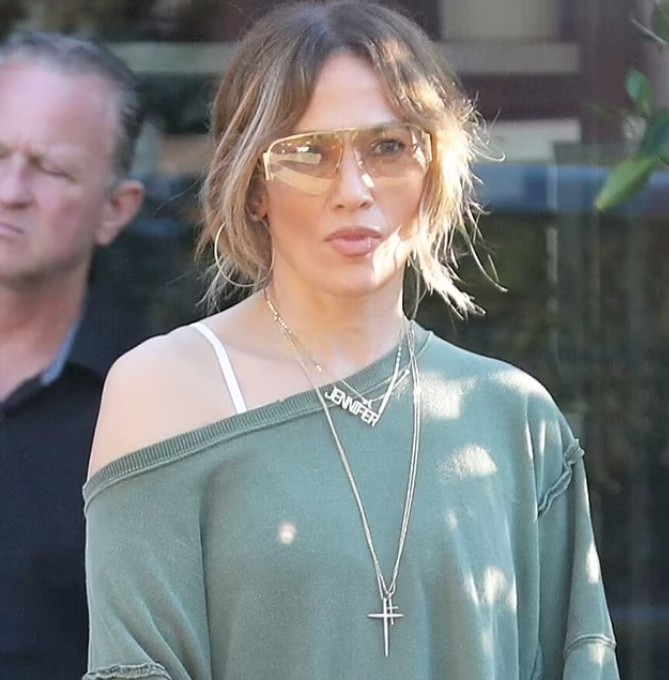 This switch comes after Jennifer had been frequently seen wearing a "Ben" necklace, a touching tribute to her husband, Ben Affleck. The "Ben" necklace even featured a heart pendant, adding a romantic touch to her ensemble.

Jennifer's outfit for her outing at Soho House was as stylish as ever. She opted for an oversized olive green top paired with matching balloon pants, accentuating her timeless fashion sense. Completing her look were high heels and gold-tinted sunglasses, and she wore her hair in a chic half-up style.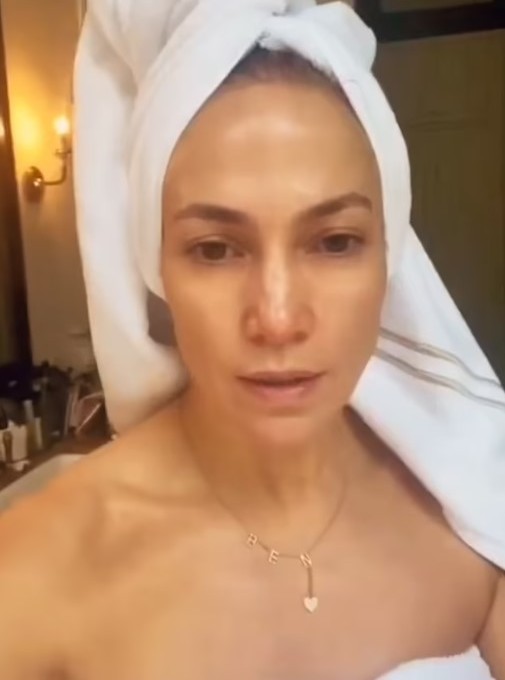 It's important to note that this jewelry swap appears to be purely for fashion and personal expression, as there are no signs of trouble in paradise for Jennifer and Ben. The couple has been basking in the joys of their recent marriage, exuding newlywed bliss during their public appearances.

Jennifer Lopez and Ben Affleck's love story has been a much-watched saga in recent times. After rekindling their romance in 2021, the couple tied the knot in an intimate ceremony in Las Vegas in July 2022. They followed up this celebration with a lavish wedding in Georgia on August 20, marking the date as their official anniversary.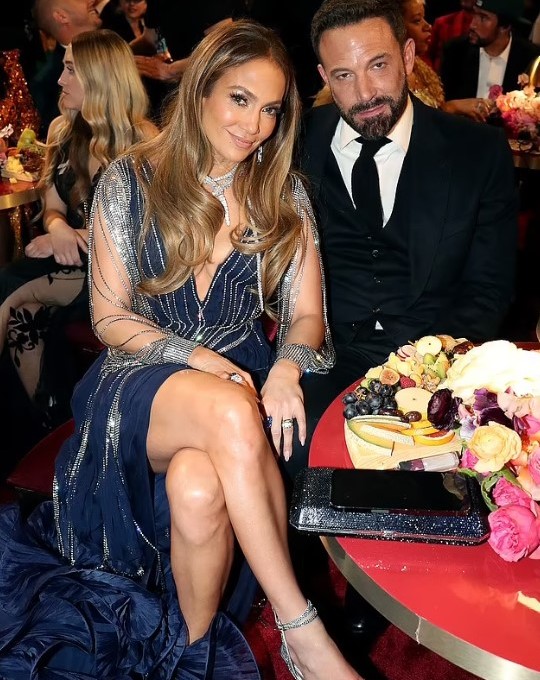 To commemorate their first year of wedded bliss, Jennifer Lopez shared heartfelt song lyrics on her Instagram account. The lyrics were from her upcoming song titled "Dear Ben Pt. II," a sequel to the original "Dear Ben" track that appeared on her 2002 album, "This Is Me..."

In her Instagram post, Jennifer expressed her emotions, writing, "One year ago today … Dear Ben, Sitting here alone. Looking at my ring ring. Feeling overwhelmed. It makes me wanna sing sing. How did we end up here. Without a rewind. Oh my. This is my life …"

Jennifer Lopez's creative expression doesn't stop there. It's believed that she has penned a total of nine songs about Ben Affleck for her upcoming album, titled "This Is Me... Now." The first "Dear Ben" track, which appeared on her 2002 album, celebrated their initial relationship and described Ben as a "manifestation of my dreams."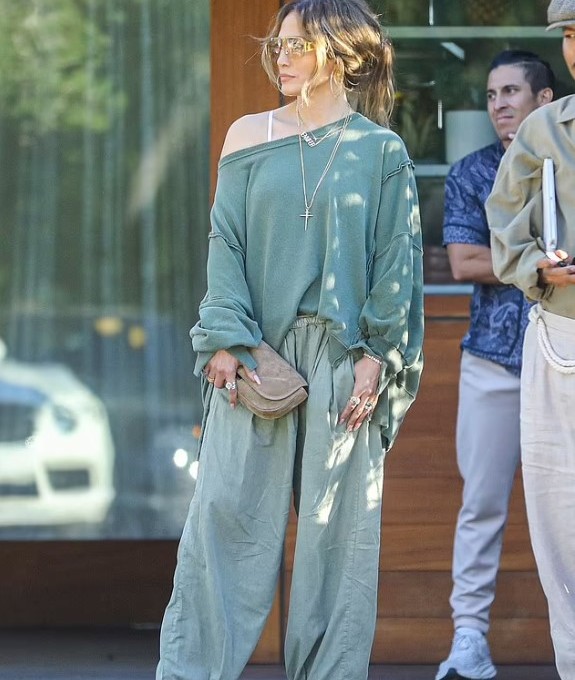 The lyrics of the first "Dear Ben" song conveyed her deep attraction to her then-fiancé, stating, "You're perfect. I just can't control myself. I can't be with no one else. It seems I'm addicted to the way you like to touch me."

Jennifer continued by expressing her heartfelt sentiments: "I write this song to let you know. That you will always be to me. My lust, my love, my man, my child, my friend, and my king."

As Jennifer Lopez continues to captivate audiences with her music, acting, and style, her ever-evolving fashion choices and heartfelt songs about love ensure that she remains a beloved and influential figure in the entertainment industry. Whether it's swapping necklaces or expressing her emotions through music, Jennifer Lopez continues to make headlines and inspire her fans worldwide.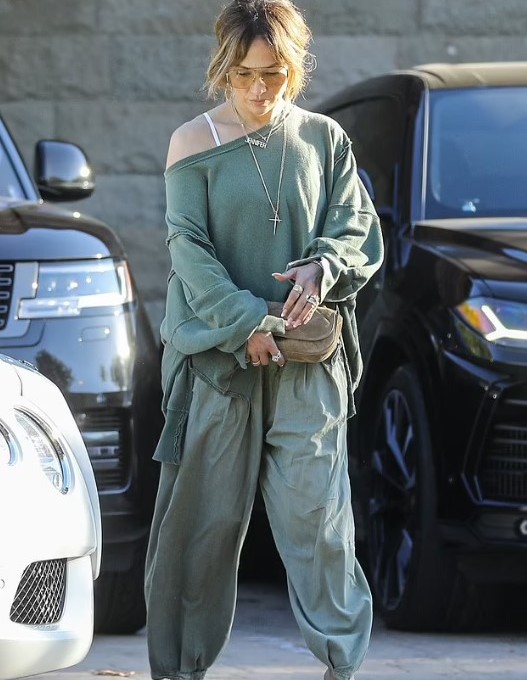 Ben Affleck and Jennifer Lopez:

Ben Affleck and Jennifer Lopez, often referred to as "Bennifer," are a high-profile celebrity couple known for their on-again, off-again relationship.
They first began dating in the early 2000s and were even engaged but later separated. They rekindled their romance in 2021 and got married in 2022.
Their relationship has been a subject of fascination in the media and among fans.

Jennifer Lopez Age:

Jennifer Lopez, born on July 24, 1969, is currently [age] years old.
Despite her age, Lopez remains a prominent figure in the entertainment industry known for her music, acting, and timeless beauty.

Jennifer Lopez Movies:

Jennifer Lopez has an extensive filmography that includes a wide range of genres.
Some of her notable movies include "Selena," "Out of Sight," "The Wedding Planner," "Maid in Manhattan," "Hustlers," and many more.

Jennifer Lopez Children:

Jennifer Lopez is a mother to two children, twins named Max and Emme.
Max and Emme were born in 2008, and their father is Jennifer's ex-husband, Marc Anthony.
Lopez is known for balancing her successful career with motherhood.

Jennifer Lopez Net Worth:

Jennifer Lopez has a remarkable net worth, estimated to be in the hundreds of millions of dollars.
Her income comes from various sources, including music, acting, endorsements, and business ventures.

Jennifer Lopez Instagram:

Jennifer Lopez is active on Instagram, where she shares updates about her career, family, and personal life.
Her Instagram account has a large following and is a platform for her to connect with fans.

Is Jennifer Lopez Mexican:

Jennifer Lopez is of Puerto Rican descent, not Mexican.
She was born and raised in the Bronx, New York, to Puerto Rican parents.

Jennifer Lopez Movies on Netflix:

Jennifer Lopez has appeared in several movies available on Netflix, making them easily accessible for streaming.
Some of her films may be available in different regions and at various times, so it's advisable to check the Netflix catalog for the latest offerings.