Jennifer Lopez Promotes Her Alcoholic Beverage Brand Amidst Birthday Celebrations; Addresses 'Awkward' Video About Drinking Habits
The superstar's post showcased her joyous moments while celebrating her birthday week, sipping on her Bella Berry spritz. Despite some recent backlash and confusion over her involvement in an alcohol brand, Jennifer clarified her stance on responsible drinking. As she continues her successful career and celebrates life milestones, fans eagerly await her new documentary, which may shed light on her personal life, including rumors surrounding her being pregnant.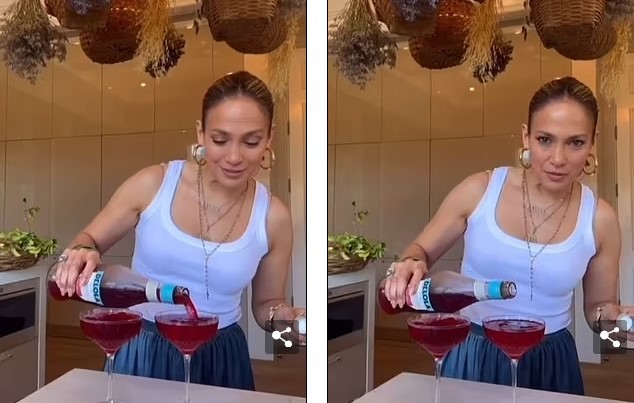 Jennifer Lopez, the multi-faceted artist and singer, took to Instagram to celebrate her 54th birthday in style, sharing a photo dump that offered glimpses into her joyful moments. The post featured the promotion of her alcoholic beverage brand, Delola, in a captivating video.
In the promotional clip, the 54-year-old songstress showcased her mixology skills, expertly preparing two crystal coupe glasses with her Bella Berry spritz. Garnishing the drinks with raspberries on a cocktail skewer, she effortlessly exuded charm and elegance.
Jennifer, known for her radiant beauty, delighted fans with her makeup-free appearances in many of the photos. The camera captured her in a casual yet chic ensemble, featuring a classic white tank top and a stylish gray skirt. Completing her summer look, she sported a sleek updo to stay cool in the heat and adorned herself with eye-catching gold statement jewelry.
In the accompanying caption, she playfully continued her birthday celebrations, toasting to the weekend 'bella berry style' with Delola. The glamorous star's promotional efforts for her brand added to the excitement of her special day.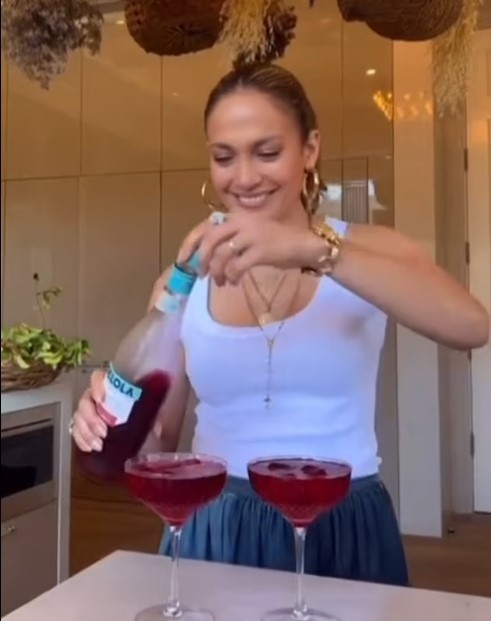 Despite the celebratory mood, Jennifer's recent video about her drinking habits stirred some confusion and backlash. In the previous video, she spoke about occasionally enjoying cocktails but drinking responsibly. Some fans questioned the timing of the promotion, given her husband Ben Affleck's well-known battle with alcoholism.
Addressing the criticism, Jennifer explained that while she previously refrained from drinking, she now enjoys the occasional cocktail responsibly. The singer emphasized her brand's creation as a reflection of her personal journey and preferences.
Amidst the discussions about her alcohol brand, Jennifer continues to shine in her career. Fans are eagerly anticipating her upcoming documentary, which may offer more insights into her life, relationships, and personal growth. Additionally, there have been rumors swirling around the possibility of Jennifer Lopez being pregnant, adding more excitement to her fans' anticipation.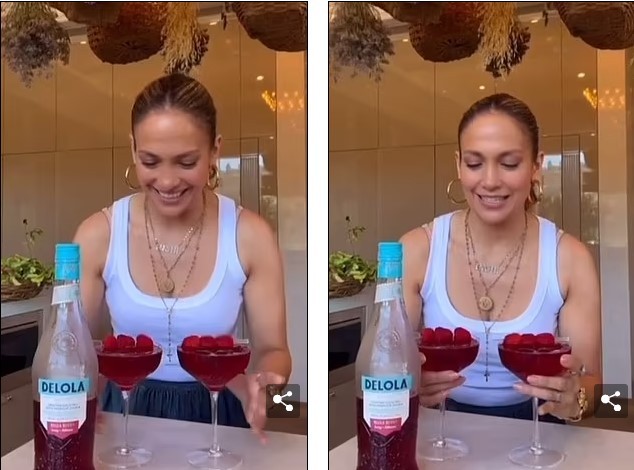 Jennifer Lopez's Pregnancy Rumors: In recent times, rumors about Jennifer Lopez being pregnant have surfaced, creating speculation among her fans. However, there has been no official confirmation from Jennifer or her team regarding these rumors. As she continues to focus on her professional commitments and celebrates life milestones, fans remain curious about the possibility of a new addition to her family. Until there is an official announcement, it remains a subject of interest and excitement among her dedicated followers.