Jessica Simpson Takes a Stylish Trip Down Memory Lane with Daisy Duke Vibes
The star, now 43, revisited her "Dukes of Hazzard" days to showcase her namesake fashion brand's fall 2023 collection, leaving fans impressed with her Texas glam.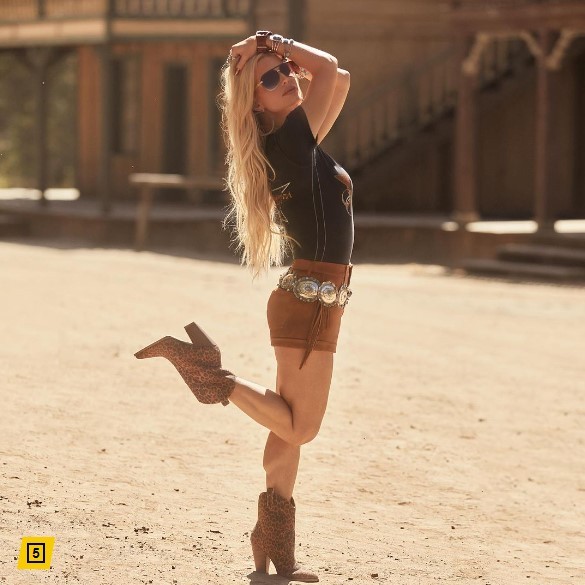 Taking to Instagram on a Thursday, Simpson shared a series of sassy snapshots featuring her donning fringed suede shorts and cowboy boots, perfectly channeling the spirit of Daisy Duke. She added an extra dose of Texas flair with aviator sunglasses, turquoise accessories, and a vintage Willie Nelson tee.

Describing her ensemble as "Rodeo on Rodeo," Jessica Simpson effortlessly embodied the Western-inspired fashion that she's become synonymous with throughout her career. Fans couldn't help but appreciate her timeless style.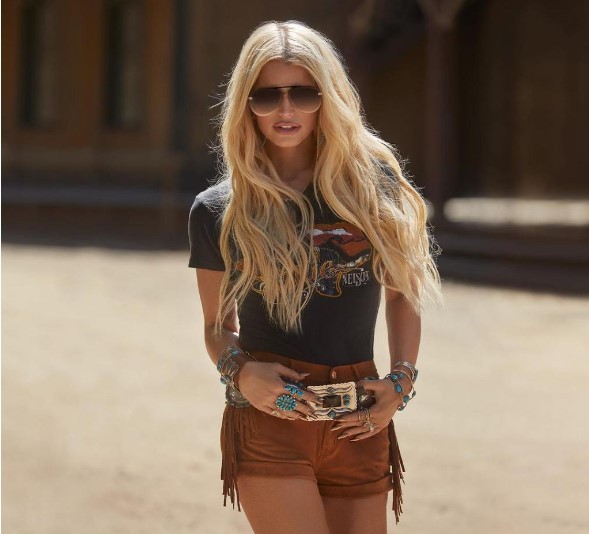 One enthusiastic commenter couldn't resist referencing the classic song, jokingly stating, "Those boots are made for walking." Another admirer marveled at Simpson's ageless beauty, wondering aloud, "Can I look this good at 40?" It's clear that Jessica's Daisy Duke vibes struck a chord with her followers.

The fashion-savvy star didn't miss an opportunity to showcase her latest collection, aptly named "Not My First Rodeo," on her Instagram Story. The collection features standout pieces like the Callie Fringe Short ($69.50) and the Cissely Western Bootie ($139.00), both of which Jessica herself donned for the captivating photoshoot.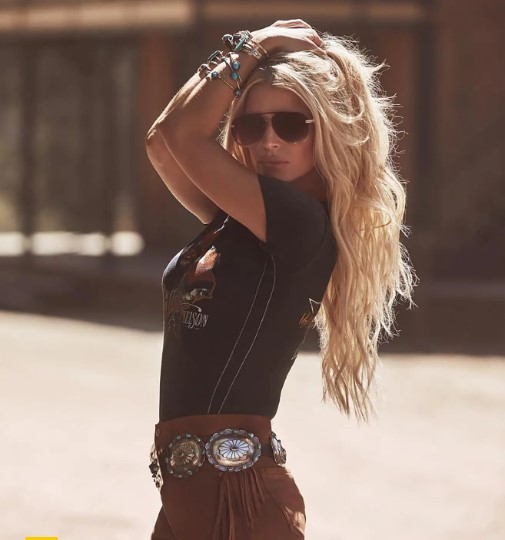 Simpson, who has a well-documented love for stylish shorts, once revealed her fondness for the flirty style, confessing that she owns a "ridiculous number" of jean shorts. She even playfully referred to herself as a "connoisseur" of this fashion staple.

As for those beloved shorts, it seems Jessica is saving some special fashion pieces for her daughters, Maxwell and Birdie. Maxwell, following in her fashionable mother's footsteps, recently celebrated her 11th birthday with a neon Louis Vuitton bag. She's certainly inheriting a taste for fashion from her Texas glam mom.

Jessica Simpson's enduring style and her ability to revisit iconic looks like Daisy Duke's continue to captivate her fans and reaffirm her status as a fashion maven in the entertainment world.
Jessica Simpson Shoes: A Fashion Phenomenon
Jessica Simpson's foray into the world of fashion has been nothing short of remarkable. Her line of footwear, aptly named the Jessica Simpson Collection, has continued to flourish. Offering an extensive range of stylish and comfortable shoes, this collection caters to a diverse audience. From chic heels to casual flats, Jessica's designs reflect her personal style, making her a go-to name in the fashion industry.

Jessica Simpson Net Worth: An Impressive Financial Journey
Jessica Simpson's career has not only been about her talents in music and acting but also her keen business acumen. As of 2023, her net worth stands as a testament to her success. With lucrative endorsements, business ventures, and her eponymous fashion line, she has amassed a considerable fortune. Her net worth is a source of inspiration for those looking to transform their fame into financial success.

Jessica Simpson Weight Loss: A Journey to Health
Jessica Simpson's weight loss journey has been well-documented, and it continues to inspire many. Her openness about her struggles and determination to lead a healthier lifestyle have garnered praise. As she maintains her wellness goals into 2023, her journey serves as a reminder that it's never too late to prioritize one's health and well-being.
Jessica Simpson Now: Current Projects and Endeavors
What is Jessica Simpson up to in 2023? While she has taken a step back from the spotlight in recent years, she remains active in various projects. Whether it's her fashion line, endorsements, or philanthropic efforts, Jessica continues to make an impact in both the entertainment industry and the world at large. Fans eagerly anticipate her next steps on her career journey.

Jessica Simpson Clothing: Beyond Shoes
In addition to her successful line of shoes, Jessica Simpson has ventured into the world of clothing. Her fashion brand includes clothing collections that showcase her signature style, characterized by a mix of sophistication and comfort. From trendy dresses to casual apparel, her clothing line has become a staple in many fashion-conscious wardrobes.

Jessica Simpson Kids: A Loving Mother's Role
Jessica Simpson is not just a celebrity; she's also a doting mother. Her dedication to her three children – Maxwell, Ace, and Birdie – is evident in her public and private life. As she navigates the challenges of motherhood in the spotlight, she sets an example of balancing career success with family priorities.

Jessica Simpson's 2023 journey continues to captivate and inspire her fans and admirers around the world. From her flourishing shoe empire to her impressive net worth, from her inspiring weight loss journey to her role as a loving mother, Jessica Simpson's multi-faceted life serves as an example of what one can achieve through talent, determination, and an unyielding passion for success. Keep an eye on this remarkable celebrity as she continues to make waves in the entertainment and fashion industries, all while embracing the joys of motherhood.