Jude Bellingham Claims 2023 Kopa Award at Ballon d'Or Following Remarkable Performance
The triumph comes just days after the 20-year-old Real Madrid sensation delivered a stunning performance, scoring two crucial goals in his highly-anticipated El Clasico debut against Barcelona last Saturday.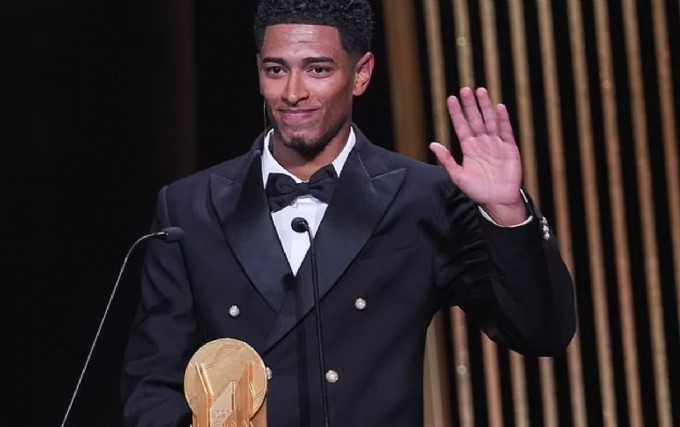 The Kopa Award, presented to the best-performing player under the age of 21, was a closely contested affair with an array of exceptional talents making the shortlist. Bellingham's stunning feats were complemented by the runner-up, Jamal Musiala, who has been making waves with his stellar performances for Bayern Munich.

The nominee list was teeming with talent, including the likes of Rasmus Hojlund from Manchester United, who made a significant impact last season with Atalanta, amassing an impressive tally of 16 goals across all competitions for the Serie A side. Also among the contenders was Bayern Munich's young star, Jamal Musiala, who, at the age of 20, has recently showcased his prowess with three goals in his last two outings for the Bundesliga champions, which included a brace against Darmstadt over the weekend.

Barcelona's Gavi and Pedri, known for their burgeoning talents, were also featured as nominees, along with Bellingham's teammate Eduardo Camavinga. RB Leipzig's Xavi Simons, following a breakout season that witnessed him score an astonishing 22 goals in 48 appearances across all competitions for the German outfit, completed the illustrious list of nominees.

However, it was Jude Bellingham, the English sensation who has set La Liga ablaze since his sensational £113 million move to Real Madrid this summer, who emerged victorious. With a remarkable tally of 13 goals in just 13 games, Bellingham's rise to prominence was unstoppable. Last season, the 20-year-old was a standout performer for Borussia Dortmund, where he notched up an impressive 14 goals in 47 games across all competitions, narrowly missing out on securing the Bundesliga title.

Speaking about his journey at Real Madrid, Bellingham humbly attributed his success to the warm welcome he received from the club and its staff. He acknowledged his own confidence in his abilities but emphasized the invaluable support he received, saying, "Really it's down to them. I'm really confident in my ability but they've helped me extract that."

Bellingham, when questioned about his choice of the No. 5 jersey, echoed the influence of the legendary Real Madrid star, Zinedine Zidane. He stated, "Yeah, there's a little bit of that. There wasn't much else left, to be honest. It's a lot of pressure but it's something that I wanted to invite onto myself and pay homage to one of my footballing idols."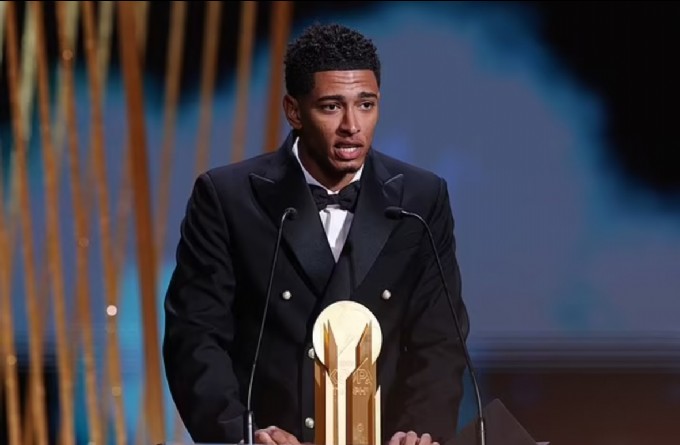 Joining a prestigious group of players that includes luminaries like Kylian Mbappe, Matthijs de Ligt, Pedri, and Gavi as previous Kopa Award winners, Bellingham expressed his honor, adding, "To win this trophy means a lot, but for me, most important are team trophies. Now that I've got this one, it's important I try and kick on and help Madrid."

Bellingham also took a moment to acknowledge his former England teammate, Jamal Musiala, who secured the runner-up position. The two players had been roommates during their time with the England national team. Bellingham spoke fondly of their friendship, saying, "It's nice because we were roommates for England about two or three years ago, and he was one of my best mates in football. I'm really proud of him. So, always keeping in touch to see how he's getting on. He's a great lad and a great player."

In response, Musiala, who couldn't attend the event, sent his congratulations to Bellingham through a heartfelt video message, emphasizing their journey from roommates at England to now representing two of the world's top football clubs. He expressed his excitement about their future encounters on the field and wished Bellingham a fantastic evening.

The 2023 Kopa Award, presented to Jude Bellingham, not only celebrated his individual brilliance but also marked the beginning of what promises to be an extraordinary career for this young footballing prodigy.