Justin and Hailey Bieber Rock Matching Leather Jackets for US Open Date Night
Following a week of playful social media banter about their contrasting fashion statements, the Biebers stepped out in matching leather jackets, proving that their fashion sense is as harmonious as ever.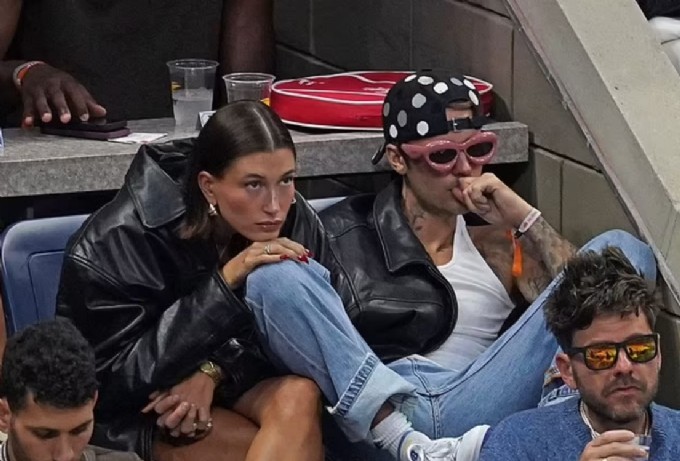 Justin, 29, the acclaimed musician, and Hailey, 26, the sought-after model, showcased their affectionate side as they watched the US Open from the prestigious Emirates Suite. Their coordinated outfits stole the spotlight, with both donning oversized leather jackets layered over white attire.

While Justin sported a crisp white undershirt paired with light-wash blue jeans and eye-catching white New Balance sneakers adorned with blue and yellow accents, he added a touch of flair with a black and white polka-dot cap worn backward and a pair of trendy pink LOEWE sunglasses.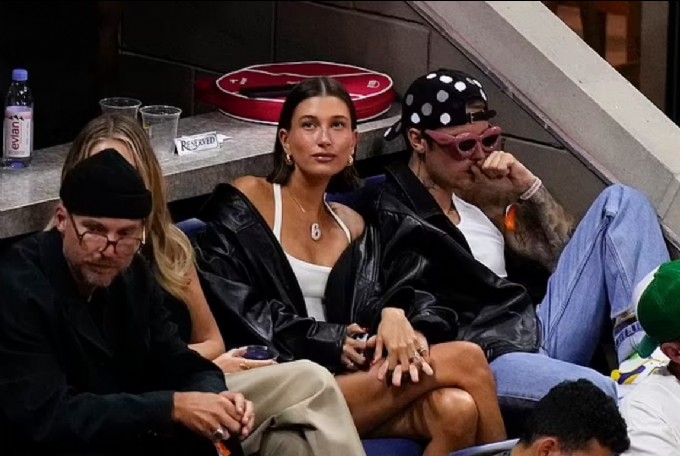 In contrast, Hailey opted for an elegantly understated look, pairing her leather jacket with a simple white mini dress. Her long brunette locks were styled sleekly with a classic middle part. The model accessorized her ensemble with bold gold hoop earrings and a charming bubble letter "B" necklace, a piece she has recently sported on multiple occasions, including during a night out with friends Gigi Hadid and Kendall Jenner.

Adding a pop of vibrant color to her outfit, Hailey showcased her strawberry-red nails, a reminder of the launch-day celebration from the previous week. She had marked the release of Rhode's latest product, a delectable Strawberry Glaze flavor of their popular Peptide Lip Treatment, by dazzling in three stunning Krispy Kreme-inspired outfits during events in New York City.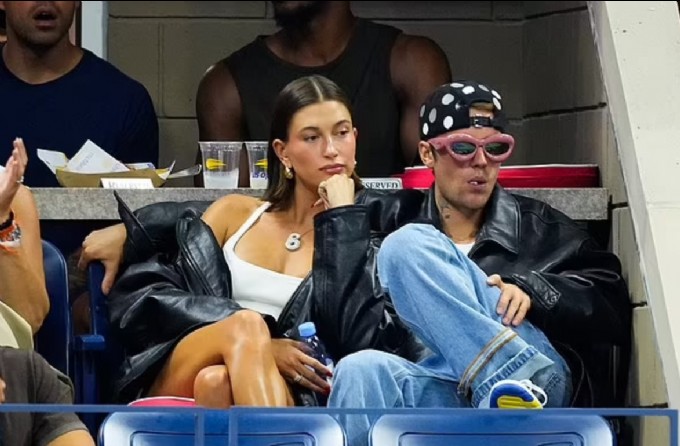 While Justin's relaxed attire, consisting of a gray sweatsuit and snapback cap, may have drawn playful comments on social media, it's essential to note that his dressed-down style doesn't diminish his unwavering support for his wife. Following her successful product launch, the "Baby" singer took to Instagram to shower Hailey with love.

Justin shared a heartwarming photo featuring himself, Hailey, and their two adorable dogs. In the image, he proudly wore a sweatshirt emblazoned with her full name. In another post, he shared a snapshot of Hailey during her product launch event. Accompanying both posts were affectionate emojis, emphasizing the couple's strong bond and admiration for each other.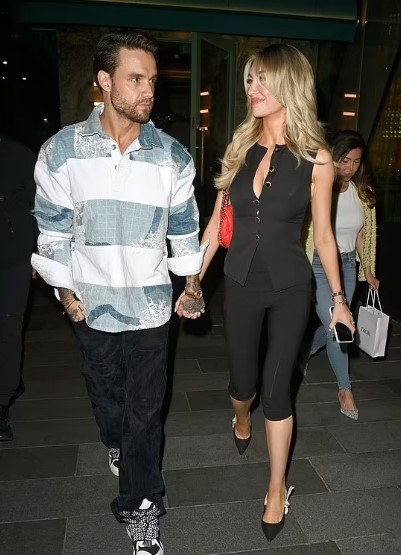 Their US Open date night showcased not only their synchronized style but also their enduring love, making them a beloved couple in the world of entertainment and fashion. The Biebers continue to captivate audiences with their charisma, both on and off the red carpet.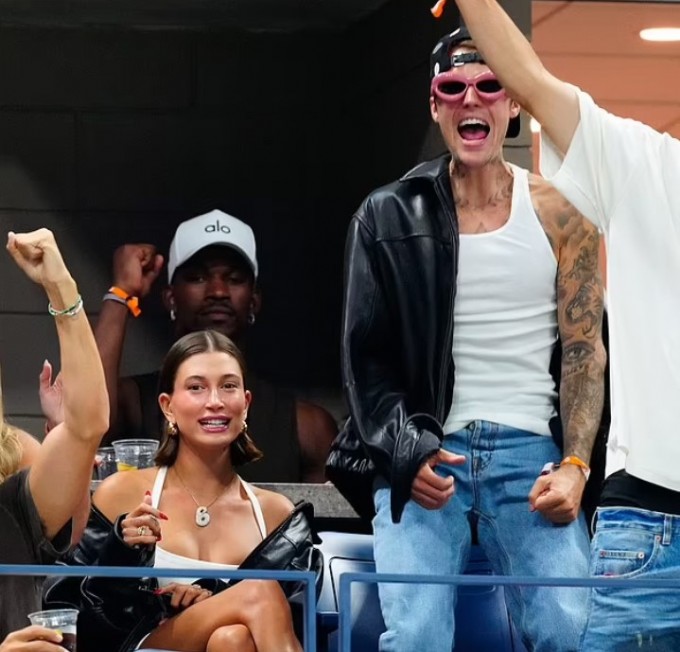 Justin and Hailey Bieber's Relationship Timeline: From Breakup to Bliss

Justin Bieber and Hailey Baldwin, now known as Hailey Bieber, have shared a tumultuous journey through their relationship, filled with ups and downs, breakups, and heartfelt reconciliations. Let's take a closer look at the complete timeline of their love story.

The Dark Ages: 2016 to 2018

During this period, which Hailey has described as "The Dark Ages" of their relationship, Justin and Hailey were anything but friends. They endured nearly two years of not being on speaking terms. Hailey shed light on this challenging phase, acknowledging that they went through a prolonged period of estrangement, marked by an atmosphere of awkwardness.

A Surprise Reconciliation: June 2018

In a surprising twist, Justin and Hailey's story took a turn for the better in June 2018. The couple rekindled their connection, leaving their past differences behind and embarking on a fresh start. Their reconciliation caught many by surprise, as they had seemingly moved on from their previous rift.

Engagement and Courthouse Ceremony: July to September 2018

Just two months after reigniting their romance, Justin Bieber proposed to Hailey Baldwin during a trip to the Bahamas in July 2018. Their whirlwind engagement was met with excitement from fans and the entertainment industry alike. However, they didn't waste any time sealing the deal. In September 2018, the couple exchanged vows in a discreet courthouse ceremony in New York City, officially becoming husband and wife.

Formal Wedding: September 2019

Although they had already tied the knot, Justin and Hailey decided to celebrate their love with a more formal wedding ceremony on September 30, 2019. This time, they surrounded themselves with friends and family for a memorable event that solidified their commitment to each other. The wedding served as a testament to their enduring love and marked a significant chapter in their journey together.

Selena Gomez Drama: January 2023

In January 2023, Hailey Bieber found herself entangled in controversy surrounding Selena Gomez. After Selena was body-shamed in a now-deleted TikTok video, Hailey, along with her friends Kendall Jenner and Justine Skye, was accused of subtly shading the pop star. The trio lip-synced to the sound, "And I'm not saying she deserved it, but God's timing is," sparking debates and discussions among fans.

From Crush to Couple

Reflecting on the early days of their connection, Hailey Bieber reminisced about how she first viewed Justin Bieber. She revealed that her attraction to him was not marked by the typical crazed, screaming fan behavior. Instead, she simply found him cute, much like many others who had a crush on the young pop sensation. However, an age gap initially made their relationship more complex.

In summary, Justin and Hailey Bieber's love story has seen its fair share of challenges, including periods of separation and public scrutiny. Despite the rocky road they traveled, they eventually found their way back to each other, leading to a loving and enduring marriage that continues to capture the hearts of fans worldwide.