Kate Hudson turned heads and sets social media ablaze
The 44-year-old star of "Almost Famous" captivated her fans as she confidently posed in ombre bikini bottoms, leaving little to the imagination.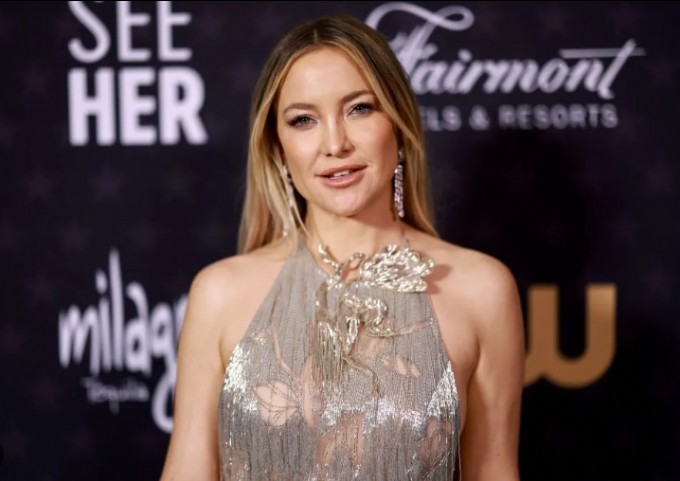 In the Instagram photo, Kate protected her modesty by strategically positioning a blue heart emoji and holding the novel "Lessons In Chemistry" to cover her bare breast. However, her toned abs and legs stole the spotlight, leaving fans in awe of her fitness and beauty.
It seemed that Kate was accompanied by her fiancé, Danny Fujikawa, 36, who joined her in the pool, sporting a hat. The couple's chemistry and radiant energy were palpable in the captivating snapshot.
Notably, Kate's brother, Oliver, couldn't resist teasing her and left a playful comment under the post. He wrote, "Jesus no Kate!" to which she playfully responded with a laughing-out-crying emoji and a cheeky remark, saying, "Summers just begun Oliver... it's gonna get wild. You should unfollow." Oliver's humorous comment quickly gained popularity, receiving over 1,344 likes from Kate's vast fan base of 17 million followers.
Accompanying the photo, Kate captioned it with a playful statement, "Suns out, buns (and huns) out," along with a sunshine emoji and the hashtag #summerready. The post also provided glimpses of Kate's children, including her adorable four-year-old daughter, Rani, who was captured sitting on a nearby staircase.
This isn't the first time Kate has playfully teased her brother with her bold social media posts. In a previous instance, she shared a photo of herself in black underwear, which prompted Oliver to respond simply with a firm "Nope.."
As the beloved children of former couple Bill Hudson and Goldie Hawn, Kate and Oliver share a strong bond, which they showcase through their successful podcast, Sibling Revelry.
In addition to her flourishing career, Kate is a proud mother of three. She shares her eldest son, Ryder, 19, with her ex-husband, Chris Robinson, 56. She also has a son named Bingham, 11, from her previous relationship with singer Matt Bellamy, 44. Kate's fiancé, Danny Fujikawa, completes their beautiful family picture.
Kate's recent interview with Flaunt Magazine revealed her deep appreciation for motherhood and the transformative impact it has had on her life. She described how having children shifted her perspective and altered the course of her journey. As a young mother, Kate has experienced the joys and challenges of raising children, which have shaped her into the person she is today.
With her radiant beauty, incredible talent, and zest for life, Kate Hudson continues to captivate audiences worldwide. Her latest poolside snap serves as a testament to her confidence, fitness, and enduring appeal as a prominent figure in the entertainment industry.