Kate Middleton Wears Meaningful Earrings While Hosting Youth Mental Health Forum with Prince William
October 10, 2023 - Birmingham, UK - The Duchess of Cambridge, Kate Middleton, made a heartfelt gesture as she visited Birmingham alongside Prince William, hosting a youth mental health forum on World Mental Health Day. Kate, 41, paired her L.K.Bennett £359 tailored jacket and black trousers with star-shaped earrings gifted to her by Maidenhead Rugby Club coach Sarah Renton.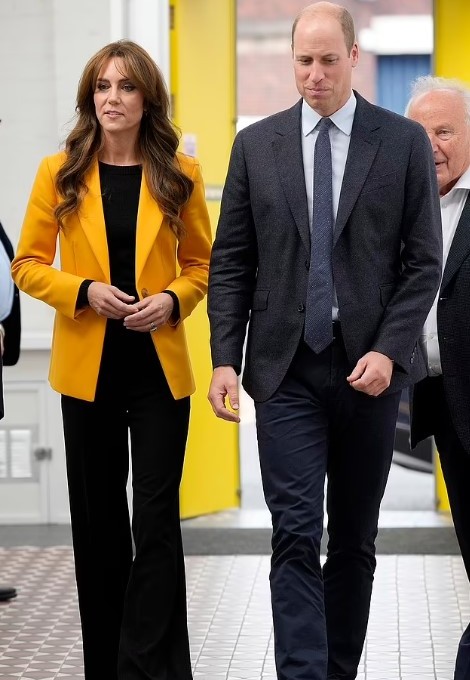 These unique earrings were crafted in memory of Mrs. Renton's daughter, Issy, who tragically took her own life at the age of 17 earlier this year after struggling with depression. Kate had promised to wear the jewelry after receiving them during a visit to the rugby club in June. Today, she fulfilled that promise, joining Prince William, 41, for a public engagement in Birmingham.

The royal couple hosted the forum titled "Exploring our Emotional Worlds," which focused on the significance of understanding emotions and fostering positive relationships among young people. Their commitment to mental health advocacy is evident through their involvement in this event.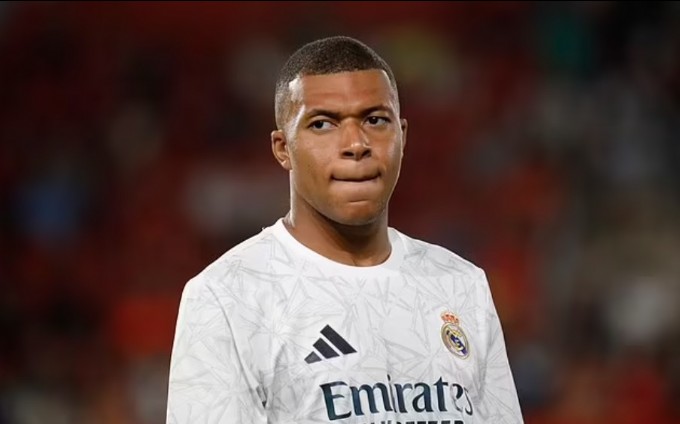 In a touching moment, Mrs. Renton shared, "My daughter Issy took her own life. The proceeds from the earrings are going to a charity called Brave Minds, a mental health charity that supports children using the platforms of rugby clubs. Mental health is such an important issue." She described her daughter as "wonderful" and "a real breath of fresh air," highlighting her achievements in rugby and academics.

Kate emphasized the importance of addressing mental health challenges. She commended the younger generation for their courage in discussing mental health openly, saying, "Today, more people feel empowered to talk about their mental health than ever before. This is a major step forward."

The princess also stressed the need for proactive solutions, saying, "Although many more conversations are now taking place, it is now vital we spend more time focusing on how we talk about our mental health – and crucially; What are we are going to do, to build positive, preventative solutions to one of today's toughest challenges."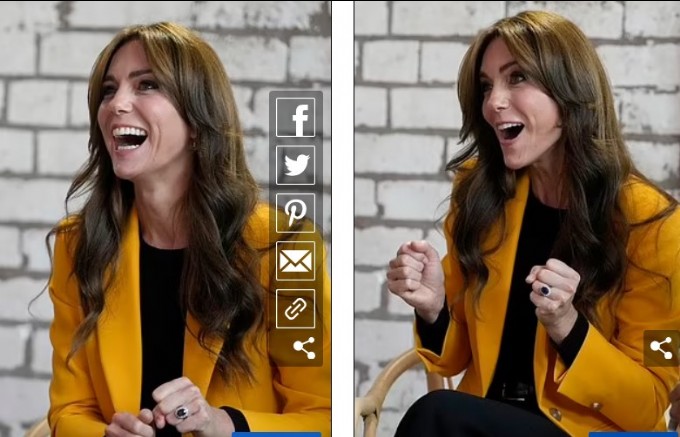 Prince William joined a panel discussion alongside Dr. Alex George and mental health volunteers Michael Lister, 20, and Fatima Diallo, 21. He expressed the importance of hearing directly from young people about their mental health concerns and challenges.

Today's forum featured contributions from TV doctor Alex George, BBC Radio 1 presenter Katie Thistleton, and Marc Brackett PhD, the Founding Director of the Yale Center for Emotional Intelligence. It included a series of workshops conducted in partnership with The Mix, a leading youth mental health charity.

Prince William and Kate have been strong advocates for mental health awareness. In 2016, they launched the "Heads Together" campaign, aimed at destigmatizing mental health issues and encouraging open conversations.

Kate's choice to wear the earrings given by Mrs. Renton reflects her commitment to raising awareness about mental health and supporting those affected by it. The couple's dedication to this cause continues to inspire positive change in the field of mental well-being.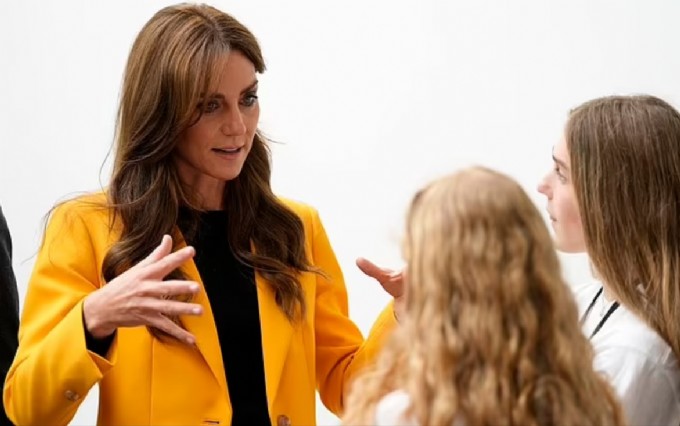 As they hosted the Birmingham event, Prince Harry and Meghan Markle were preparing to return to New York City for the Archewell Foundation's mental health summit, their first-ever in-person event for the foundation. Their previous visit to the city was marred by a highly publicized "near catastrophic car chase," allegedly involving aggressive paparazzi.

The Archewell Foundation's Parents' Summit focuses on helping families navigate children's mental health and wellness in the digital age. The event has invited parents who have experienced losses related to their child's social media use. The foundation has been engaged with these families for the past year, working toward solutions and sharing personal experiences.

Meghan, 42, and Prince Harry, 39, will join U.S. Surgeon General Vivek Murthy for a panel discussion moderated by Carson Daly. Their advocacy work has been instrumental in bringing attention to mental health issues and fostering meaningful change.

In summary, Kate Middleton's gesture of wearing the star-shaped earrings given by a grieving mother added a poignant touch to the youth mental health forum she and Prince William hosted. Their commitment to this cause continues to drive positive change, while Meghan Markle and Prince Harry are set to resume their own advocacy efforts in New York City.
Full Names: Kate Middleton's full name is Catherine Elizabeth Middleton, and Prince William's full name is William Arthur Philip Louis.

Duke and Duchess of Cambridge: After their wedding, Prince William and Kate Middleton were granted the titles of Duke and Duchess of Cambridge.

Royal Wedding: The royal couple's wedding took place on April 29, 2011, at Westminster Abbey in London, which was attended by dignitaries and watched by millions worldwide.

Children: Prince William and Kate have three children: Prince George, Princess Charlotte, and Prince Louis.

Mental Health Advocacy: Both Prince William and Kate Middleton are passionate advocates for mental health awareness, launching the "Heads Together" campaign in 2016 to combat the stigma surrounding mental health issues.

Educational Background: Kate Middleton studied art history at the University of St. Andrews, where she met Prince William. He studied geography at the same university.

Travel and Official Tours: The couple has undertaken numerous official tours on behalf of the British monarchy, visiting countries such as Canada, India, and Pakistan, strengthening diplomatic ties.

Philanthropic Work: In addition to mental health advocacy, Prince William and Kate Middleton are involved in various charitable causes, including children's welfare, wildlife conservation, and homelessness.

Fashion Influence: Kate Middleton's fashion choices are widely followed and have a significant influence on fashion trends. She is known for her elegant and timeless style.

Royal Engagements: The Duke and Duchess of Cambridge attend various royal engagements and events, representing the British royal family both domestically and internationally.

University Sweethearts: Prince William and Kate Middleton's relationship began when they were university students at the University of St. Andrews in Scotland.

Sports Enthusiasts: Both Prince William and Kate are sports enthusiasts and have been involved in promoting sports and physical activity for various causes.

Children's Wellbeing: The couple is dedicated to promoting the wellbeing and mental health of children, making appearances at schools and organizations focused on children's welfare.

Parenting: Kate and William have spoken openly about their experiences as parents and their commitment to raising their children in a balanced and supportive environment.

Royal Titles: Alongside Duke and Duchess of Cambridge, Prince William holds other titles such as Prince William, Earl of Strathearn, and Baron Carrickfergus.

Travel Destinations: The royal couple's travels often make headlines, showcasing their involvement in diplomacy, culture, and global issues.

Charity Patronages: Prince William and Kate are patrons of various charities and organizations, leveraging their position to raise awareness and support for important causes.

Educational Initiatives: The couple supports educational initiatives and institutions, recognizing the importance of education in improving lives and communities.

Royal Residences: Prince William and Kate split their time between various royal residences, including Kensington Palace in London and Anmer Hall in Norfolk.

Online Presence: The Duke and Duchess of Cambridge maintain an active online presence through social media and their official website, sharing updates about their activities and causes they support.