Kendall Jenner and boyfriend Bad Bunny heat up their romance as they watch the hometown Lakers take on the Golden State Warriors
The 27-year-old Kardashians star and the 29-year-old music superstar boyfriend Bad Bunny, whose current net worth is estimated to be around $20 million with an estimated $4 million+ annual salary, showed off plenty of PDA and appeared to be having a great time as they watched the game.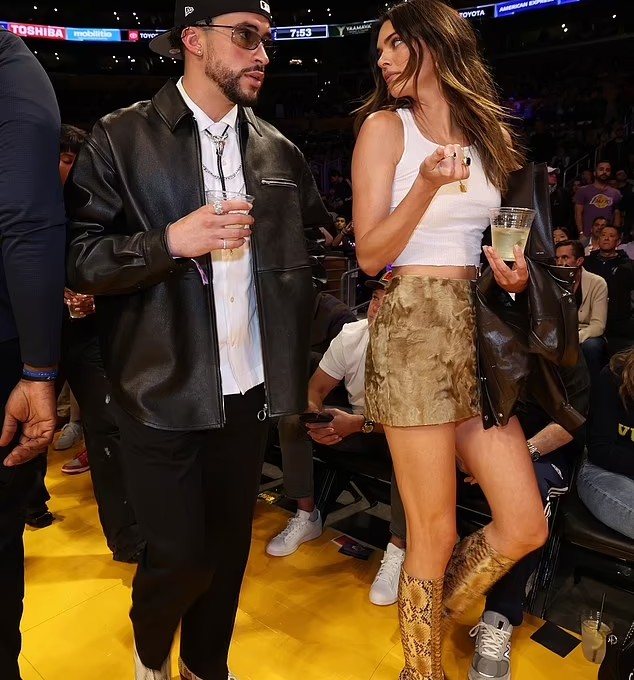 The Lakers ended up eliminating the Golden State Warriors in game six of the Western Conference semifinals, 122–101.
Kendall and Bad Bunny (real name: Benito Martínez Ocasio) were just a couple of the celebrities at the game, as stars including Jack Nicholson, Michael B. Jordan and Jack Harlow were also in attendance.
Kendall showed off her stellar figure in a white crop top that revealed a hint of her toned midriff and emphasized her trim arms.
She contrasted it with a mottled brown mini skirt that put the focus on her long, tanned legs.
The 5ft10in catwalk star completed her outfit with a pair of knee-high snake-print boots.
She also brought along a black leather jacket that she carried on her arm, and she styled her brunette hair straight with a middle part.
Bad bunny appeared to have coordinated with his date, as he wore a black leather jacket of his own.
He had on a white shirt with black pants, and he wore whitish snake-print cowboy boots that complemented Kendall's.
The rapper added an intriguing bolo tie to his look, and and he wore a black backward baseball cap.
The couple were joined by Kendall's friend Travis Bennett, better known to Odd Future fans as Taco.
He and the photographer Renell Medrano sat on the other side of Kendall.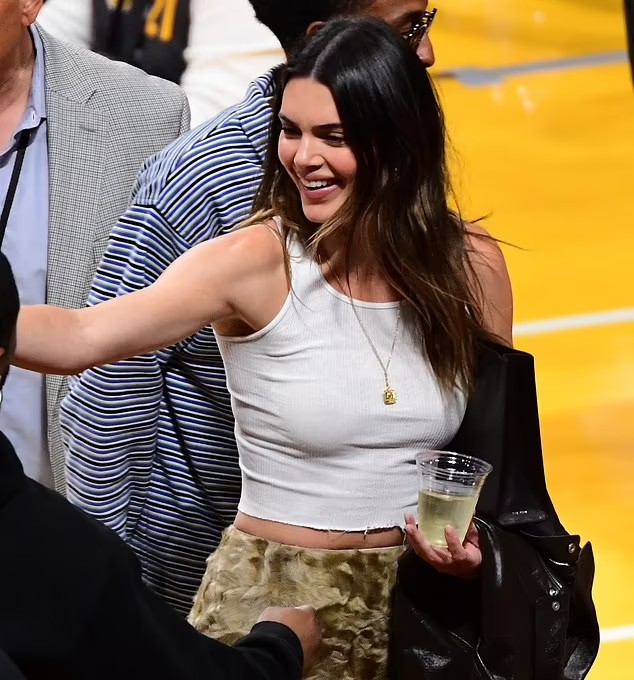 Travis wore a blue-and-white striped shirt with gray trousers and off-white high-top sneakers, while Renell had on a navy blue Yankees hoodie with dark pants and square-toed black boots.
Kendall and Bad Bunny first sparked dating rumors back in February, after the gossip blog DeuxMoi reported that sources had seen the two playing 'tonsil hockey' at an LA club.
Fans on social media were comically distraught, some because they saw their chances of being with the Latin music star disappear, while others were angered that he was dating a white woman rather than a Latin woman or a person of color.
But Bad Bunny and Kendall later confirmed their romance when they shared a hug and a romantic kiss after a sushi dinner featuring her sister Kylie Jenner and some of their friends.
Since then, the two have quickly become inseparable.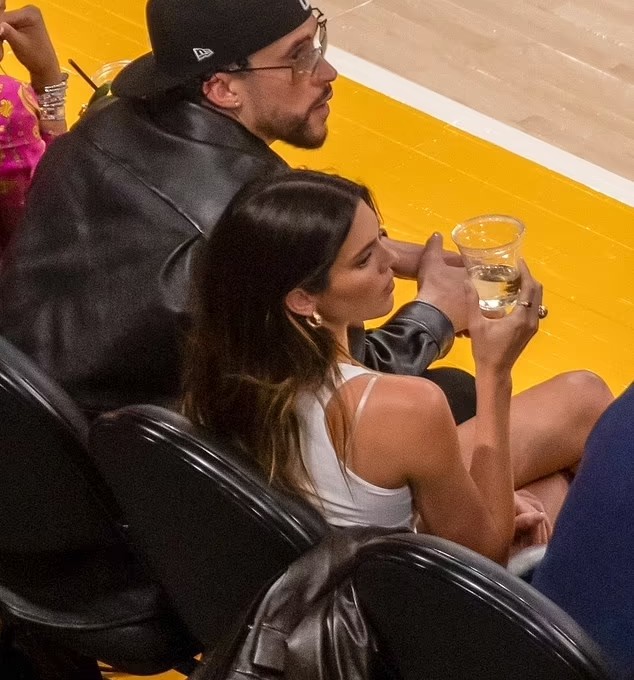 Earlier this month, sources told People that the two have been spending 'almost every day together' amid their budding romance.
After a 'slow start,' the two are reportedly rarely out of each other's sight.
'They are very cute together. Kendall is happy,' a source told the publication. 'He is a fun guy. Very much a gentleman and charming. She likes his vibe. He is very chill.'
They added, 'He hangs out with her friends and she hangs out with his. It's more of a relationship now. Kendall is not seeing anyone else. She really likes him.'
The lovebirds were seen late last month on a double date with Kendall's friend Hailey Bieber and her husband Justin.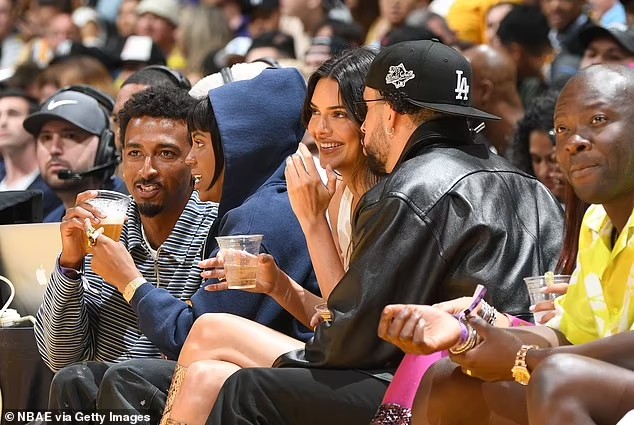 Things seem to be on the upswing for the two, and an insider recently opined that the two have 'long-term' potential as a couple.
'Things are going really well for Kendall and Bad Bunny and she definitely sees long-term potential with him,' a source told Us Weekly on Thursday.
They said the lovebirds 'complement each other on so many levels,' and Kendall thinks the singer is the 'complete package.'
'They are having a great time together, and she appreciates that he gets along with all of her friends.'