Kendall Jenner's 818 Tequila Faces Trademark Lawsuit Over Alleged Copying of Tequila 512
The lawsuit claims that the branding similarities are so striking that an image of Tequila 512 was mistakenly used in Kim Kardashian's mobile game instead of Kendall Jenner's 818 Tequila.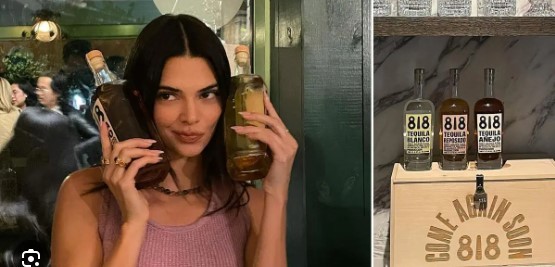 Tequila 512's lawsuit, filed in the U.S. District Court in Central California on Wednesday, asserts that K & Soda LLC, the owner of 818 Tequila, has "simply and blatantly" copied its branding. Tequila 512, which established its trademark in 2015, prominently features an "immediately recognizable 512 mark in black lettering inside a vertical yellow rectangle." The lawsuit alleges that Tequila 818, which emerged last year with Kendall Jenner as its face, adopted the same branding with only minor modifications.
The legal action also points out similarities in the two brands' numerical names and their connections to distinct area codes. Tequila 512 pays homage to Austin, Texas, its hometown, while 818 Tequila alludes to Los Angeles.
The lawsuit contends that the resemblance between the branding is so pronounced that, in a curious twist, an image of Tequila 512 was mistakenly used for an in-game purchase in Kim Kardashian's "Kim Kardashian: Hollywood" mobile game, intended to represent 818 Tequila. The lawsuit speculates that this mishap could either indicate an intentional effort to blur the lines between the two brands or a level of similarity leading to confusion within the company.
A representative for 818 Tequila swiftly responded to the allegations in a statement to TMZ, asserting that the claims are baseless and without merit.
"While we review the complaint, we firmly believe that the allegations have no merit," the representative stated.
Notably, neither Kendall Jenner nor Kim Kardashian have been named as defendants in the lawsuit.
The CEO and Chairman of Tequila 512, Nick Matzorkis, has called on 818 Tequila to make a clear distinction between their products and those of Tequila 512. He emphasized the potential long-term impact on his company's unique brand identity due to the alleged imitation.
Matzorkis explained, "It goes beyond just lost sales, it's about the long-term dilution of our unique recognizable brand identity that they decided to mimic," in a statement to Austin's KEYE-TV.
Kendall Jenner's connection to 818 Tequila has previously sparked controversy. Upon its launch, she faced criticism for appropriating Mexican culture in promotional images featuring her on horseback in agave fields. Additionally, grammatical errors in the Spanish on 818 Tequila's labels were pointed out.
Jenner, however, addressed these concerns on "The Tonight Show Starring Jimmy Fallon," highlighting the brand's efforts to contribute positively to the community. She explained, "At our distillery, which I was just at the other day, we found a way to take the agave waste — the agave fibers and the water waste — and build this sustainable brick that we are actually donating back to the community of Jalisco," in September.