Kendall Jenner's Bold Nude Photoshoot for Stella McCartney's Winter 2023 Campaign
The 27-year-old icon bared it all, showcasing her exquisite physique in this jaw-dropping visual spectacle.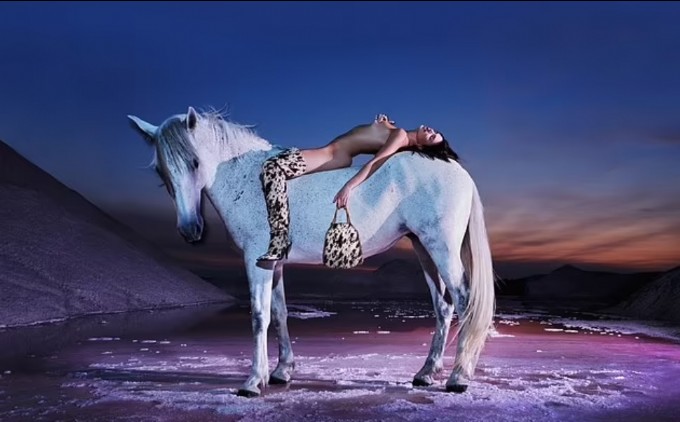 Captured by the lens of acclaimed photographer Harley Weir against the stunning backdropp of Camargue Salt Flats in France, Kendall Jenner embodies the essence of the next-gen model and her equestrian spirit, surrounded by the famed white ponies native to the region.
In one striking shot, Kendall exudes confidence as she strikes a pose, topless, using her arm to discreetly cover her chest. The impactful image is further accentuated by her choice of thigh-high animal print boots that add a dramatic touch to her ensemble, coupled with a matching bag. Her straight, glossy brunette locks and poised posture meld seamlessly with the breathtaking landscape behind her.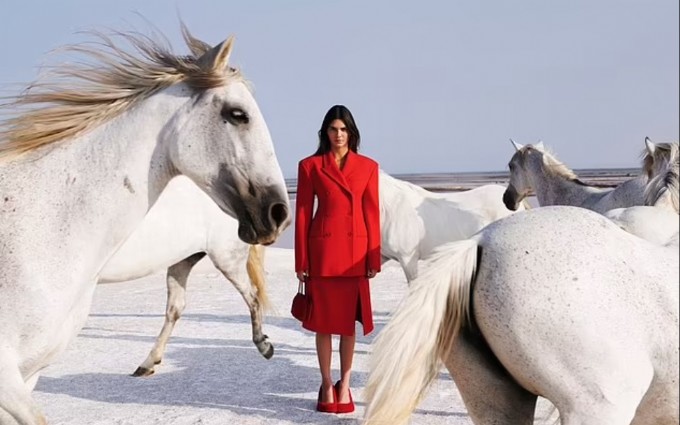 Adding versatility to the campaign, Jenner transitions into another captivating look—a vibrant red blazer paired elegantly with a matching pencil skirt and heels. This ensemble radiates sophistication and style, encapsulating the essence of Stella McCartney's Winter 2023 collection.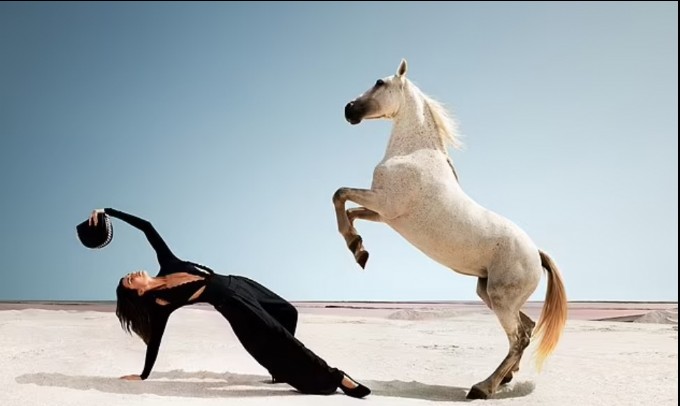 Stella McCartney, a notable designer celebrated for her sustainable and fashion-forward creations, speaks highly of the decision to feature Kendall Jenner in this campaign. She remarks, 'I knew this season's Stella girl had to love horses as much as I do. Kendall has been riding since she was a kid, just like me, and has her own ranch; you can see how at ease she is around these sensitive creatures, and them with her. Capturing this connection brings Horse Power to life, both through the fashion and the vision.'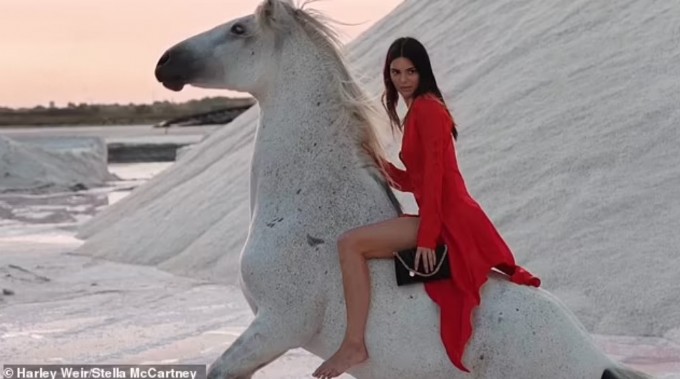 This captivating campaign comes on the heels of Kendall Jenner's candid interview with Harper's Bazaar España, where she delves into her approach to relationships. The model, who has recently been linked with Bad Bunny, expressed her profound belief in loving 'intensely and without apologizing.' She revealed her determination to fight for relationships and her aversion to goodbyes, emphasizing her unwavering commitment.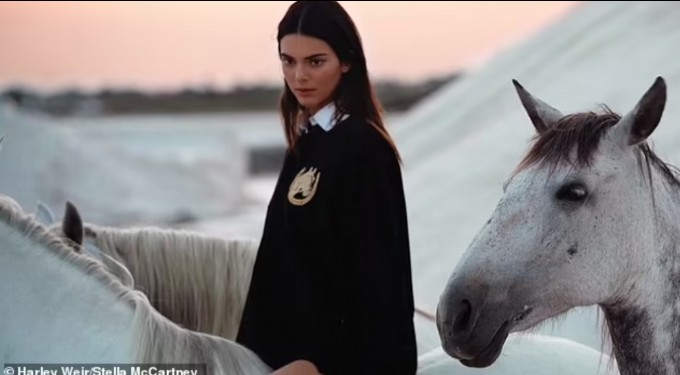 Despite their numerous joint outings, including sightings at restaurants, Coachella, and a LA Lakers game, Kendall Jenner and Bad Bunny have not officially confirmed their relationship status. However, the chemistry between the two continues to capture public intrigue.
Fashion enthusiasts and Kendall Jenner fans can anticipate the launch of Stella McCartney's Winter 2023 collection, set to be available at select retailers worldwide, boutiques, and stellamccartney.com starting August 2023. The collaboration between Kendall Jenner and Stella McCartney has undoubtedly created an unforgettable fusion of art, fashion, and the equestrian spirit that will resonate in the fashion world.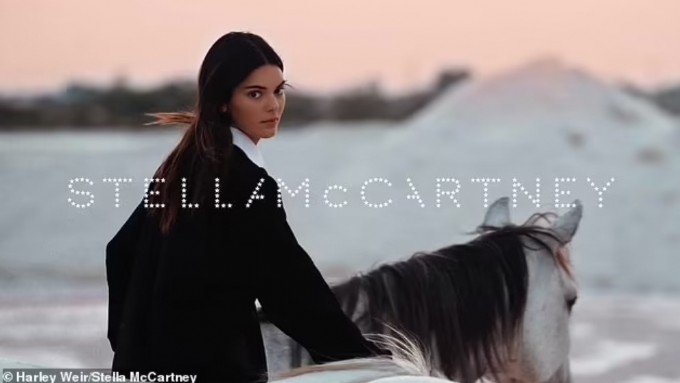 Tequila: Kendall Jenner launched her own tequila brand, 818 Tequila, in 2021. The tequila is made from 100% agave and is available in three varieties: Blanco, Reposado, and Añejo.
Boyfriend: Kendall Jenner is currently dating Devin Booker, a professional basketball player for the Phoenix Suns. They have been dating since 2020.
Pepsi ad: Kendall Jenner starred in a controversial Pepsi ad in 2017. The ad depicted Jenner handing a can of Pepsi to a police officer, which defused a protest. The ad was widely criticized for being tone-deaf and for trivializing the Black Lives Matter movement.
Kim Kardashian's net worth: Kim Kardashian's net worth is estimated to be $1.8 billion. She is one of the richest reality TV stars in the world. Her wealth comes from her reality TV career, her businesses, and her endorsements.
818 Tequila: 818 Tequila is named after the area code of the San Fernando Valley, where Jenner grew up. The tequila is made from agave grown in the Jalisco Highlands. It has a smooth, fruity flavor and is bottled at 80 proof.
Devin Booker: Devin Booker is a 25-year-old basketball player who was born in Grand Rapids, Michigan. He played college basketball for the Kentucky Wildcats before being drafted by the Phoenix Suns with the 13th overall pick in the 2015 NBA Draft. Booker is a two-time All-Star and was named to the All-NBA Third Team in 2022.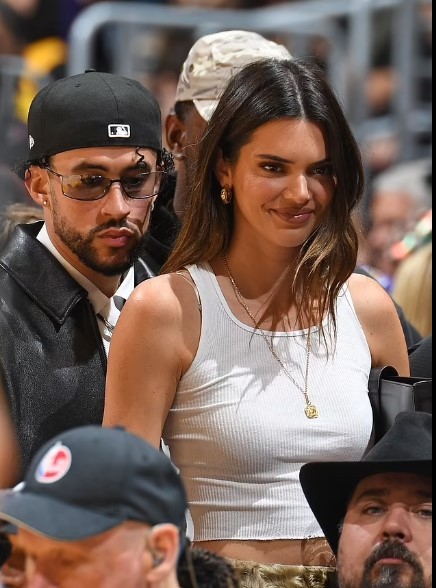 Pepsi ad: The Pepsi ad was called " KendallJenner Generations Unite." It was released in April 2017 and was met with immediate backlash. The ad depicted Jenner walking into a protest and handing a can of Pepsi to a police officer. The ad was seen as trivializing the Black Lives Matter movement and was accused of being insensitive. Pepsi pulled the ad within hours of its release.
Kim Kardashian's net worth: Kim Kardashian's net worth has grown exponentially in recent years. She made her first million dollars from her reality TV show Keeping Up With the Kardashians. She has since expanded her business empire to include a clothing line, a fragrance line, and her own production company. She is also a successful businesswoman and has invested in several businesses, including the vegan burger chain Beyond Meat.