Kevin Federline and Victoria Prince's Blissful Beach Stroll in Hawaii Amid Family Transition
This marked his first public appearance since their family's move to the enchanting island.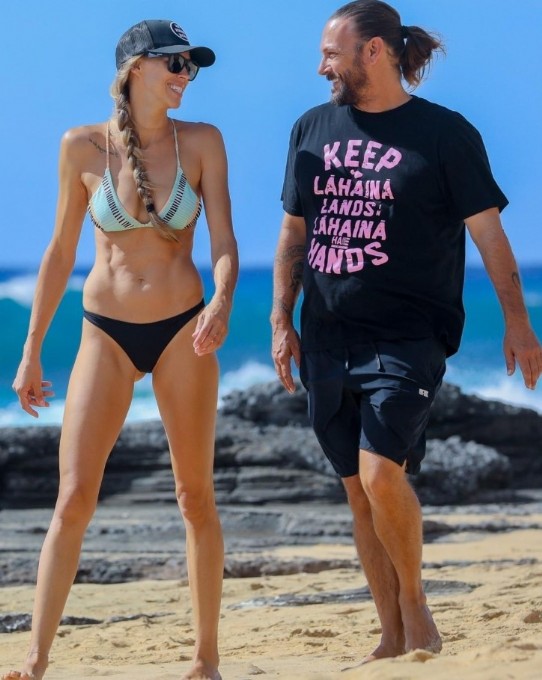 In this picturesque setting, the couple showcased their affectionate bond, engaging in moments of passionate affection mere steps away from the glistening ocean. Kevin Federline, the accomplished backup dancer at the age of 45, exuded contentment with his newfound life in paradise. He was accompanied by his daughters, Jordan Kay Federline (12) and Peyton Marie Federline (9), both shared with Victoria Prince (40), as well as his sons, Sean Preston Federline (18) and Jayden James Federline (17), from his previous marriage to Spears (41).

While relishing the Hawaiian sunshine with his beloved wife, Kevin sported a black T-shirt, expressing solidarity with the town of Lahaina, which had recently witnessed devastation due to wildfires. His trademark long hair was neatly tied into a low bun, completing his laid-back beach attire, consisting of black swim trunks.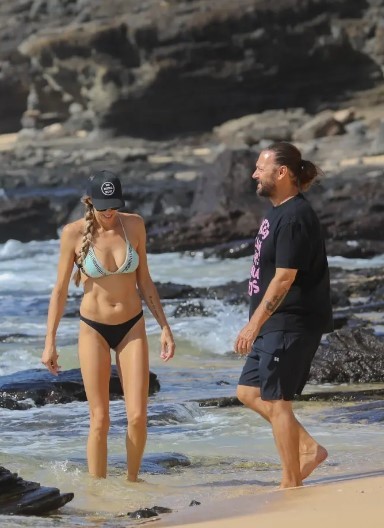 Victoria Prince, a former professional volleyball player at the age of 40, radiated confidence in a light blue patterned bikini top complemented by black bikini bottoms. Adorning her 'Be Here Now' baseball cap, she flaunted her sculpted abs, highlighting her athletic figure. During their outing, the couple was captured sharing an impassioned kiss.

With her long blonde hair elegantly braided and her hazel eyes concealed behind oversized black sunglasses, Victoria Prince epitomized beachside elegance.

Earlier this year, it was reported that Britney Spears had given her approval for her sons to move to Hawaii with their father. Despite previous rumors of potential legal action regarding her response to the relocation request, Spears had consistently demonstrated her support for her children's happiness.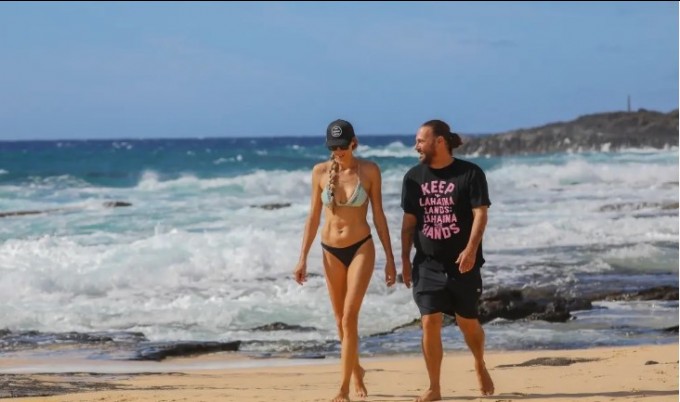 Regarding the child support arrangement, a source clarified that Britney Spears, renowned as an iconic figure worldwide, had always been a loving and devoted mother, unwaveringly supporting her children.

In recent developments, Kevin Federline has reportedly contemplated seeking an increase in child support from his former spouse. It has been suggested that he is considering pursuing legal action for support modifications, as he had not originally anticipated having full-time custody of their children during the initial support negotiations.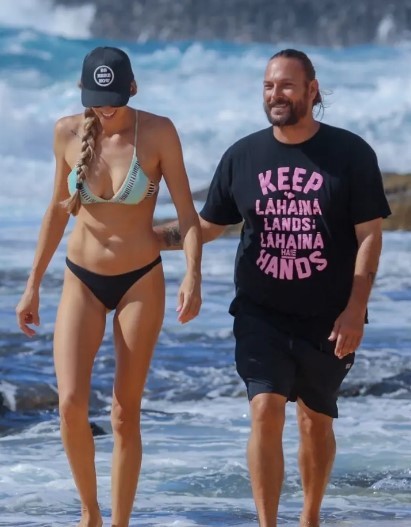 After Sean Preston's recent 18th birthday, Britney Spears' monthly child support payment was expected to decrease from $40,000 to $20,000. However, this potential change is a subject of contention.

A source close to Britney Spears has dismissed the notion of increased support as unfounded and untenable, emphasizing Kevin Federline's substantial financial support thus far.

As per TMZ, if Kevin Federline proceeds with his request for increased support, the court-ordered child support for Britney Spears could substantially increase, provided he can substantiate the need for additional financial assistance for Jayden's care. Jayden's support is expected to continue until his high school graduation in June 2025.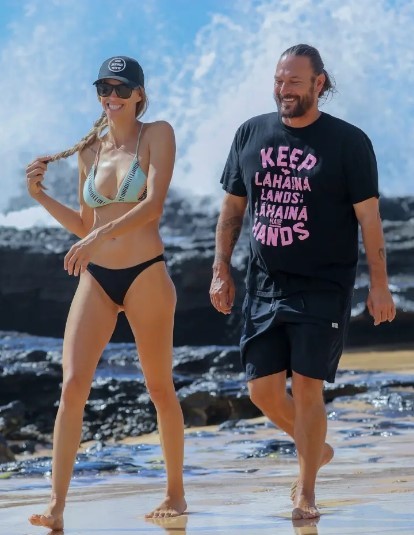 Amid these legal developments, it is evident that the transition and family dynamics continue to evolve in the lives of Kevin Federline, Victoria Prince, and their children. Their Hawaii relocation signifies a new chapter in their journey, and as they adapt to their fresh surroundings, it remains to be seen how these changes will affect their family dynamics.

Britney Spears, a Grammy-winning artist, has experienced a challenging month, including the filing of divorce by her third husband, Sam Asghari, on August 16, citing irreconcilable differences. This has been accompanied by requests for spousal support, which may be influenced by the presence of a prenuptial agreement. In contrast, Kevin Federline's financial situation and spousal support have been influenced by a prenuptial agreement established prior to his marriage to Britney in 2004, which prevented him from receiving spousal support.

As these personal and legal matters continue to unfold, the lives of these individuals remain under scrutiny, with their legal representatives closely monitoring the evolving circumstances.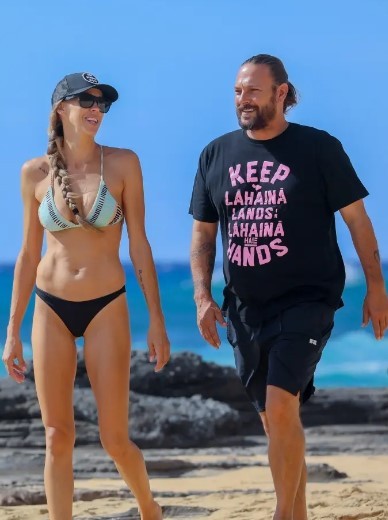 Kevin Federline Net Worth:

Kevin Federline, widely recognized for his career as a backup dancer, rapper, and actor, has an estimated net worth of approximately $6 million.
His wealth primarily stems from his professional pursuits, including his work as a backup dancer for renowned artists like Justin Timberlake and Britney Spears, as well as his music career and appearances in reality TV shows.
Kevin Federline Wife:

Kevin Federline's wife is Victoria Prince, a former professional volleyball player.
The couple has been together for several years and shares a loving relationship.
Victoria Prince is also known for her athletic background and her role in supporting their family.
Kevin Federline Instagram:

As of my last knowledge updat in September 2021, Kevin Federline did have an Instagram account.
To find his current Instagram profile, you may want to search for "Kevin Federline" on the Instagram platform.
Following his Instagram account can keep you updated on his personal life, interests, and any professional endeavors he shares on the platform.
Kevin Federline Now:

Kevin Federline's current status involves living in Hawaii with his wife, Victoria Prince, and their children.
He has transitioned to a life away from the spotlight and has been focusing on his family.
Recent reports suggest that he has contemplated potential changes in child support arrangements related to his children with Britney Spears.
Kevin Federline Shar Jackson:

Shar Jackson is an American actress and singer with whom Kevin Federline has two children, Kori Madison Federline and Kaleb Michael Jackson Federline.
While their relationship faced public attention due to Kevin's subsequent marriage to Britney Spears, Kevin and Shar maintain a co-parenting relationship and prioritize their children's well-being.
Kevin Federline Daughter:

Kevin Federline has two daughters with Victoria Prince, Jordan Kay Federline and Peyton Marie Federline.
He also shares two sons, Sean Preston Federline and Jayden James Federline, with his ex-wife Britney Spears.
Kevin's daughters with Victoria Prince are part of his family's transition to Hawaii, where the couple has moved for Victoria's career opportunities and family life.