Kim Kardashian and sister Khloe displays their knockout swimsuit bodies as they wrap their LEGS around each other in sunkissed Los Cabos vacation snaps
Kim Kardashian Khole Kardashian showered one another with affection during their latest vacation to Los Cabos.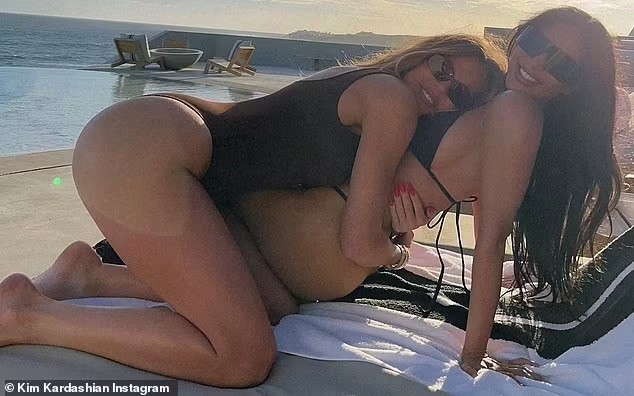 Khloe, 38, had slipped into a clinging black one-piece that demonstrated why she once hosted a reality show called Revenge Body.
Meanwhile Kim, 42, served up a generous helping of cleavage in a barely-there bikini that allowed her to bare her sensationally svelte midriff.
They were seen clambering all over one another, wrapping their arms and legs around each other and beaming for the cameras.
Kim posted the pictures to her Instagram page and wrote: 'Kiki and Koko Take Cabo,' a callback to her old reality show Kourtney And Kim Take Miami.
Kourtney and Kim, the eldest two sisters in the Kardashian-Jenner clan, fronted the Miami series for three seasons from 2009 to 2013.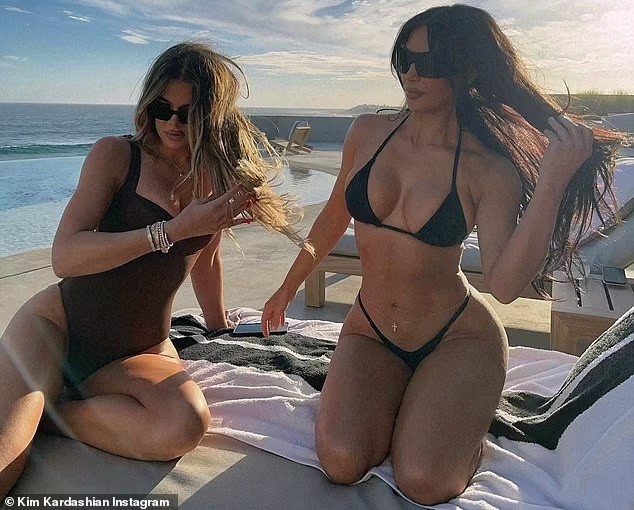 Meanwhile in an interview with Cosmopolitan UK a little over a year go, Khloe described Kim as her 'PR crisis helper.
She made the remarks after her ex Tristan Thompson admitted to fathering a child with another woman while he was still with Khloe.
Tristan and Khloe, who have two children together, had a rollercoaster on-off relationship buffeted by the NBA love rat's serial infidelity.
'If there's any kind of drama, you talk to her about it,' Khloe said of Kim. 'She's like: "we'll figure it out." She comes up with a plan – she's a little wizard like that.'
Kim has spent years studying to become a lawyer, and in late 2021 she finally passed California's practice 'baby bar' exam after four tries.
'She's really calm and now that she knows all this legal jargon she will say things that make you feel reassured - I don't even know what they mean,' Khloe remarked.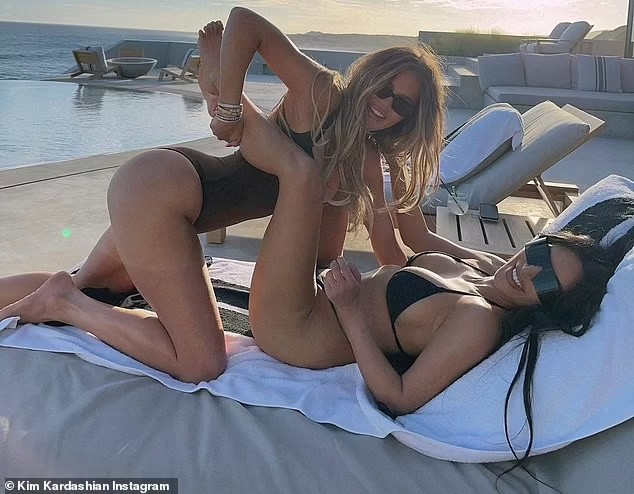 'Either I feel calm or I'm like: "Why the f*** aren't you more upset! I don't understand why you're so calm about this."'
Kim has faced down her own share of scandals over the years, including a string of failed marriages and her world-famous sex tape with Ray J.
Her latest Instagram album allowed Kim to show off the fruits of her weight loss journey last year, which began when she sensationally dropped 16lbs in three weeks to fit into Marilyn Monroe's 'Happy Birthday Mr. President' dress for the Met Gala.
Kim then continued to lose weight, telling the Today show in June that she was down 21lbs since before the Met Gala.