Kim Kardashian Flaunts Toned Abs in Elevator Photoshoot: Stunning Instagram Snaps
In the series of pictures shared on Thursday, the 42-year-old star displayed her toned abs and remarkable physique in an ensemble that exudes both comfort and glamour.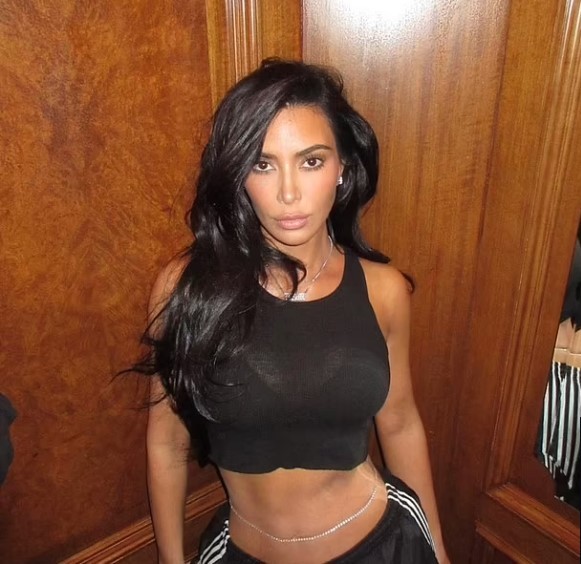 In the snapshots, Kim Kardashian confidently rocked a cropped black racerback tank that highlighted her well-defined abs. She paired this with loose-fitting track pants worn low on her hips, embodying a casual yet fashionable vibe.
Elevating her style game further, Kardashian adorned herself with a belly chain adorned with dazzling diamonds, accentuating her petite waist. Large diamond earrings and a statement necklace featuring an eye-catching pendant contributed to the overall aura of sophistication in her ensemble.
The entrepreneur's raven-black tresses were styled in voluminous, bouncy curls that framed her shoulders and cascaded down her semi-sheer top. Her makeup was nothing short of glamorous, showcasing her signature lengthy and voluminous eyelashes, complemented by a nude pink lip. A touch of taupe eyeshadow and ample peach blush added a subtle smolder and flushed radiance to her look.
The setting for the captivating photoshoot appeared to be an elevator, where Kardashian seized the moment with her team to capture these candid shots. In one picture, she confidently posed directly facing the camera, playfully cocking her hip to one side. The second snapshot depicted her seemingly engaged in conversation, glancing at her phone while emanating an effortlessly chic aura.
While Kardashian refrained from providing a caption, the images spoke volumes about her effortlessly chic style and self-assured presence.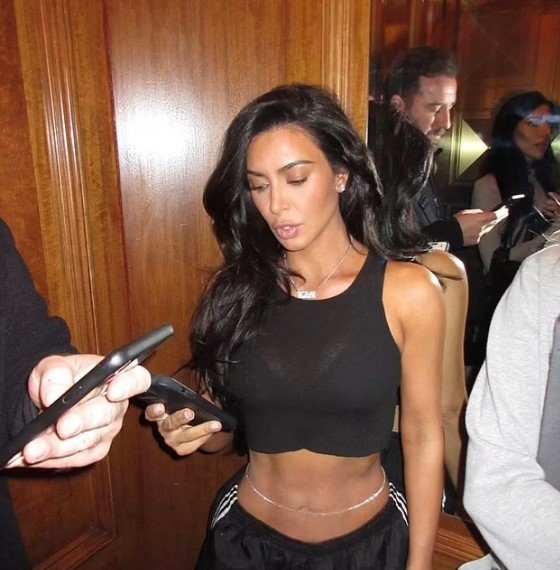 In her recent social media updates, the SKIMS founder revealed she embarked on a captivating mother-daughter adventure to Tokyo, Japan, accompanied by her eldest daughter, North, aged 10. The previous day, a video showed Kardashian playfully jumping rope with North's flowing locks at a digital art museum in Tokyo.
The trip also included captivating moments where North and her friend posed alongside samurai swords during a sightseeing expedition. Mother and daughter also recorded lively TikTok videos, one of which featured North playfully imitating her father, Kanye West, in one of his iconic early career looks. The video showcased North lip-synching to the upbeat track "American Boy," on which West was a featured artist, adding an element of fun and creativity to their unforgettable journey.
Kim Kardashian: Net Worth, Dating Life, Height, and Age
Kim Kardashian, a prominent media personality and businesswoman, has made a significant impact in the entertainment and fashion industry. Her accomplishments span across various fields, contributing to her substantial net worth, dating life, remarkable height, and age.
Net Worth of Kim Kardashian: Kim Kardashian's net worth stands as a testament to her entrepreneurial ventures, successful television career, and strategic business decisions. As of the most recent updates, her estimated net worth is around $1.4 billion. Her various business ventures, including KKW Beauty and SKIMS, have contributed significantly to her financial success.
Dating Life: Kim Kardashian's dating life has been a topic of public interest for years. Following her high-profile marriage to musician Kanye West, the couple filed for divorce, marking the end of their relationship. As of now, Kim Kardashian's dating status is not publicly confirmed.
Height and Age: Kim Kardashian's distinctive height and age are noteworthy aspects of her public persona. She stands at a height of approximately 5 feet 3 inches (160 cm). Born on October 21, 1980, Kim Kardashian is currently 41 years old.
Kim Kardashian's journey in the entertainment industry, her entrepreneurial pursuits, and her personal life continue to captivate audiences worldwide, making her a prominent figure in popular culture.