Kim Kardashian Pays Daring Tribute to Salma Hayek in Sensational Costume
Kim Kardashian is no stranger to pushing the boundaries when it comes to fashion and style. In her most daring costume yet, the 43-year-old reality star paid homage to the iconic Salma Hayek, recreating a scene from the 1996 cult classic "From Dusk Till Dawn." Kim's sensational look sent shockwaves through social media, capturing the essence of the iconic movie moment.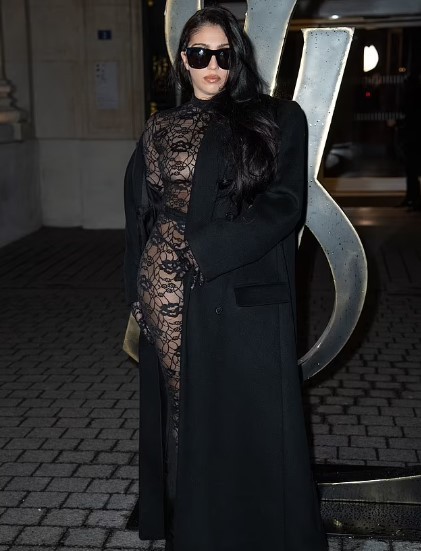 In a video shared on her Instagram, Kim Kardashian donned an incredibly sexy bikini, channeling Salma Hayek's unforgettable character. But Kim didn't stop at the bikini; she upped the ante by posing with a massive green anaconda draped across her shoulders. This bold choice showcased Kim's fearless approach to fashion and her dedication to getting every detail right.
The burgundy velvet bikini Kim wore featured exquisite gold metal details, including a large pendant dangling down the middle of the top. Her look reached its crescendo with an elaborate feathered headpiece, reminiscent of Salma Hayek's from the iconic movie scene.
Kim didn't miss a beat with her hair and makeup. Her raven-colored tresses were styled in loose, cascading waves, and her bold makeup, featuring dark red lips, emphasized her striking features.
Notably, Kim Kardashian's costume caught the attention of none other than Salma Hayek herself. The Hollywood legend reposted Kim's video on her Instagram Story, expressing her honor and reminiscing about the wild memories the iconic scene brought back. Salma playfully acknowledged Kim, stating, "Kim wore it best."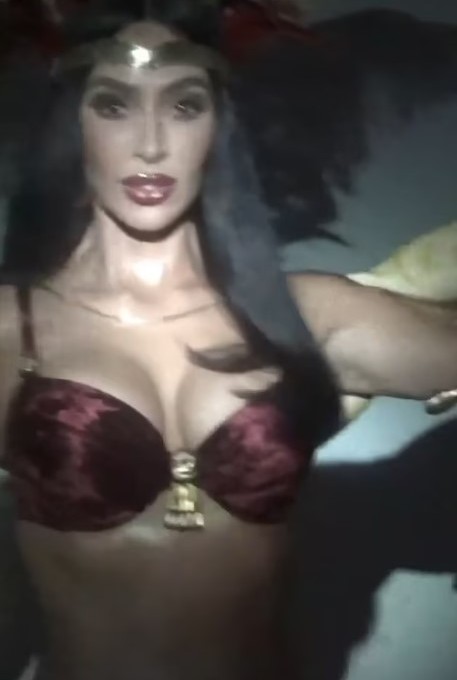 The recreated scene pays homage to one of the sultriest moments in cinema history, where Salma Hayek dances sensually with a snake wrapped around her in a bar. The unforgettable scene culminates with a daring move where Salma stands on a table, dipping her toes into director Quentin Tarantino's mouth while pouring liquor down her leg for him to drink.
Kim Kardashian's daring Halloween costume is just the latest addition to her impressive collection of extravagant disguises. Over the years, she has transformed into beloved characters such as Mystique from X-Men, Wonder Woman, and Little Red Riding Hood.
Kim was not alone in her Halloween endeavors this year. She joined her sister Khloe Kardashian and friends Olivia Pierson and Natalie Halcro to channel the iconic Bratz dolls. The fabulous foursome donned plaid mini skirts, matching tops, and accessories that perfectly captured the spirit of the popular toys.
In a playful twist, Khloe shared a hilarious video of her and Kim removing their prosthetic lips, part of their Bratz-inspired costumes. Khloe jokingly asked if there was anything wrong with her mouth, and the relief on her face after finally removing the prosthetics was palpable.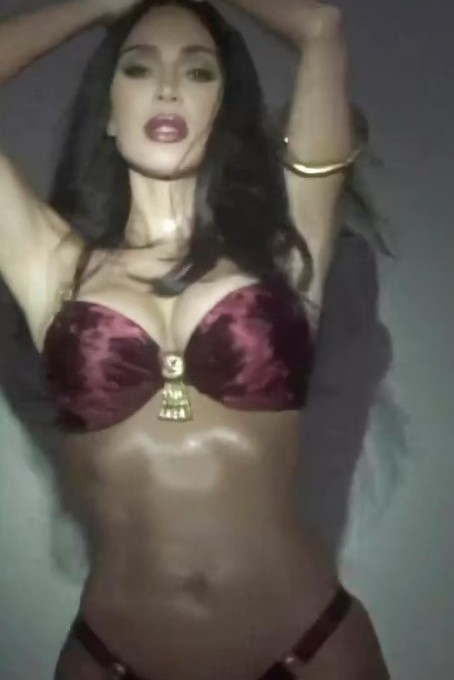 It's evident that Halloween holds a special place in the hearts of the Kardashian sisters. Their creativity and commitment to their costumes have delighted fans year after year. With their contagious enthusiasm, they continue to make Halloween a must-watch event in the world of celebrity fashion.
Meanwhile, Kim Kardashian's Bratz-inspired costume aligns perfectly with her recent partnership with MGA Entertainment, which introduced the Bratz x Kylie Fashion Dolls collection. The collaboration marks a contemporary twist on a beloved brand that has always championed confidence, individuality, and bold style. Kim's love for the Bratz dolls shines through as she plays a pivotal role in expanding this iconic toy universe.
In the words of Isaac Larian, CEO and Founder of MGA Entertainment, "Now, the Kylie Jenner and Bratz collab introduces a contemporary style icon who grew up on the dolls into the Bratz Pack and explores what it means to be a modern Bratz girl." The fashion dolls and collectibles are a testament to the enduring legacy of the Bratz brand, and Kim Kardashian's involvement adds a fresh and modern twist to the beloved dolls.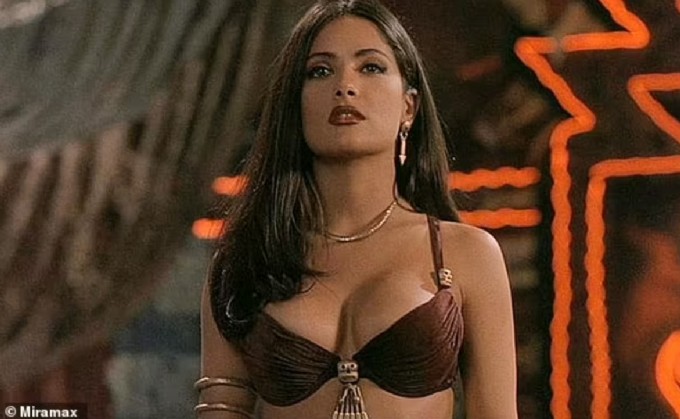 Kardashians Season 3
The third season of the reality television series The Kardashians premiered on Hulu on May 25, 2023. The season follows the Kardashian-Jenner family as they navigate their personal and professional lives. The season finale aired on July 27, 2023.
Kardashians New Season
The fourth season of The Kardashians is currently in production and is expected to premiere in the fall of 2023. The season will follow the family as they continue to deal with the aftermath of Khloé Kardashian's breakup with Tristan Thompson, Kim Kardashian's divorce from Kanye West, and Kylie Jenner's second pregnancy.
Kardashian Names
The Kardashian family consists of the following members:
Kris Jenner
Kourtney Kardashian
Kim Kardashian
Khloé Kardashian
Kendall Jenner
Kylie Jenner
Kardashian Sisters
The Kardashian sisters are Kourtney, Kim, and Khloé. They are the daughters of Kris Jenner and the late Robert Kardashian.
The Kardashians Online
The Kardashians have a large online presence. They have a combined social media following of over 600 million people. They also have their own website and app.
Kardashians Cast
The cast of The Kardashians includes the following members:
Kris Jenner
Kourtney Kardashian
Kim Kardashian
Khloé Kardashian
Kendall Jenner
Kylie Jenner
Scott Disick
Travis Barker
Tristan Thompson
Devin Booker
Kardashians 2023
In 2023, the Kardashians are continuing to focus on their businesses and their families. Kim Kardashian is launching a new skincare line, SKKN by KIM. Khloé Kardashian is hosting a new reality TV show called The Kardashians' Next Big Thing. Kendall Jenner is continuing to model and Kylie Jenner is running her cosmetics company, Kylie Cosmetics.
Kardashians Father
The Kardashian sisters' father, Robert Kardashian, was a successful lawyer who died of cancer in 2003.