Kim Kardashian's evolution through years... Before & after
In addition to being Paris Hilton's best friend, the world-famous Kim Kardashian gained fame with the TV show "Keeping Up With the Kardashian" and has become a world-famous billionaire today. Kardashian, who is also the owner of KKW Beauty, has achieved a different appearance with various aesthetic treatments throughout her life.
What did Kim Kardashian look like before?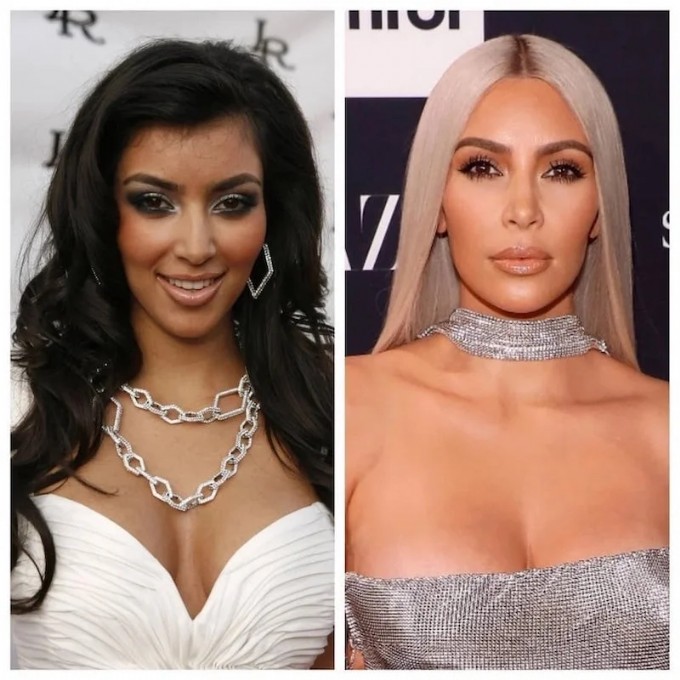 Undoubtedly, there are many factors that have brought Kardashian to its current attractiveness and beauty. As a matter of fact, one of the most prominent among them is Dr. Jason Diamond, a Beverly Hills-based plastic surgeon, according to US Weekly. At this point, Diamond stated that he made skin tightening for many of his patients with the collagen production treatment and stated that collagen treatment has a very important role here. One of the most important factors that give Kardashian its attractiveness today is Diamond Skin Tightening based on Collagen production.
After Diamond Skin Tightening treatment, another important treatment method that attracts the most attention is Face Shaping. Giving and revitalizing the golden ratio of the face in many ways, including reshaping the facial bones, has been one of the most important ways to achieve Kardashian beauty. Although Face Shaping treatment is related to bones and facial tissue, it is actually a non-surgical method. Those who want to have the beauty of a Kardashian should prefer combination treatment methods at this point.
What does Kim Kardashian look like before and after contouring?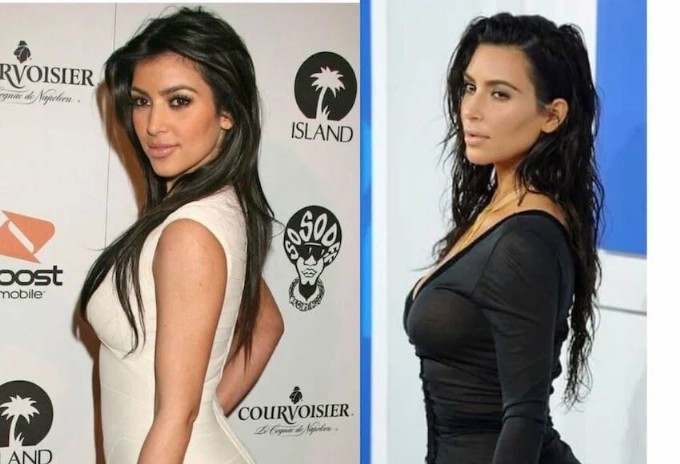 Although the contouring process was common before, with the reality star Kardashian, this aesthetic touch came to the fore more and was met with interest. With the inclusion of the Creme Contour & Highlighting Kit in 2017, it reached a wide audience with the KKW Beauty series and was used with great admiration. Appearing on the reality show hosted by Elle, Kim said that contouring has always been her thing, and she proved it.
Throughout the show, Kim also shared some beauty tips she applies according to her skin tones. In this context, the famous beauty, who prefers lighter tones for her nose, also prefers to have a little darker cheeks. She stated that she applies this especially when her skin is pale. It has been extremely important for Kim to capture two different color tones in each set and has taken its place among the factors that bring her attractiveness to the fore.
Contouring has been one of the indispensable prisoners of beauty queens at this point, this applies not only to Kim but also to Charlotte Tilbury, although she said that she loved her husband without makeup, Tilbury said that she never stopped contouring.
Contours have been the most effective method of emphasizing the skin without using a bronzer. Although people thought that she was doing aesthetics, they said that it was actually just contours and make-up.
What does Kim Kardashian look like before and after a spray tan?
Expressing that she uses only sprays, Kim Kardashian shared the tricks of the trade with her fans and stated that she definitely has her favorite sprays at all times of the year. She stated on her website and mobile application that she loves sprays for a natural bronze look and never misses out on beauty treatments. Kim, who owes the tan on her skin to the spray, also stated that it has become clear in a way that can be compatible with her hair. Otherwise, a pale appearance occurs.
What does Kim Kardashian look like with and without makeup?
Mario Dedivanovic, Kim's make-up artist, stated that Kim is very beautiful without make-up at the 2016 Balenciaga fashion show and asked her to tan her face by simply spraying her face and joining the fashion show. As a matter of fact, Mario was not wrong, his fans who have not seen Kim without make-up for a long time undoubtedly agree with him on this issue. Yes, it was undoubtedly her flawless natural beauty and spray that gave Kim her glory that night.
What's Kim Kardashian's plastic surgery timeline?
It is almost impossible to know exactly after which plastic surgery Kim got her beauty today, but there are various opinions on this subject. At this point, the famous plastic surgeon Dr. David Shafer, in a statement he made to Us Weekly, stated that it is impossible to know what kind of aesthetic treatment he did, but it gave him a softer and more refined beauty.
The fuller appearance of her cheeks indicates that she is using a product or method similar to Volume or Vollure. However, he has a fuller look around his eyes.
The plump eye area gives Kim a smooth and youthful appearance.
David also stated that there may be skin filling on his lips, and said that a tightening and thermal treatment was performed along the chin and neckline that made the cheeks deeper.
In addition to all these, it is possible to say that make-up, which is one of the elements that contribute most to Kim's current beauty, has evolved into a more sophisticated and professional form.
In addition to all these, Mirror, a cosmetic surgeon at MYA, said that Kardashian also performed various aesthetic treatments such as rhinoplasty, breast augmentation, liposuction, and laser hair removal. On the other hand, Kim announced in July that he did not have such aesthetic treatment, which would close these speculations. Expressing that she only did a little botox in response to the question about aesthetic treatments on her face, Kardashian also stated that she did not have any fillings on her cheeks or lips. She also emphasized that she has never had and will never have fillers for either of them. On the other hand, she stated that her eyebrows are also natural and do not involve any process. There are many methods for those who want to reach the inspiring beauty of the Kardashian. You can contact us to have detailed information about these and to apply the treatments.