Kim Kardashian Stuns in Pink Bikini and Gets Playful Racquet Lesson from Serena Williams
At the age of 42, Kim was a vision in a sizzling pink Chanel bikini adorned with the iconic interlocking Cs logo in a lighter pink shade. She treated her fans to two snapshots of herself on the tennis court, where her body glistened with oil, accentuating her every contour.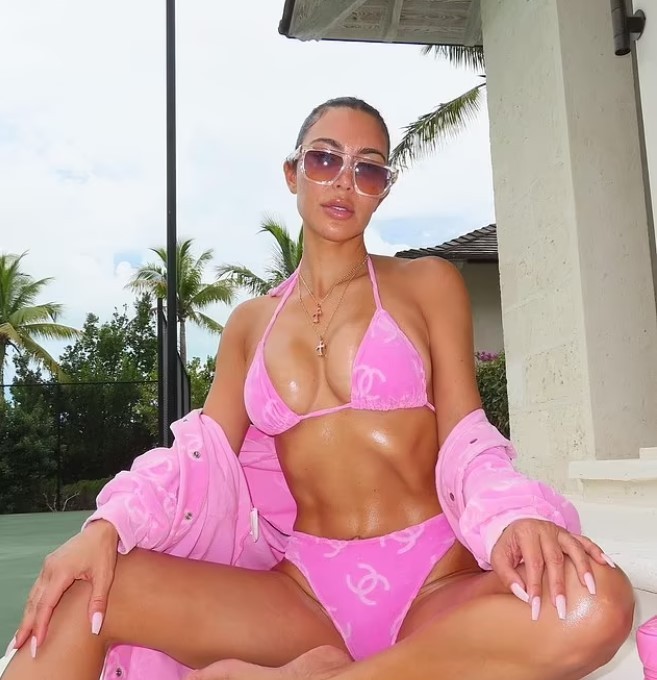 The mother of four, who recently attended her son Saint's basketball game, sported raven hair elegantly styled into a single braid, underlining her Barbie-core aesthetic. Kim completed her look with a matching pink coverup and an adorable pink Chanel bag, embracing the all-pink trend.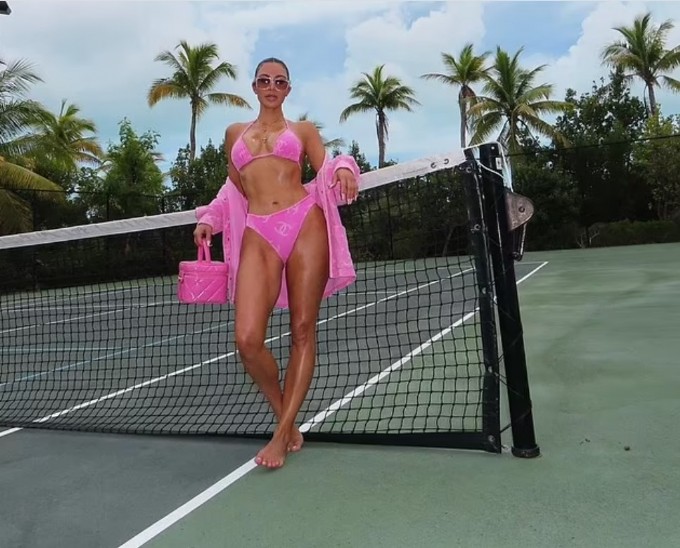 Her rosy ensemble was perfectly complemented by rose-tinted sunglasses, a pale pink manicure, and pedicure. Kim added a touch of elegance with two layered cross necklaces, exuding her signature style.

In the comments section, tennis legend Serena Williams playfully remarked, "Literally not how you hold a racquet. Clearly I have to give you lessons lol," accompanied by two heart-eye emojis.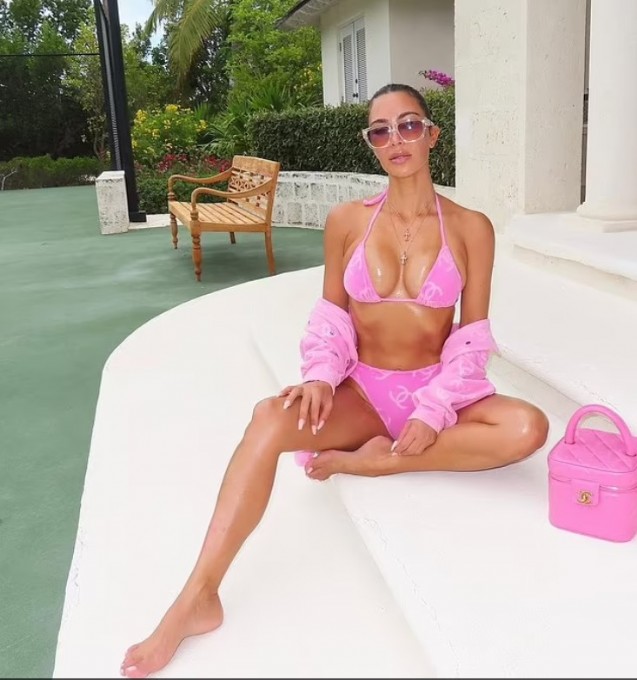 Former NFL player Cory Hall hailed "Pink Kim" as iconic, while Lala Kent expressed her admiration with four pink heart emojis. Other comments praised her legs and physique, referring to her as "Queen" and offering to either play tennis with her or teach her the sport.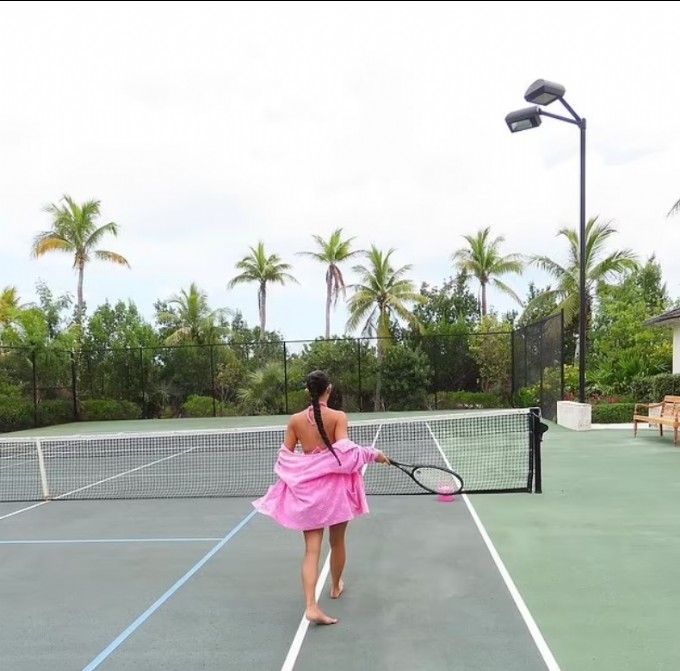 Kim Kardashian's post in the striking pink bikini comes on the heels of some skepticism and criticism she faced when she shared a picture of a sunset painting she claimed was created by her 10-year-old daughter, North.

The doubting comments poured in, with some expressing disbelief that a 10-year-old could produce such a masterpiece. Kim's post sparked debate on social media, with some questioning the authenticity of the painting.

In the midst of these conversations, rumors began circulating about Kim Kardashian's romantic involvement with Baltimore Ravens wide receiver Odell Beckham Jr., 30. However, an insider revealed to Daily Mail that their relationship is more of a friendly nature, with both having numerous mutual acquaintances.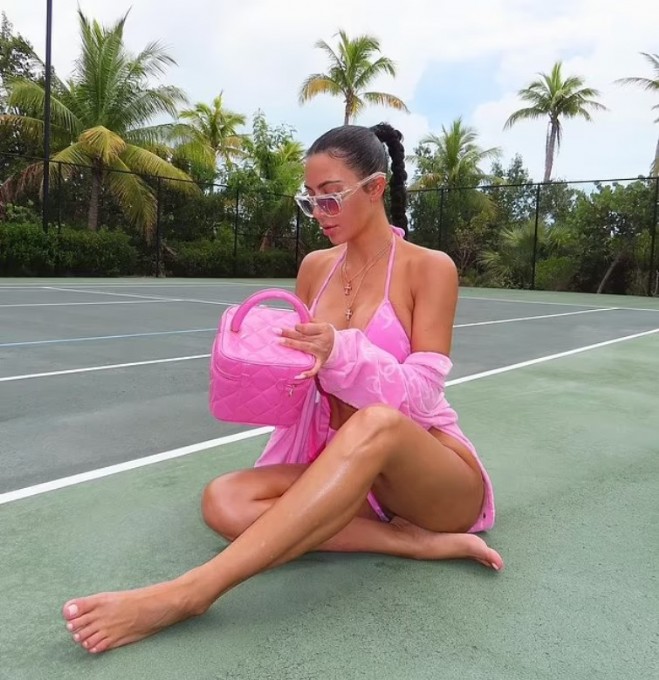 The source emphasized that Kim is currently focused on her children and the expansion of her business empire. While she is not in a serious relationship at the moment, she remains open to the possibility of finding love again if the right person comes along. Kim Kardashian continues to capture the attention of the world with her style, grace, and ever-evolving personal life.
Kim Kardashian's Ethnic Heritage: Exploring Her Ancestry

Have you ever wondered about Kim Kardashian's ethnic background? The reality TV star and business mogul, often referred to as "KK," was born in the vibrant city of Los Angeles in the year 1980. Her heritage is a fascinating blend of diverse origins.

Kim Kardashian's father, Robert Kardashian, was a third-generation Armenian-American. He gained significant recognition as the legal representative for O.J. Simpson during the infamous murder trial in 1995. On the other side of her family tree, Kim's mother hails from European ancestry, representing a rich tapestry of European heritage.

While Kim Kardashian's roots may not trace back to Morocco, her family's diverse background contributes to her unique identity.
The Kardashians' Nationality: Unraveling Their Family Heritage
The Kardashian family's Armenian heritage is a source of pride and strength for them. It is a testament to their family's resilience and determination in the face of adversity.
The Kardashians' ancestors faced many challenges as they emigrated from the Ottoman Empire to the United States. They were fleeing persecution and violence, and they had to rebuild their lives in a new country. Despite these challenges, they persevered and thrived.
The Kardashian family's Armenian heritage has shaped their values and beliefs. They are a family that values hard work, education, and community. They are also a family that is proud of their heritage and culture.
The Kardashians have used their platform to raise awareness of Armenian issues and to advocate for social justice. They have also spoken out against the Armenian Genocide.
The Kardashian family's Armenian heritage is an important part of their story. It is a reminder that we are all connected and that we should all be proud of our heritage.
Here are some additional thoughts on the Kardashian family's Armenian heritage:
The Kardashian family's Armenian heritage is a reflection of the diversity of the United States. The United States is a nation of immigrants, and the Kardashians' story is a reminder that we are all stronger when we embrace our differences.
The Kardashian family's Armenian heritage is a source of inspiration for others. Their story shows that it is possible to achieve success and happiness despite facing challenges.
The Kardashian family's Armenian heritage is a reminder of the importance of family and community. The Kardashians are a close-knit family, and they are always there to support each other.
The Kardashian family is a role model for us all. They show that we can be proud of our heritage, make a difference in the world, and still have fun.