Kim Kardashian Unveils Stunning 24-Inch Waistline in SKIMS Swarovski Shoot
In a behind-the-scenes glimpse of her new SKIMS Swarovski photoshoot, Kim showcased her mesmerizing 24-inch waistline. The 43-year-old mother of four recently partnered with the renowned Australian crystal company Swarovski for an exclusive project that's leaving fans in awe.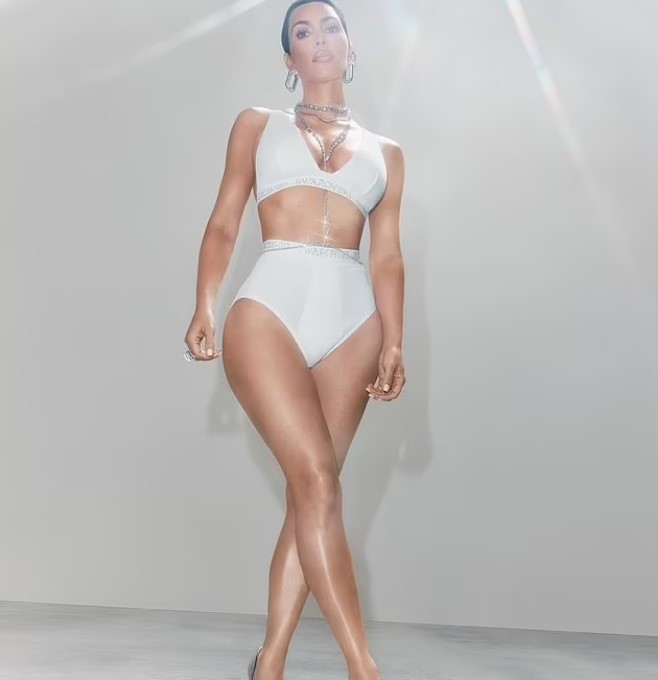 The Creative Vision Behind the Shoot
The SKIMS Swarovski photoshoot is not just another promotional campaign; it's a testament to the creativity and innovation that Kim Kardashian brings to her various ventures. Kim has always had an eye for aesthetics and fashion, and her collaboration with Swarovski is the latest example of her affinity for elegance and opulence.
The photoshoot, captured in behind-the-scenes images shared by Kim herself, is a testament to the glamour and sophistication that the SKIMS brand represents. Kim was seen donning a plunging SKIMS Swarovski bra and matching high-waisted undies, both in a pristine white color. This carefully chosen ensemble not only highlights her toned physique but also accentuates her remarkable 24-inch waistline.
In addition to the exquisite lingerie, Kim's look was completed with oversized earrings and an array of necklaces that added an extra layer of elegance. To enhance her overall appearance, she opted for silver pointy high heels, which not only added style but also an extra six inches to her already petite 5ft3in frame.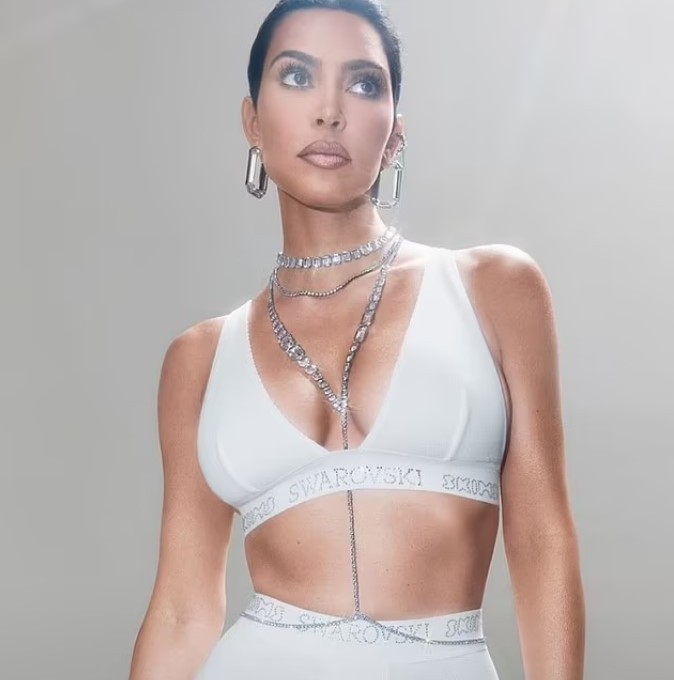 Kim Kardashian's Deep Connection with Crystals
Kim Kardashian has been open about her fascination with crystals and precious stones. In a candid interview with ELLE, she shared her lifelong connection with Swarovski figurines and crystals. This admiration for the shimmering wonders of the natural world has grown into a deep appreciation for the precision-cut crystals created by Swarovski.
"To this day, my kids even get me the Swarovski figurines for Mother's Day because they know how much I love the crystals," said Kim, who is known for her exquisite taste and love for all things glamorous.
Collaboration with Swarovski: A Dream Come True
Kim Kardashian's collaboration with Swarovski is more than just a business partnership; it's a dream come true for the reality TV star. She has always been drawn to the brilliance and elegance of Swarovski's crystals, and this collaboration allowed her to blend her passion for fashion with her love for all things sparkling.
The SKIMS Swarovski collection is a celebration of Swarovski's artistry, showcasing an array of body-contouring jewelry and shapewear adorned with Swarovski crystals. For Kim, it's the perfect union of two worlds: the innovative fabrics and designs of SKIMS and the unmatched expertise in crystals and jewelry of Swarovski.
"I've always been a Swarovski girl," Kim acknowledged, revealing her deep-rooted connection with the brand. The crystals' sparkle and the brand's glamour have always held a special place in her heart.
Kim emphasized that this collaboration has enabled her to merge jewelry design with ready-to-wear fashion seamlessly, creating a collection that's as stunning as it is unique. The collection features hundreds of Swarovski crystals, enhancing the already glamorous Skims line with a touch of unparalleled elegance.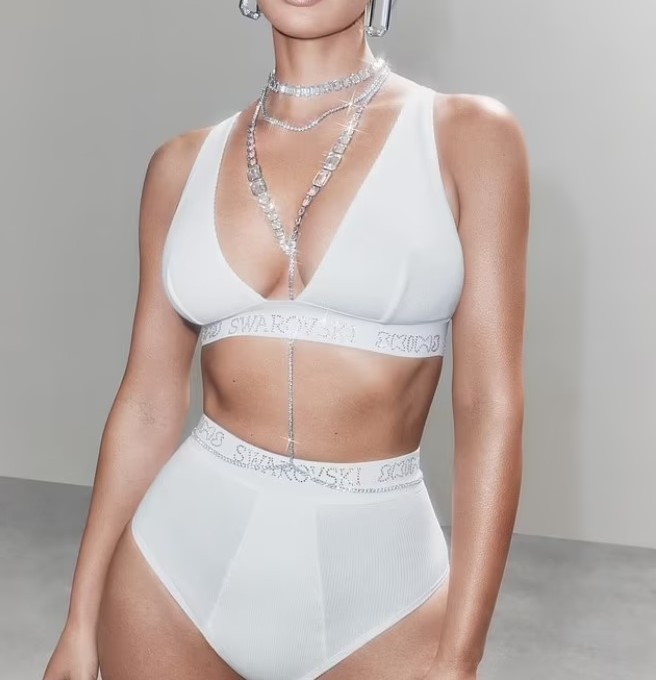 A Look into "Pretty Boys Are Poisonous"
Kim Kardashian's poetry book, "Pretty Boys Are Poisonous," delves into her personal experiences and her journey through Hollywood. The book is not merely a reflection of her past but a message to women around the world that they need not suffer in silence.
The poetry collection is a culmination of her thoughts, emotions, and life experiences, with some aspects serving as metaphors for the challenges she has faced in the entertainment industry. "None of it is what I would call fictional," Kim said. "These are all real-life experiences that I had."
The book isn't an exposé or a memoir; instead, it's an artistic expression that Kim found to be a creative way to process her past and inner turmoil. Some of her writings were deemed too personal for public consumption and didn't make it into the book. Kim expressed her desire for more creative freedom, as she could have included more personal entries if she were solely a poet.
A "Very Difficult" Miscarriage and Healing Journey
During her interview, Kim Kardashian also shared a deeply personal and emotional experience in her life: a "very difficult" miscarriage. This heart-wrenching event occurred during her relationship with Machine Gun Kelly, whose real name is Colson Baker. The loss took Kim and Colson on a tumultuous emotional journey, individually and as a couple.
"I had never been through anything like that before in my life. I have three kids," Kim shared. This tragic event brought about a series of intense emotions and complicated discussions as the couple tried to understand the meaning and implications of the loss.
In her poetry book, Kim writes about an ultrasound of a baby girl at 10 weeks, portraying the deep emotions and turmoil she experienced. One of the poems reflects the desire to hold the baby's hand and hear her laugh, contrasted with the painful reality of saying goodbye. The heart-wrenching lines ask, "I will pay any price. Tell me please, what is the ransom for her soul?"
Machine Gun Kelly, Kim's fiancé, also alluded to the loss in May 2022, dedicating a performance of his song "Twin Flame" at the Billboard Music Awards to Kim and their unborn child. This poignant moment served as a reminder of the couple's strength and love during challenging times.
A Message to Women: You Don't Have to Suffer in Silence
Kim Kardashian's poetry book, "Pretty Boys Are Poisonous," is more than just an artistic endeavor; it carries a message for women worldwide. Kim believes that sharing her experiences through art can provide an elegant space for pain to exist, helping others who may be going through similar struggles.
"It gives an elegant place for your pain to live, to put it into art makes it useful to other people so you don't just suffer with it on your own," Kim passionately expressed. The book invites women to speak out, share their stories, and find healing in their own creative expressions.
From Reality TV to High Fashion
Kim Kardashian's journey from reality TV star to a high-fashion influencer is nothing short of remarkable. Over the years, she has transformed herself into a global icon and an influential figure in the fashion industry.
Her SKIMS brand, known for its inclusive approach to shapewear and loungewear, has made waves in the fashion world, and the collaboration with Swarovski is just another example of her dedication to elegance and luxury.
Kim's ability to diversify her portfolio and venture into different areas of the fashion world demonstrates her commitment to both innovation and sophistication. She has certainly proven that her influence reaches far beyond reality TV.
From the glamour of Hollywood to the brilliance of Swarovski crystals and the depths of personal expression through poetry, Kim Kardashian continues to evolve and inspire. Her ability to connect with women, sharing both her triumphs and her trials, serves as a testament to her enduring influence.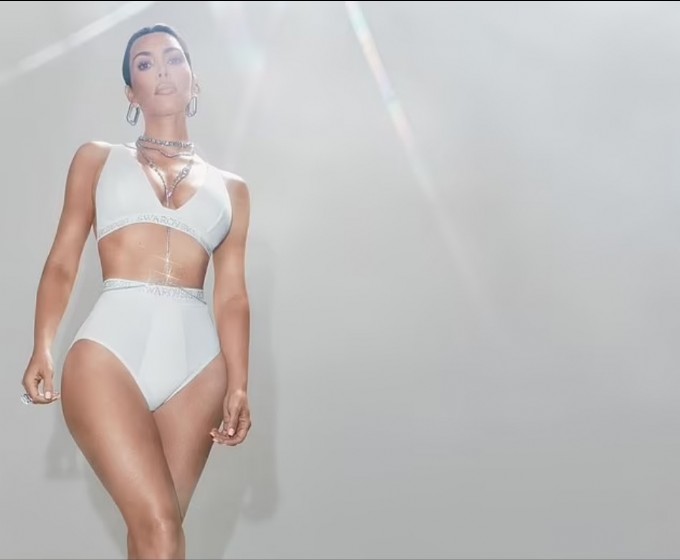 The Power of Creative Expression
Kim Kardashian's creative journey, from poetry to high-fashion collaborations, highlights the power of artistic expression. It serves as a reminder that creative outlets can be a source of healing, strength, and empowerment. Kim's ability to channel her experiences into art and fashion is a testament to the resilience of the human spirit.
In a world where women are finding their voices and demanding to be heard, Kim's message to women through her poetry book is a shining example of the strength that can be found in creative expression. As she continues to explore new horizons and challenge herself, Kim Kardashian remains a true inspiration for women everywhere.
In conclusion, Kim Kardashian's collaboration with Swarovski and her poetry book, "Pretty Boys Are Poisonous," are significant milestones in her journey from a reality TV star to a fashion icon and an advocate for creative expression. Her ability to share her personal experiences and inspire women to find their own voices is a powerful message of strength and resilience.
Kim Kardashian 2023: In 2023, Kardashian is continuing to be a successful businesswoman and reality TV star. She is also using her platform to advocate for important causes.
Reality TV: Kim Kardashian is most known for her role in the E! reality television series Keeping Up with the Kardashians, which premiered in 2007 and ran for 20 seasons. She has also appeared in spin-off shows such as Kourtney and Kim Take Miami, Kourtney and Kim Take New York, Kim and Kourtney Take Florence, and Kourtney and Kim Take the Hamptons.
Business: Kardashian has her own clothing line, SKIMS, a fragrance line, KKW Fragrance, a skincare line, SKKN BY KIM, and a production company, Kimsaprincess Productions.
Law: Kardashian is currently studying law with the goal of becoming a lawyer. She has said that she is passionate about helping people who have been wrongfully convicted and that she wants to use her platform to make a difference in the criminal justice system.
Personal life:
Family: Kardashian is married to Kanye West, with whom she has four children: North, Saint, Chicago, and Psalm.
Activism: Kardashian is a vocal advocate for prison reform and for the rights of women and children. She has also spoken out against gun violence and climate change.
Children: North West (9 years old), Saint West (7 years old), Chicago West (5 years old), and Psalm West (3 years old)
Age: 42 years old (born October 21, 1980)
Instagram: @kimkardashian (73.7 million followers)
Father: Robert Kardashian (deceased)
Mother: Kris Jenner
Ethnicity: Armenian-American
Kim Kardashian is an American reality television personality, socialite, model, actress, and businesswoman. She is best known for her role in the E! reality television series Keeping Up with the Kardashians. Kardashian has also appeared in films such as Disaster Movie and The Marriage Counselor. She has her own clothing line, KKW Beauty, and a mobile game, Kim Kardashian: Hollywood. Kardashian is married to Kanye West, with whom she has four children.
North West, the daughter of Kim Kardashian and Kanye West, primarily lived with her mother, Kim Kardashian. However, please note that family living arrangements can change over time, and it's possible that the custody or living arrangements have changed since then. For the most up-to-date information, you may want to check recent news sources or Kim Kardashian's official social media accounts.
Kim Kardashian has two half-sisters: Kourtney Kardashian and Khloé Kardashian. These two half-sisters share the same mother, Kris Jenner, but have different fathers.
Kim Kardashian's family, the Kardashian-Jenner family, is indeed known for their wealth. They have various business ventures, including reality TV shows, fashion lines, and endorsements, which have contributed to their financial success.
Getting in touch with Kim Kardashian directly may be challenging, as she is a high-profile celebrity. You can try reaching out through her official social media accounts, where she occasionally interacts with fans, or through her official website or fan clubs. Keep in mind that due to her busy schedule and the volume of messages she receives, there is no guarantee of a response.