Kim Kardashian Unveils Stunning Blonde Look in Marc Jacobs' Resort 2023 Campaign
Keepin Up With The Katdashians star revealed her beautifully dyed platinum blonde hair in a series of captivating promotional photos for Marc Jacobs' Resort 2023 collection.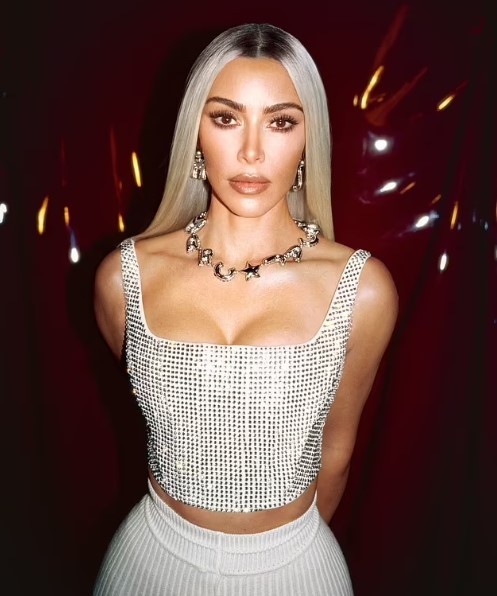 Kardashian, a reality television sensation and business mogul, effortlessly showcased the latest offerings from the renowned fashion label in this visually striking campaign.

In the initial shots, the fashion maven wowed in a silver corset that sparkled and glistened beneath an oversized puffer jacket, giving her a radiant and futuristic appearance. Her dazzling outfit was expertly paired with matching gloves and stylish patterned trousers, perfectly encapsulating the brand's signature aesthetic.

Accessories were far from forgotten, as Kardashian elegantly toted a sizable purse and gracefully adorned pearl earrings and a matching necklace. The entire ensemble exuded luxury and glamour.
Continuing her stylish journey, Kim Kardashian transitioned into a sequin-covered sleeveless top that not only showcased her toned arms but also provided a glimpse of her chiseled midsection, proving that her fashion choices are as daring as they are elegant. With a coordinating handbag in tow, Kardashian effortlessly brought the look together with sophisticated flair.

A pair of snug white pants clung perfectly to her curvy hips and thighs in another show-stopping outfit. Accented by a silver necklace and statement earrings, this ensemble underlined the reality star's impeccable fashion sense.

For the final stages of the photoshoot, Kardashian rocked a patterned white bodysuit, which gracefully highlighted her statuesque figure. The ensemble took an edgy twist with the addition of jet-black high-heeled shoes, cleverly offset by bright white gloves, perfectly capturing the essence of Marc Jacobs' Resort 2023 collection.

Throughout the photoshoot, Kim Kardashian posed elegantly in front of a sparkling purse, flawlessly adding a touch of opulence to every shot.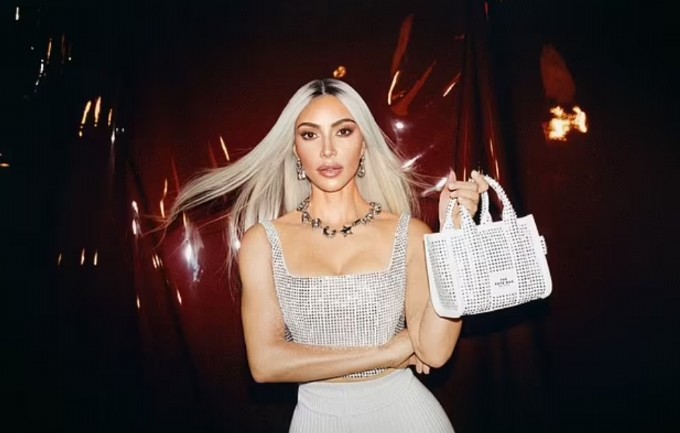 The bold choice of platinum blonde hair brought a vibrant and striking element of color to her otherwise neutral-toned outfits, further solidifying her status as a fashion icon.

It's worth noting that Kim Kardashian previously served as the face of Marc Jacobs' Fall 2023 campaign, and her collaboration with the brand has clearly been a match made in high-fashion heaven.

Aside from her modeling endeavors, the multi-talented entrepreneur is currently focusing on expanding her successful shapewear brand, Skims. Co-founded alongside Emma and Jens Grede in 2019, Skims has recently made headlines by being named the official underwear partner of the NBA. Additionally, the brand's products are set to be used by athletes in the WNBA and the members of USA Basketball, marking a significant milestone for the brand and a testament to Kardashian's influence in the world of fashion.

Kim Kardashian expressed her excitement for the partnership, stating, "Together, Skims and the NBA will connect people of all backgrounds through fashion, sport, and talent, and I look forward to seeing the partnership thrive." With her undeniable impact on the fashion world and her continued success, it's clear that Kim Kardashian's star is still very much on the rise.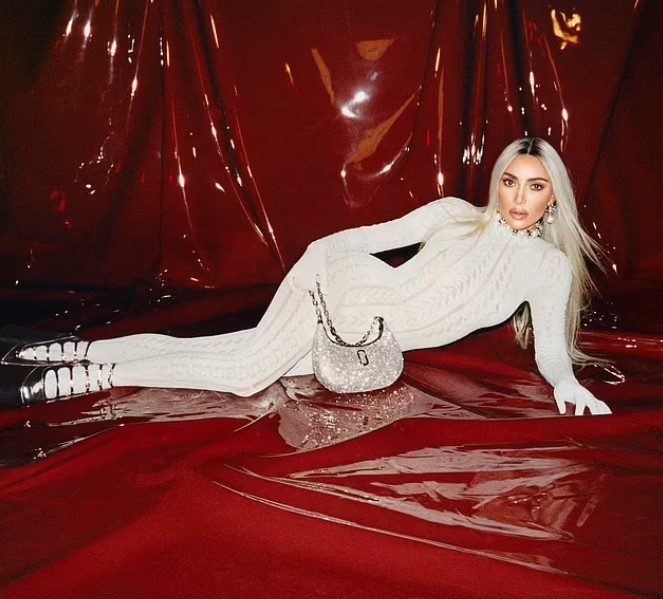 Kim Kardashian 2023: Kim Kardashian has had a busy and successful 2023 so far. She has continued to expand her business empire, launched new products, and made headlines for her personal life.
Business
In January 2023, Kardashian launched her new skincare line, SKKN BY KIM. The line was a huge success, selling out within minutes of its release. Kardashian has also been expanding her SKIMS shapewear line, launching new products and collaborations throughout the year.
In addition to her businesses, Kardashian is also a successful investor. She has invested in a number of startups and companies, including Beyond Meat, Impossible Foods, and Tempo.
Products
In addition to her SKKN and SKIMS lines, Kardashian has also launched a number of other products in 2023. She released a new fragrance, KKW Fragrance x Kim Kardashian West, in February. She also launched a new line of home goods, KKW Home, in March.
Personal life
Kardashian has also been in the news for her personal life in 2023. She filed for divorce from her husband, Kanye West, in February. The couple has four children together, and they are currently working on a custody agreement.
Kardashian has also been rumored to be dating Pete Davidson, a comedian on Saturday Night Live. The couple has been seen together on several occasions, but they have not confirmed their relationship.
Overall, Kim Kardashian has had a busy and successful 2023 so far. She has continued to expand her business empire, launch new products, and make headlines for her personal life.
D Searches: Unfortunately, "D Searches" is not a well-defined topic or term, and I don't have information on what it may refer to. Please provide more context or specify the topic you'd like to know about.
Kim Kardashian Children: Kim Kardashian has four children. She has two daughters, North West and Chicago West, and two sons, Saint West and Psalm West. They are known for their distinctive names and have often been featured in the Kardashian family's reality TV series and on Kim's social media.
Kim Kardashian Age: Kim Kardashian was born on October 21, 1980. As of my last knowledge updat in January 2022, she is 41 years old. Please note that her age may have changed since then.
Kim Kardashian Boyfriends: Kim Kardashian has had several high-profile relationships in the past. Notable boyfriends and ex-partners include Ray J, Reggie Bush, Miles Austin, Kris Humphries, and Kanye West. She was married to Kris Humphries for a short time before divorcing and later married Kanye West.
Kim Kardashian Father: Kim Kardashian's father was Robert Kardashian. He was a well-known attorney and one of the key figures in the O.J. Simpson murder trial in the 1990s. Robert Kardashian passed away in 2003.
Kim Kardashian Instagram: Kim Kardashian is active on Instagram. Her Instagram handle is "@kimkardashian." She has a massive following on the platform and often shares updates, photos, and content related to her personal life, businesses, and various ventures.
Kim Kardashian Mother: Kim Kardashian's mother is Kris Jenner. She is a well-known television personality and manager for her children's careers. Kris is often referred to as the matriarch of the Kardashian-Jenner family and has been a central figure in their reality TV show, "Keeping Up with the Kardashians."
Kim Kardashian Ethnicity: Kim Kardashian's ethnicity is often described as Armenian-American. She has Armenian roots through her father's side. Her paternal grandparents were Armenian immigrants. She has embraced her Armenian heritage and has been involved in raising awareness about the Armenian Genocide and other related issues.