Kourtney Kardashian Shares Halloween Flashback Photos: 'Ready for October'
On the first day of October, also marking the start of the spooky season, the 44-year-old Kardashian star treated her followers to a delightful throwback photo of her Halloween costume from the previous year.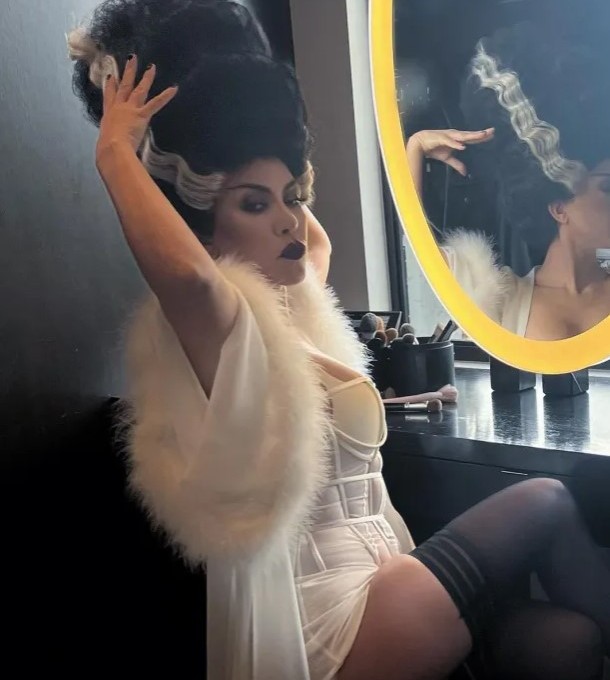 In her Instagram post, Kardashian exuded Halloween vibes, dressed as the iconic "Bride of Frankenstein." The caption read, "Ready for October 👰🏻‍♀️🖤," setting the tone for a month filled with Halloween-themed fun.

The photos shared by Kourtney Kardashian showcased her in the Bride of Frankenstein attire, captured in front of a mirror. Her costume, complete with the signature hairdo and dark aesthetic, perfectly embodied the spooky character.

Not limiting her Halloween enthusiasm to just one post, Kourtney also took to her Instagram Story to share a collection of Bride of Frankenstein-inspired artwork sourced from Pinterest. Among these was a striking drawing of the character sitting before a mirror, presumably the inspiration behind her memorable costume shot.

But that's not all – Kardashian took her Halloween throwback a step further. She reposted a video clip featuring herself and her husband, Travis Barker, who joined in on the Halloween fun by donning an elaborate Frankenstein costume. In the video, the couple showcased their impressive, horror-themed looks while dancing to the classic spooky season tune, "Somebody's Watching Me" by Rockwell.

Kourtney humorously captioned the endearing clip with the lyrics, "I always feel like somebody's watching me."

However, last year's Halloween didn't go entirely without its share of attention-grabbing moments. Kourtney Kardashian and her sister Kylie Jenner unintentionally coordinated their Halloween costumes, both opting for the Bride of Frankenstein look.

Surprisingly, neither sister had informed the other about their costume choices, leading to a humorous mix-up. To jest about the situation, Kourtney shared a photo of herself in full costume, holding a phone, with the caption, "When you and your sisters don't discuss [costumes] in advance."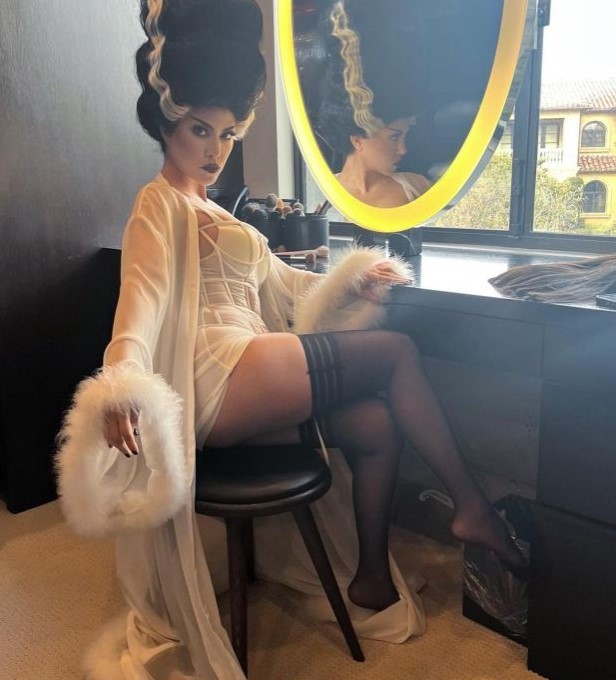 In 2022, Kylie Jenner, aged 26, donned her Bride of Frankenstein costume first, sharing it on Instagram before Halloween officially arrived. Her costume featured a custom Jean Paul Gaultier bandage gown, and she shared numerous photos and videos showcasing her spooky look. The costume even included a pose reminiscent of classic Universal Frankenstein movies, where she appeared strapped to a spooky examination table.

Kylie's Halloween repertoire for 2022 extended beyond Bride of Frankenstein. She showcased various other costumes, including Elvira from "Elvira: Mistress of the Dark" and two space-themed outfits – one as a blue alien and the other as a futuristic "space girl."

Kourtney Kardashian, in contrast, adhered to her bridal theme. She and Travis Barker had celebrated their wedding earlier that year, making her Bride of Frankenstein costume all the more fitting. Prior to her iconic Bride of Frankenstein ensemble, Kourtney dressed up as Tiffany Valentine from "Bride of Chucky," with Barker embracing the role of her doll lover, Chucky.

For this chilling doll-inspired look, Kardashian adorned a wedding gown, cropped leather jacket, tulle veil, black choker necklace, bright green contacts, and the iconic gothic makeup associated with Valentine. She even sported a temporary chest tattoo reading "Chucky" alongside a large red heart, akin to the iconic doll's markings.

Travis Barker impeccably transformed into her mini-murderer husband, featuring a striped shirt, overalls, a red wig, a prop knife, and extensive faux stitches on his face.

Kourtney delighted her followers by sharing several captivating photos of the couple's costumes on Instagram. In one of these posts, she included a quote from the movie, "You got your wish. You're mine now doll. And if you know what's good for you, you are going to love, honor, and obey!"

As the Halloween season kicks off once again, fans eagerly await the creative and spooky surprises that celebrities like Kourtney Kardashian have in store.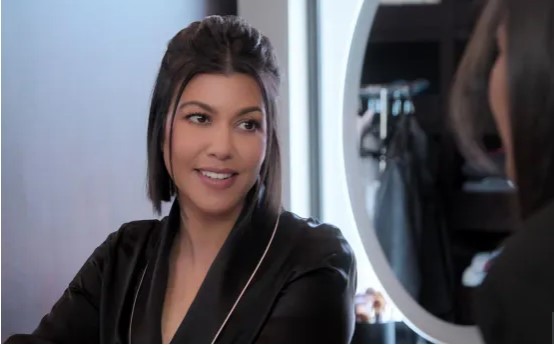 2023 Halloween Costume Ideas: Get Ready for a Spooky Celebration

Halloween is a favorite holiday for many, and planning the perfect costume is a significant part of the fun. While I don't have access to information beyond September 2021, I can offer some timeless and creative Halloween costume ideas that you can consider for 2023 or any future Halloween celebration:

Classic Monsters: Embrace the classics by dressing up as iconic monsters like Dracula, Frankenstein's monster, the Mummy, or the Werewolf. These timeless characters are always a hit at Halloween parties.

Pop Culture Icons: Pay homage to your favorite pop culture figures from movies, TV shows, or music. Whether you want to be a Marvel superhero, a Star Wars character, or a famous celebrity, there are endless options to choose from.

Historical Figures: Step into the shoes of a historical figure and bring the past to life. Dress as a famous historical leader, artist, or inventor, and educate others about their contributions.

Group Costumes: Coordinate with friends or family members to create a themed group costume. You can become characters from a beloved movie, a group of superheroes, or even a classic board game ensemble.

Animals and Insects: Transform into your favorite animal or insect. Whether you choose to be a majestic lion, a graceful butterfly, or a cunning fox, animal-themed costumes are a great choice.

DIY Creations: Get creative by crafting your own unique costume. Raid your closet, visit thrift stores, and use your crafting skills to design a one-of-a-kind outfit that showcases your creativity.

Classic Horror: Dive into the horror genre by becoming a character from a classic scary movie, such as Freddy Krueger, Jason Voorhees, or the Bride of Frankenstein.

Fantasy Creatures: Explore the realms of fantasy by becoming a mythical creature like a unicorn, dragon, mermaid, or fairy. These costumes offer endless opportunities for creativity.

Puns and Wordplay: Create a clever costume based on puns or wordplay. Dress as a "cereal killer" with a box of cereal and a toy weapon or turn into a "smarty-pants" with pants covered in Smarties candy.

Movie and TV Show Duos: Pair up with a friend or partner and recreate famous duos from movies or TV shows. From Bonnie and Clyde to Mario and Luigi, the options are diverse.