Kylie Jenner Teases Launch of Khy Clothing Line with Sultry Snap
The highly anticipated brand is set to make its debut on November 1, marking Kylie's entrance into the fashion industry alongside her sisters. The announcement was made in a glamorous Instagram post where Kylie cryptically captioned the image, "Meet Khy."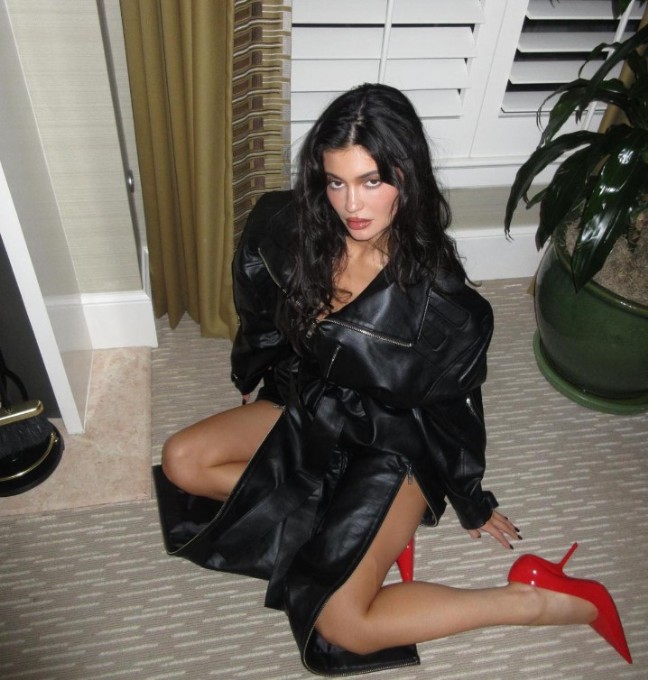 The photo showcases Kylie Jenner seated on the floor, adorned in a black faux leather trench coat with distinctive zips running along the sides. This chic trench coat is priced at $198 and embodies the oversized fashion trend, creating an alluring look that reveals plenty of leg.

Adding a stylish twist to her outfit, Kylie complements the trench coat with red patent leather pumps from Acne Studios. Her hair flows gracefully in a wavy style as she gazes confidently into the camera, projecting the elegance and charisma that has become her signature.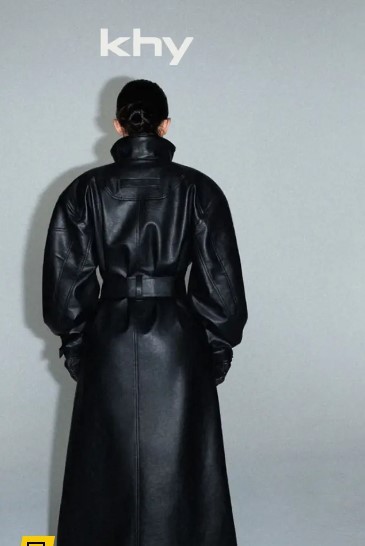 In campaign photos for the brand, Kylie continues to flaunt the coat, showcasing it from multiple angles. Her back-facing pose on the Khy website invites fans to sign up for exclusive early access to the first collection.

While the initial social media post kept details about the collection under wraps, Kylie shared insights with the Wall Street Journal. She described Khy's debut collection as a reflection of her personal style and the different moods she embodies. In her words, the first drop, a collaboration with the popular label Namilia, is all about "King Kylie — who I am at my core." This exciting line will offer 12 items, each priced under $200 and available in sizes ranging from XXS to 4X.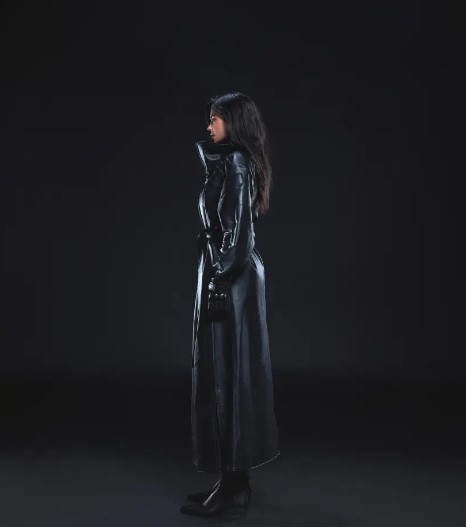 Khy's name is a clever play on Kylie's nickname, "Ky," with the addition of an 'h' to symbolize destiny, good fortune, and spirituality. Kylie's venture into the clothing industry began after she inked a deal with Jens and Emma Grede, the creative minds behind Kim Kardashian's Skims and Khloé Kardashian's Good American. Despite being part of a family of fashion-forward siblings, Kylie aims to create a unique path for herself in the fashion world.

As Kylie embarks on this new journey, she sets herself apart with her vision and independence. She makes it clear that her fashion choices and creative direction are deeply personal, asserting, "There's really no one telling me what to do."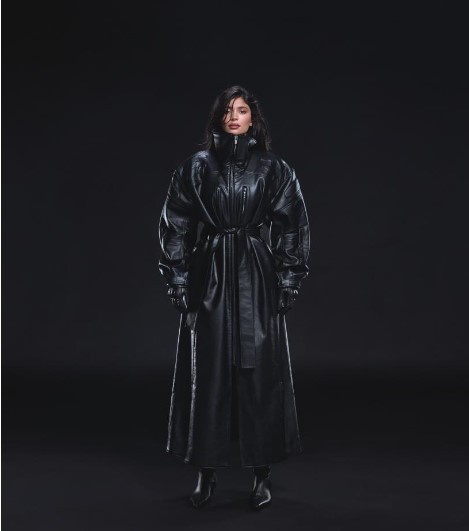 Her mother and manager, Kris Jenner, echoed this sentiment, emphasizing that Kylie has been the creative director of her own life and wardrobe since childhood.

This foray into the fashion world isn't Kylie's first venture; she previously collaborated with her sister Kendall Jenner on a collection for PacSun in 2012. This time, however, Khy represents her independent vision and fashion expression.
The news of Khy's launch garnered excitement from Kylie's followers on Instagram. Friends and fans alike expressed their enthusiasm for the new brand, with comments flooding the post. BFF Stassie Karanikolaou commented with fire and heart emojis, while others shared their eagerness for Khy's arrival.

Kylie's November 1 launch date is now on the fashion radar, and fans are eagerly awaiting what this dynamic entrepreneur will bring to the fashion world.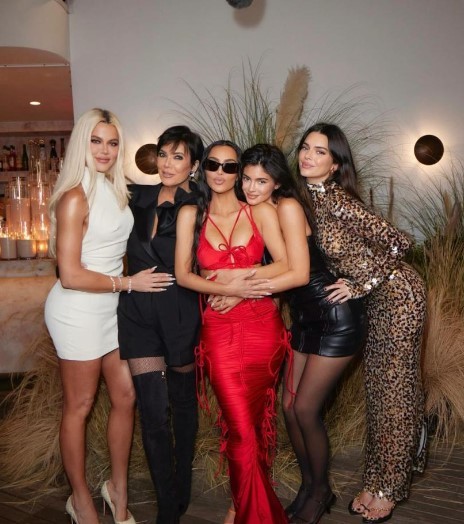 Kylie Jenner's fashion brand, Khy, is set to make its debut on November 1, marking her entry into the fashion industry alongside her sisters. The highly-anticipated brand announcement was accompanied by a glamorous Instagram post where Kylie cryptically captioned the image, "Meet Khy." In the photo, Kylie exudes confidence and style, wearing a black faux leather trench coat with a thigh-high slit. She complements the look with red patent leather pumps and a wavy hairstyle. Khy's first collection, a collaboration with Namilia, features 12 items priced under $200 and is available in sizes from XXS to 4X. Kylie's independent fashion venture has garnered excitement and support from her followers, as they eagerly anticipate the November 1 launch.
Kylie Jenner Husband: Kylie Jenner is in a relationship with rapper Travis Scott, but they are not married. The couple has a daughter together, Stormi Webster.
Kylie Jenner Age: Kylie Jenner was born on August 10, 1997, which makes her 26 years old as of October 2023.
Kylie Jenner New Brand: Kylie Jenner is set to launch her new clothing brand called "Khy," which is expected to debut on November 1, 2023.
Kylie Jenner Net Worth: According to Forbes, Kylie Jenner's net worth in 2023 is estimated to be around $700 million. This makes her one of the wealthiest women in the entertainment and beauty industries.
Jenner made her fortune through her beauty company, Kylie Cosmetics, which she launched in 2015. The company quickly became a success, and Jenner sold a 51% stake in it to Coty Inc. in 2020 for $600 million.
In addition to her work with Kylie Cosmetics, Jenner also earns money from endorsements, modeling, and reality TV. She has starred in the E! reality show Keeping Up with the Kardashians since she was a teenager.
Jenner is a savvy businesswoman and a social media influencer with a massive following. She has used her platform to build a successful career and a multi-million dollar empire.
Kylie Jenner Children: Kylie Jenner has one child, a daughter named Stormi Webster, whom she shares with Travis Scott.
Kylie Jenner Instagram: Kylie Jenner is a prominent social media influencer and has a massive following on Instagram. Her Instagram handle is @kyliejenner, where she shares her life, fashion, beauty, and more with over 250 million followers.
Kylie Cosmetics: Kylie Cosmetics is Kylie Jenner's makeup brand, known for its lip kits, eyeshadows, and other cosmetics products. It has been a major contributor to her wealth and success in the beauty industry.
Kylie Jenner Son: As of my last knowledge updat in September 2021, Kylie Jenner does not have a son. She has one daughter, Stormi Webster, with her partner Travis Scott.