Kym Marsh's Daughter Emilie's Magical Wedding with Star DJ Performance
The 47-year-old star couldn't contain her tears of happiness as she beheld her daughter, Emilie, radiantly adorned in her wedding dress. Marsh expressed her immense pride, remarking, 'I watched Emilie's first child be born and now she's my first child to marry. It's an emotional time: my baby girl is getting married!'

The splendid celebration unfolded at Merrydale Manor, a picturesque estate in Cheshire, where Emilie and Michael united their lives in matrimony. The couple's children played significant roles in the wedding festivities, with Emilie's stepdaughter Polly, seven, charmingly fulfilling the role of chief flower girl, while her son Teddy, four, took on the role of the ring bearer.

Entertainment was a key highlight of the occasion, featuring a star-studded lineup including DJ Nick Campbell, the vibrant nine-piece live band Tommy T and the Belletones, the melodic acoustic duo Joe and James Fay, and the soulful singer Dave Perkins.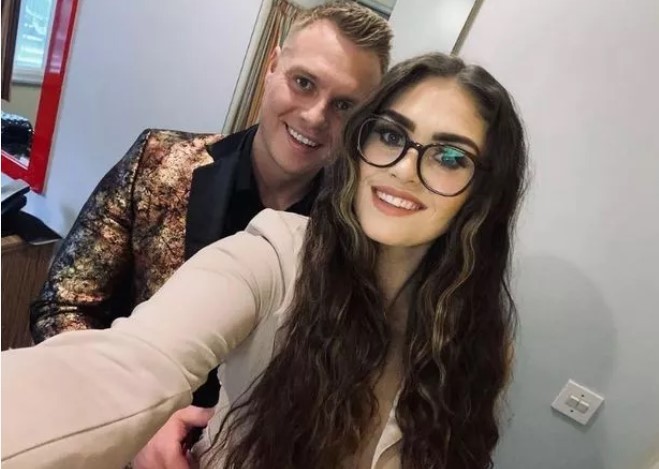 Emilie's elegant dress showcased intricate lace detailing and a graceful fishtail skirt. Kym Marsh gushed about seeing her daughter in the bridal attire, expressing that witnessing the sight was 'the most incredible thing,' and that Emilie is the 'most beautiful girl' she's ever seen.

Emilie herself shared glimpses of her enchanting day with Hello! magazine, capturing the moments of joy and love. In one heartwarming photo, Emilie posed with her mother, exuding happiness and affection.

The newlywed bride shared a snapshot of her joyful family on her wedding day, captioning the post with heartfelt words: 'We did it. 04/08/23 we said I do, now forever to go.'

As the heartwarming news spread, fans rushed to convey their congratulations, with one admirer exclaiming, 'Congratulations, gorgeous photos,' and another chiming in with, 'What a beautiful family. Can't wait to hear all about it.

Emilie's journey in the music industry has been supported by her mother, Kym Marsh, who herself is a respected figure in the entertainment world. The budding singer showcased her vocal prowess during the Pride Of Manchester Awards, where Kym Marsh lauded her performance with immense pride.

Emilie's determination to carve her own path is evident, as she expressed her commitment to her music career, emphasizing that she has worked diligently to achieve her aspirations. Despite any misconceptions, Emilie's talent shines through, and she continues to captivate audiences with her enchanting voice and performances.'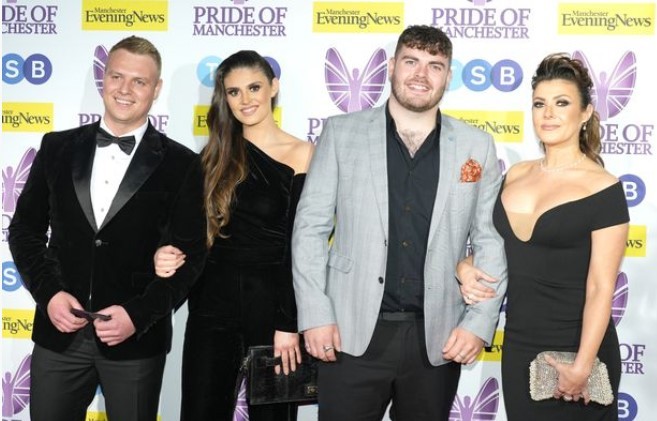 The wedding festivities extended into the evening, with guests being treated to a spectacular display of fireworks that illuminated the night sky. The couple's choice of Merrydale Manor as their venue added an extra layer of charm to the event, with its lush gardens and elegant architecture providing a magical backdropp for the celebration.

Family and friends shared touching speeches, reflecting on Emilie and Michael's journey as a couple and expressing well wishes for their future together. The couple's love story, which had its roots in friendship and blossomed into a deep romantic connection, was an inspiration to all in attendance.

Emilie and Michael's wedding also highlighted the importance of blending families, as their children from previous relationships played integral roles in the ceremony. The sight of Polly and Teddy participating in the wedding brought tears of joy to many eyes, symbolizing the union of two families becoming one.

The musical performances during the celebration were nothing short of spectacular. DJ Nick Campbell had everyone on their feet with a lively playlist that catered to various musical tastes. Tommy T and the Belletones brought a soulful energy to the event, while the acoustic melodies of Joe and James Fay added a touch of intimacy to the evening. Dave Perkins' soulful voice resonated through the venue, creating an atmosphere of pure emotion.

In the midst of the festivities, Emilie and Michael took a moment to share a dance as husband and wife, surrounded by the loving gaze of their family and friends. The dance floor soon filled with guests, all celebrating the union of two people deeply in love.

As the night drew to a close, Emilie and Michael made their exit under a canopy of sparklers held by their guests, a fitting end to a day filled with love, laughter, and cherished memories.

Emilie's journey as a musician continues to flourish, with her wedding marking not only a personal milestone but also a reminder of her dedication to her art. Her enchanting voice and heartfelt performances resonate with audiences, creating a connection that goes beyond the stage.

As Emilie and Michael embark on this new chapter of their lives together, the echoes of their wedding day continue to reverberate in the hearts of all who were fortunate enough to witness their love story unfold.