Larsa Pippen and Marcus Jordan Share Intimate Moments on Romantic Yacht Getaway
The couple recently posted a captivating snapshot on Instagram, capturing a serene moment during their tropical yacht vacation. As Larsa navigates her newfound romance with Marcus, she addresses her past marriage and the complexities of dating the son of her ex-husband's teammate.

Larsa Pippen, 49, and Marcus Jordan, 32, are indeed making waves with their affectionate display of love, transcending the boundaries of age and history. Their journey, which began in late 2022, has been marked by shared experiences and a strong bond that continues to grow. The snapshot they recently shared on Instagram provides a window into the world of their enchanting getaway – a glimpse of their love story unfolding against the backdropp of the boundless ocean.

In this captivating photo, Larsa reclines comfortably on her stomach, the gentle sea breeze tousling her hair as she gazes affectionately at Marcus. He stands beside her, a picture of contentment and affection, the sun painting their silhouettes in warm hues. The joint caption they chose, "Riding waves🌊 Living life🛥️✨," perfectly encapsulates the carefree spirit of their vacation. It's a visual representation of their shared journey, navigating the unpredictable waves of life together while savoring each moment.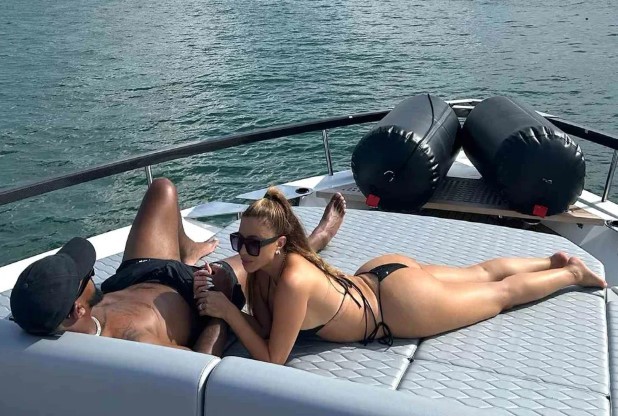 This romantic escapade arrives on the heels of Larsa Pippen's candid revelation during Jana Kramer's Whine Down podcast. She disclosed that she hadn't engaged in conversations with her boyfriend's father, the NBA legend Michael Jordan. Despite the absence of direct communication, Larsa acknowledges the intricate web of connections surrounding her relationship. Her history with Scottie Pippen, the father of Marcus Jordan and Michael's former Chicago Bulls teammate, adds layers of complexity to their story.

While addressing the topic of her previous marriage, Larsa emphasizes that it casts no shadow over her present relationship. Her words echo a sentiment of maturity and emotional growth. "We never talk about them," she explains. Larsa's tone conveys a sense of privacy and mutual respect, as she highlights the exclusivity of the world they've built together. "We have our own relationship, we have our own day-to-day lives," she continues, underscoring the independence of their love story. Her statement is a testament to her understanding of the potential discomfort her ex-husband and Michael Jordan might feel in this unique situation.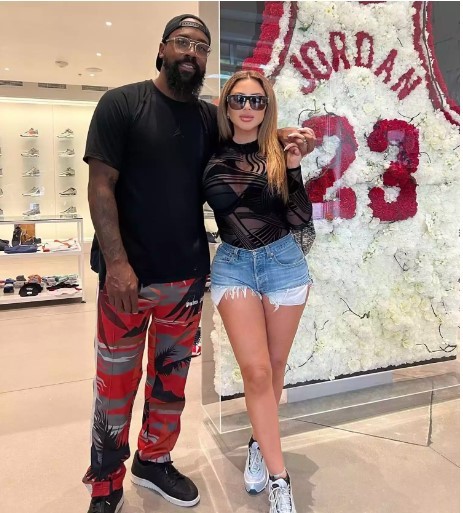 The path that led Larsa and Marcus to love was paved with the bricks of friendship. Their initial meeting at a Los Angeles party in 2019 set the foundation for a connection that would later evolve into something deeper. Their shared interests, values, and experiences nurtured a bond that transcended the ordinary. The moment of realization came during a night out when Larsa felt a pang of jealousy. It was then that she recognized her emotions had surpassed the realm of friendship. The rumors about their relationship started circulating in 2022, fueled by sightings of them enjoying meals and sharing cozy moments at public events.

The relationship's emergence into the public eye sparked intrigue, largely due to the significant 16-year age gap between Larsa and Marcus. However, their connection remained steadfast, impervious to external opinions. Their journey together continued to blossom, culminating in a public display of affection as they shared kisses on the sun-kissed shores of Miami Beach in January. Sources close to the couple confirmed the authenticity of their romantic involvement, asserting that they are indeed "dating and happy."
.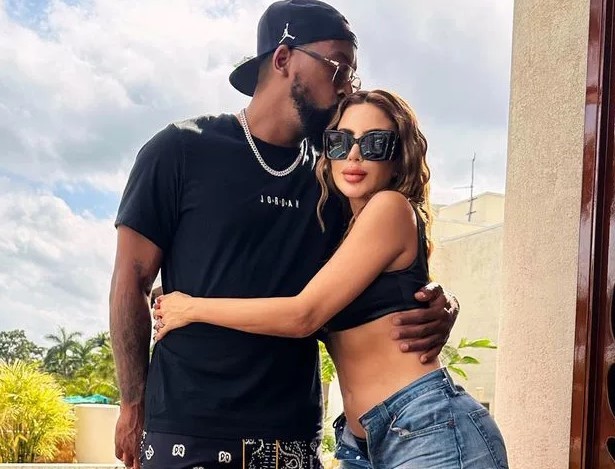 As they navigate the uncharted waters of their relationship, Larsa Pippen and Marcus Jordan stand as a testament to the power of love in the face of complexity. Their shared moments aboard the yacht not only captivate fans but also symbolize a voyage of self-discovery and profound connection. Their ability to embrace love, even in the midst of historical baggage and external scrutiny, underscores the resilience of human connections. With each shared memory, Larsa and Marcus embark on a journey, crafting a unique narrative that speaks to the authenticity of their emotions, unwavering in the public gaze.