Leaving Joao Felix On the Pitch Posed Unnecessary Risk Ahead of El Clasico
Barcelona, led by manager Xavi, secured a resounding victory over Shakhtar Donetsk, maintaining their impeccable record in the group stage. However, their flawless progress could be marred by a potentially avoidable misstep - Joao Felix's extended presence on the pitch.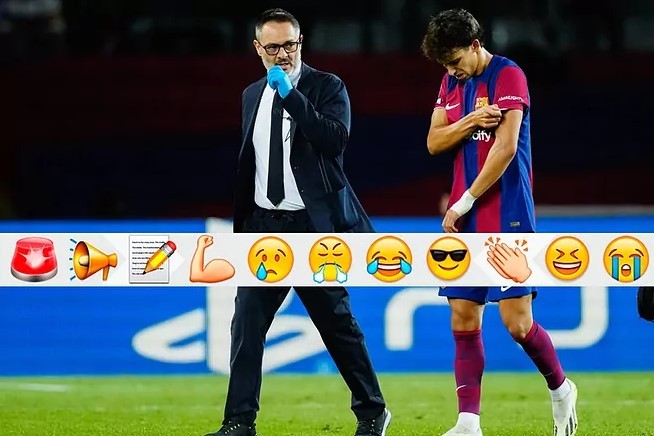 The Portuguese prodigy was subbed out mid-second half due to muscular discomfort, prompting concerns about his readiness for the impending clash with Real Madrid. While it appears the injury scare may have been just that, a scare, the decision to keep Felix in the game when Barcelona enjoyed a 2-0 lead now seems unnecessarily risky.

The El Clasico, a fixture laden with prestige, demands peak performance from all players. With doubts hovering over several key figures like Frenkie de Jong, Pedri, and Robert Lewandowski, Barcelona's depth and options are indeed expansive. The homegrown talent Fermin Lopez showcased his prowess against Shakhtar and is a compelling candidate to feature in the starting XI for the clash with Real Madrid.

However, as Barcelona inches closer to securing their place in the Round of 16 in the Champions League, preserving their players' fitness becomes paramount. Joao Felix's potential risk has raised eyebrows, and the focus now shifts to the critical showdown against their arch-rivals, where both skill and stamina are imperative.

Barcelona's progress to the Round of 16 seems increasingly likely, with their dominant performance in the group stage, including a victory in Porto. After two consecutive seasons of early exits from the group stage, Xavi's team is poised for a triumphant return to the competition's knockout rounds. Securing the top spot in the group would only enhance their prospects.

The El Clasico, set to take place in the coming days, is a match of profound significance, and managing player fitness and readiness becomes crucial. As Barcelona continues their campaign, keeping their star players in optimal condition may be the key to achieving further glory in domestic and international competitions.
Joao Felix is known for his versatility in various attacking positions. Get insights into the positions he excels in, whether as a forward, attacking midfielder, or winger, and his impact in different roles on the field.
Joao Felix Position: Unraveling His Playing Role on the Pitch
Joao Felix's market value in the football world is a subject of scrutiny. Discover the most recent figures and factors influencing his value on Transfermarkt, a popular platform for football player statistics.
João Félix Transfermarkt: Analyzing His Market Value
The connection between Joao Felix and legendary Brazilian footballer Kaka is a topic of interest. Explore their relationship, mentorship, or any shared experiences that bridge the gap between football generations.
Joao Felix and Kaka Relationship: Bonds Between Football Generations
Joao Felix's father has played an integral role in his journey to professional football. Learn about the supportive relationship between the footballer and his father, and how it has contributed to his success.
Joao Felix Father: The Influence and Support Behind the Player
Joao Felix has been linked to various clubs, including Chelsea FC. Discover more about the speculations surrounding his potential move to the Premier League and his potential role in Chelsea's squad.
Joao Felix Chelsea: Exploring the Rumored Connection
Joao Felix was born on November 10, 1999, which makes him 23 years old as of October 2023. His youth and skill have earned him recognition as a rising star in the football world.
Joao Felix Age: Unveiling the Footballer's Birthdate
Joao Felix's performances have sparked interest from various clubs. Stay updated with the latest transfer news and rumors regarding potential moves and destinations for the young forward.
Joao Felix Transfer News: Speculations and Rumors About His Future
Joao Felix, the talented Portuguese footballer, has faced injury setbacks during his career. Stay informed about his current injury status and when he is expected to return to the pitch.
Joao Felix Injury Update: The Latest on His Physical Condition