Leonardo da Vinci's mother was a white SLAVE who was trafficked from the Caucasus mountains and sold many times before meeting his Italian notary father, new research reveals
The Renaissance master was only half-Italian, a professor has claimed
But any da Vinci discovery is hotly contested by the experts who study him
Leonardo da Vinci was only half-Italian as his mother was a slave from the Caucasus, research has revealed.
It was previously believed that da Vinci's mother Caterina was a Tuscan peasant - but an expert on the Renaissance master believes the truth is more complicated.
Carlo Vecce, a professor at the University of Naples, told AFP at the launch of his new book on the subject: 'Leonardo's mother was a Circassian slave... taken from her home in the Caucasus Mountains, sold and resold several times in Constantinople, then Venice, before arriving in Florence.'
In the Italian city, she met a young notary, Piero da Vinci, 'and their son was called Leonardo'.
The findings of Professor Vecce - who has spent decades studying da Vinci, whose works include the Mona Lisa - are based on Florence city archives.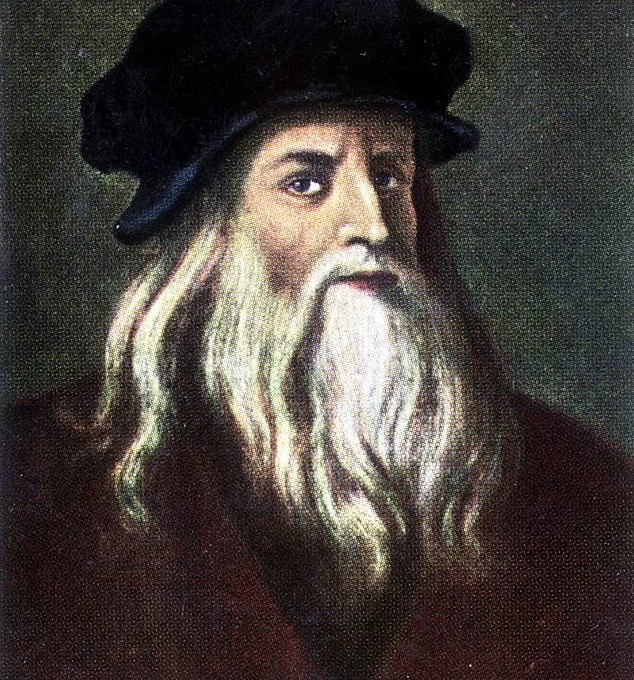 His work has formed the basis of his new novel - The Smile of Caterina, the Mother of Leonardo - while also shedding new light on the artist himself.
Any new discovery about da Vinci is hotly contested by the group of experts who study him, but Professor Vecce, who is recognised as a leading scholar in the field, insists the evidence is there.
Among the documents he found is one written by da Vinci's father himself, a legal certificate of emancipation for Caterina, 'to recover her freedom and recover her human dignity'.
This document is dated 1452 - the year of da Vinci's birth - and was presented at a press conference at the headquarters of publishing house Giunti in Florence on Tuesday.
It was written by 'the man who loved Caterina when she was still a slave, who gave her this child named Leonardo and (was) also the person who helped to free her', Professor Vecce said.
His findings offers a radical change of perspective on da Vinci, whose mother, Caterina di Meo Lippi, was believed to have been a young Tuscan peasant woman, rather than a slave.
Historians already knew that, because of the nature of his birth in a village outside Florence, da Vinci did not receive the formal education that would have made it easy for him to follow in his father's footsteps and take up a profession.
Instead, he began his career as an apprentice in the studio of Florentine painter Verrocchio.
By the age of 18 he had become a member of the prestigious painters' guild, dressed in rose-coloured tunics and boasted a long curling beard.
Professor Vecce believes that the difficult life of his 'migrant' mother had an impact on the work of her brilliant son.
'Caterina left Leonardo a great legacy, certainly, the spirit of freedom which inspires all of his intellectual scientific work,' he said.
'He doesn't let anything stop him.'
Some may consider the idea that this epitome of a 'Renaissance man' was the product of such a union too good to be true.
But Dr Matthew Landrus, also a leading da Vinci scholar, said Professor Vecce's work is 'very important and interesting'.
He told MailOnline that it gives scholars 'so much more information' about Caterina and adds to discussions about who she may have been.
'Professor Vecce has found something that shows not only that but shows where she was originally from, that she was sold into slavery north of Italy and then human trafficked to work in the household of the Vinci family,' he said.
'It wasn't known what her actual history was and this document tells us something about that.'
Paolo Galluzzi, a da Vinci historian and member of the prestigious Lincei scientific academy in Rome, added his approval, saying the research is 'by far the most convincing'.
Speaking to AFP, he highlighted the quality of the documents discovered by his colleague, adding that there 'must remain a minimum of doubt, because we cannot do a DNA test'. Galluzzi said he was also not surprised.
The period into which da Vinci was born marks 'the beginning of modernity, the exchanges between people, cultures and civilisations which gave birth to the modern world', he said.
As well as the fact that he was illegitimate, da Vinci was also left-handed, at a time when it was considered a curse from the devil.
Da Vinci is also believed to have been gay, at a time when homosexuals living in Florence could be buried alive head first.
When he was aged just 24, the polymath and three friends were accused of homosexual activity. Fortunately, the case was dismissed.
It was his exploits with a paint brush which made him an Italian cultural icon.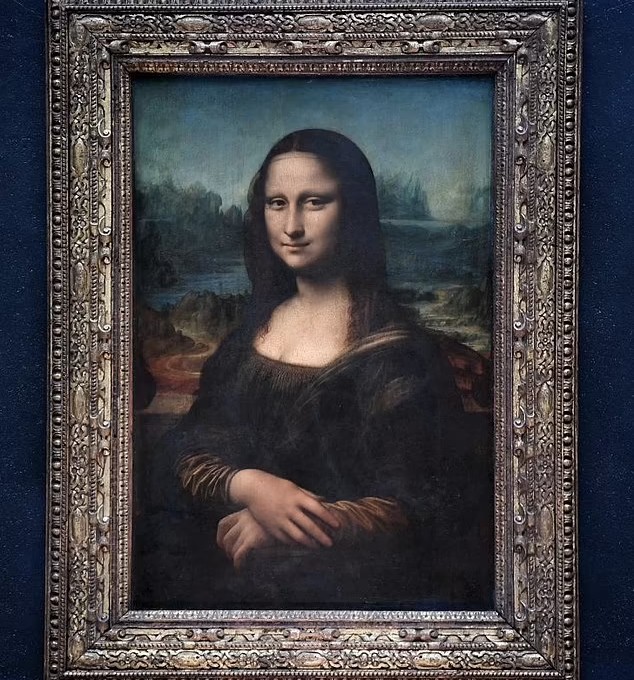 As well as the Mona Lisa, his other works included the famous Last Supper painting - a depiction of Jesus Christ's last meal with his disciples before he was crucified.
And da Vinci's Vitruvian Man, a drawing of a nude man in two superimposed positions, is regarded as one of the most iconic images of Western civilisation.
But during his lifetime, da Vinci was likely to be more famous for his feats in the fields of civil engineering, music, architecture, sculpture and military machines.
He famously designed versions of aeroplanes and helicopters, centuries before the first powered flight.
And his dissections of human corpses, at a time when the practice was taboo, shed new light on muscles and the nervous system.
Among his anatomical discoveries was the optic nerve, which connects the eye to the brain.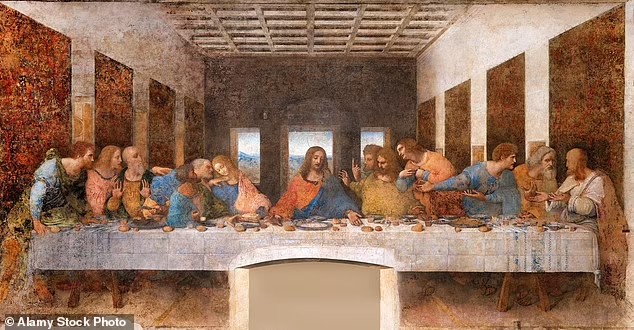 On his death, he left his notes to young apprentice Francesco Melzi. Melzi's son then inherited the notes and abandoned them in an attic cupboard.
They remained unknown and unpublished until 200 years after da Vinci's death.