Lily James Transforms Into Egyptian Pharaoh for
The 34-year-old actress has recently graced the big screen with her captivating presence, offering a glimpse of her transformation in first-look images from the movie, set within the iconic Cinecittà studios in Rome. In these captivating images, Lily adorns an opulent neme (crown) fit for a pharaoh, solidifying her portrayal as Josephine Esperanto, a character donning elaborate stage makeup, including thick foundation, bold black eyeliner, and a striking deep red lip.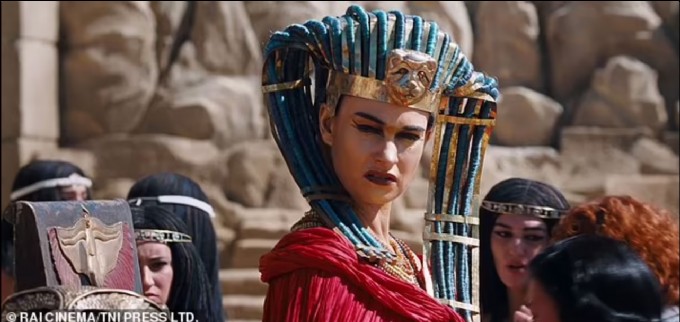 However, despite Lily James's remarkable on-screen presence, "Finally Dawn" has garnered mixed early reviews at the Venice Film Festival this week. While Lily herself received a warm reception, the film, in general, has been described as 'uneven' and 'lacking profundity.'

The film's narrative follows the ascent of Mimosa, a young working-class woman, who, after attending an audition as an extra, unexpectedly finds herself in the spotlight due to an encounter with Josephine. Initially, it appears that Josephine befriends Mimosa, but it becomes clear that the actress has ulterior motives, adopting Mimosa as her latest protege and introducing her as a Swedish poet at a hedonistic party. The film explores Mimosa's journey as she navigates a day filled with exploits and adventures, using her vulnerability as a shield, as reported by Screen Daily.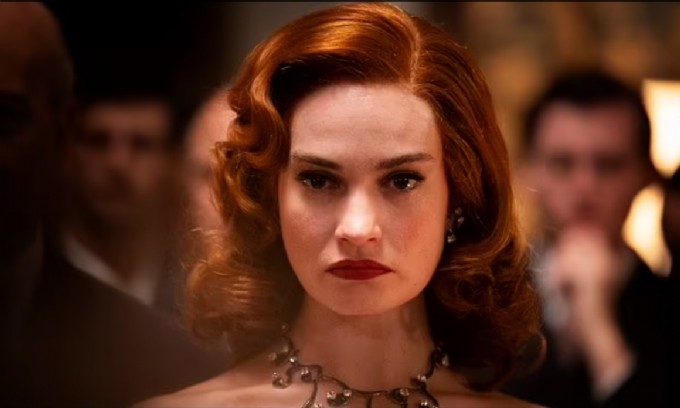 Lily James shares the screen with Joe Keery of "Stranger Things," who portrays her leading man, Sean Lockwood, an up-and-coming star captivated by Josephine. Additionally, Willem Dafoe takes on the role of Rufus Priori, a shrewd yet benevolent art dealer.

Screen Daily, in its review of the film directed by Italian writer-director Saverio Costanzo, noted the influence of Elena Ferrante's dark female narratives and explored themes of acting during a time when young Method rebels challenged the older generation of Hollywood stars. The film delves into the complexities of celebrity and exposes the patriarchal undertow of menace, abuse, and coercion beneath Rome's glamorous dolce vita years.

A reviewer for The Guardian emphasized Lily James's magnetic presence in the film and noted that it sagged when she was absent. They commended her portrayal for its opaque hauteur and praised the extended film-within-a-film scenes for their exuberance.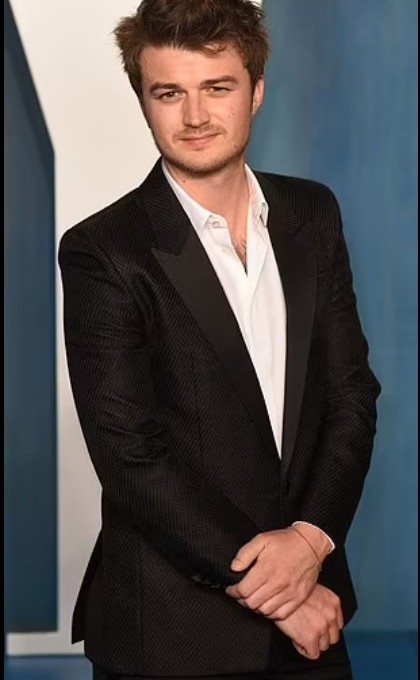 Deadline applauded Lily James for channeling Gilda-style glamour and creating a show-stopping performance, while Variety expressed reservations about the film's leading lady, Mimosa, played by Rebecca Antonaci, calling her 'dull.'

The Hollywood Reporter provided a mixed review, describing the film as uneven and indulgently long at 2 hours and 20 minutes but acknowledging its texture, wit, and perfectly executed set pieces.

"Finally Dawn" may have received mixed reviews, but Lily James's transformation into an Egyptian pharaoh has undoubtedly left a lasting impression on audiences, showcasing her remarkable talent and ability to captivate viewers with her on-screen presence.

What is Lily James Most Famous For?

Lily James is an English actress who is best known for her roles in the films "Cinderella" (2015), "Baby Driver" (2017), and "Mamma Mia! Here We Go Again" (2018). She also starred in the TV series "Downton Abbey" (2012-2015).

James was born in London, England, in 1989. She began her acting career in the theater, and made her film debut in the 2012 film "Wrath of the Titans." She gained wider recognition for her role as Lady Rose MacClare in "Downton Abbey."

James' breakout film role came in 2015 when she starred as Cinderella in the live-action adaptation of the Disney classic. She received critical acclaim for her performance, and was nominated for a Golden Globe Award for Best Actress – Motion Picture Musical or Comedy.

James has since starred in a number of other successful films, including "Baby Driver," "Mamma Mia! Here We Go Again," and "Yesterday." She is currently filming the upcoming film "Pam & Tommy."

James is also a talented singer. She has released several singles, and has appeared in a number of musicals.

Here are some other interesting facts about Lily James:

She is a natural brunette, but dyed her hair blonde for her role on "Downton Abbey."
She is an accomplished track athlete, and her specialty is the 800m.
She is a supporter of the charity Save the Children.
Lily James is a talented and versatile actress who is sure to continue to have a successful career.