Lottie Moss Channels Victoria's Secret Angel in Sheer Catsuit for Halloween Bash
The 25-year-old model attended a Halloween party in Shoreditch, London, and her outfit was nothing short of jaw-dropping.
Lottie Moss decided to go braless, donning a sizzling sheer catsuit from Misspap. The model, who's known for her bold fashion choices, pulled off the look with sheer confidence. Her daring attire was further enhanced with a set of enormous feathered wings, reminiscent of a Victoria's Secret Angel.

The mesh catsuit was adorned with glitzy sequins that sparkled as she made her way to the party. The overall effect was a mesmerizing blend of sheer allure and angelic charm.
To complete her striking look, Lottie opted for gold platform heels that added extra height to her statuesque figure. Her presence was undeniably the center of attention, making her the belle of the Halloween ball.

Lottie Moss wasn't alone in her extravagant Halloween celebration. She was joined by her close friends, singer-songwriter Blithe Saxon, and popular TikTok content creator Cheza Blonde. The trio stepped out in style, turning the streets of London into their personal catwalk as they headed to the event.
It has been an eventful week for Lottie, who continued to make fashion statements. She recently graced the Glamour Women of the Year Awards in London in an equally bold ensemble. The model caught everyone's eye with a backless grey dress adorned with pink flowers.

However, it was the sheer daring of her outfit that drew the most attention. Going braless, Lottie Moss flashed sideboob, exuding confidence in her style choices. She paired the stunning dress with high sparkly gold platform heels that highlighted her slender legs. Her array of upper body tattoos added to her unique and edgy look.
Lottie's blonde locks were styled in an elegant half-up, half-down hairdo, and her cat-eye black liner completed the glamorous yet bold look. The Glamour Women of the Year Awards is an annual event that honors women who are seen as trailblazers and changemakers in their respective fields.

The ceremony was hosted by the talented comedian Katherine Ryan for the third time. Glamour unveiled actress America Ferrara as its global honoree and UK Impact Award winner for her work in creating social change through her non-profit organizations, Harness and Poderistas.
All smiles: The trio wore three striking ensembles, as they turned the road into their own personal catwalk while heading to the bash
This year's awards also recognized the remarkable Millie Bobby Brown as a global honoree. The young actress and UNICEF Goodwill Ambassador was celebrated for her work in both acting and advocacy. Her contributions and achievements are certainly commendable.

Lottie Moss continues to captivate attention with her fearless fashion choices and presence at high-profile events. Her style and confidence have established her as a notable figure in the world of fashion and entertainment.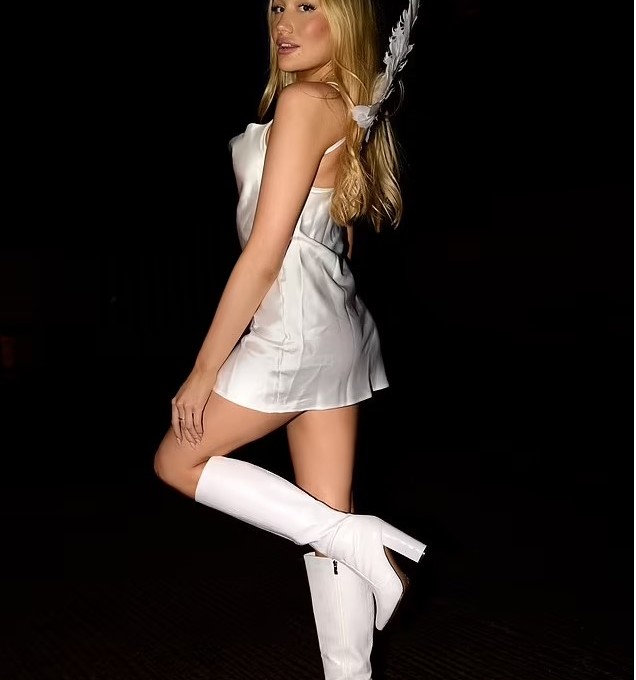 Lottie Moss Instagram: Lottie Moss, like many celebrities, has an active presence on Instagram. She uses the platform to share her latest fashion looks, glamorous photoshoots, and glimpses into her personal life. You can follow her and stay updated on her adventures and style through her Instagram account.

Lottie Moss Twitter: If you're a fan of Lottie Moss and want to know what she's thinking or what she's up to in real-time, her Twitter account is the place to be. She may share her thoughts, retweet interesting posts, or engage with her followers on this platform.

Lottie Moss and Kate Moss: Lottie Moss is the younger half-sister of supermodel Kate Moss. While both sisters have made names for themselves in the modeling industry, they share a familial bond. Kate Moss is an iconic figure in the fashion world, and Lottie has followed in her footsteps, creating her own identity in the industry.

Lottie Moss Father: Lottie Moss's father is Peter Moss. He is a travel agent by profession and is known for his connections to the travel industry. He has played a supportive role in Lottie's life, especially as she embarked on her modeling career.

Lottie Moss Spencer Matthews: Spencer Matthews is a British reality TV star known for appearing on shows like "Made in Chelsea." There have been reports of a brief romantic link between Lottie Moss and Spencer Matthews, sparking interest among fans and tabloids.

Lottie Moss Born: Lottie Moss, whose full name is Charlotte Moss, was born on January 9, 1998, in London, United Kingdom. She has since become a notable figure in the fashion and modeling industry.

Lottie Moss Clothing: Lottie Moss has been involved in various fashion endeavors. She has modeled for different clothing brands and designers, showcasing her versatility in the world of fashion. Her style choices and collaborations with fashion labels have garnered attention in the industry.