Lourdes Leon Grabs the Spotlight at Victoria's Secret Event in Striking See-Through Mini-Dress
Lourdes Leon, the 26-year-old model and musician, who happens to be the eldest child of pop icon Madonna, made a jaw-dropping entrance in a bold mini-dress that left little to the imagination.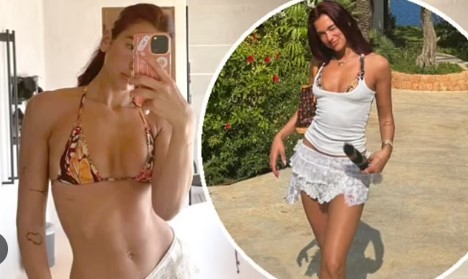 In an event marking a significant moment for the brand's embrace of inclusivity and diversity, Lourdes's fashion statement perfectly resonated with the theme. The eye-catching mini-dress that took center stage was a creation by Ukrainian-born, U.S.-based fashion designer Natalia Fedner. This unconventional piece was meticulously crafted from a stretched metal textile, intricately woven into a loose-knit netting reminiscent of a delicate spiderweb.

Leon's bold choice extended beyond the dress itself. She elegantly paired the statement outfit with platform stiletto sandals, adding height and enhancing her striking look. Opting for minimal jewelry, Lourdes allowed the dress and her innate beauty to shine. Her sleek black hair flowed gracefully, accentuating the ensemble's edgy and fierce aura.

The star-studded event also saw the presence of notable celebrities such as Adriana Lima, Brooke Shields, Coco Gauff, Devyn Garcia, Jasmine Sanders, Michelle Rodriguez, Naomi Campbell, Naomi Osaka, Paloma Elsesser, Tessa Brooks, Valentina Sampaio, Winnie Harlow, and more.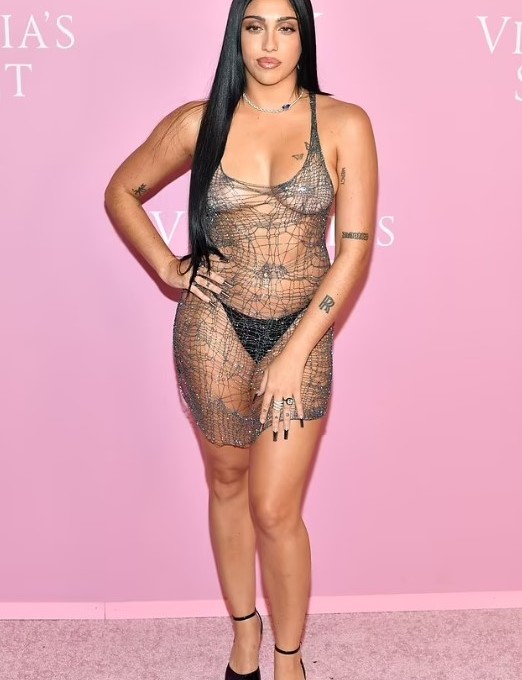 "Victoria's Secret The Tour '23" served as a platform to highlight Victoria's Secret's mission of empowering and championing women worldwide. The Tour reimagines the iconic fashion show, spotlighting women and global creatives. It offers audiences an intimate glimpse into the behind-the-scenes craftsmanship and personal stories of the VS20.

The VS20 features twenty innovative international creatives who will curate four fashion collections inspired by the vibrant cities of Bogota, Lagos, London, and Tokyo, alongside iconic custom Victoria's Secret designs. The event also included a sneak peek of The Tour '23 and featured special musical performances by Doechii and Goyo.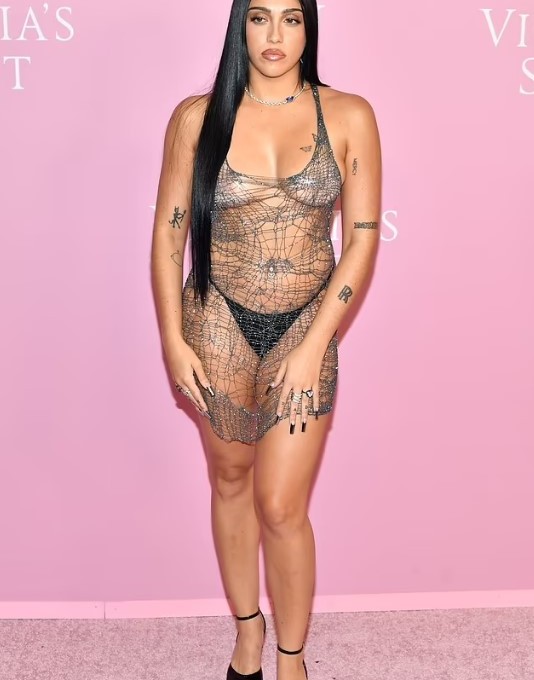 How Many Biological Children Does Madonna Have?

Madonna has a total of six children, comprising two biological children and four adopted children. Her first biological child, Lourdes Maria Ciccone Leon, was born in October 1996 at the Good Samaritan Hospital in Los Angeles. Lourdes, often referred to as "Lola," is the eldest of Madonna's children.

Lourdes Leon: From Model to Fashion Maven

Lourdes Leon, Madonna's biological daughter, has made a name for herself in the fashion world. She's not just a celebrity kid; she's a talented model. Lourdes stepped onto the runway in 2018, making her debut at New York Fashion Week for Gypsy Sport. Since then, she's graced the catwalk for renowned designers like Rihanna, Luis De Javier, and Versace. Additionally, Lourdes has been featured in advertising campaigns for acclaimed brands such as Marc Jacobs, Stella McCartney, and Swarovski.

Madonna's daughter has carved her own path in the fashion industry, impressing with her unique style and modeling prowess.

In conclusion, Madonna's family is as diverse and dynamic as her career. With two biological children and four adopted children, her family reflects the singer's multifaceted life. Lourdes Leon, her eldest, has found her niche in the fashion world and continues to shine as a talented model. Madonna's legacy lives on not only through her music but also through her remarkable family.