Madonna, 65, Stuns Fans with Provocative Slideshow from Celebration Tour; Kelly Ripa Gives a Nod
The 'Papa Don't Preach' singer showcased her daring side, striking raunchy poses on a table in a dramatic display posted to her massive following of 70 million on Instagram.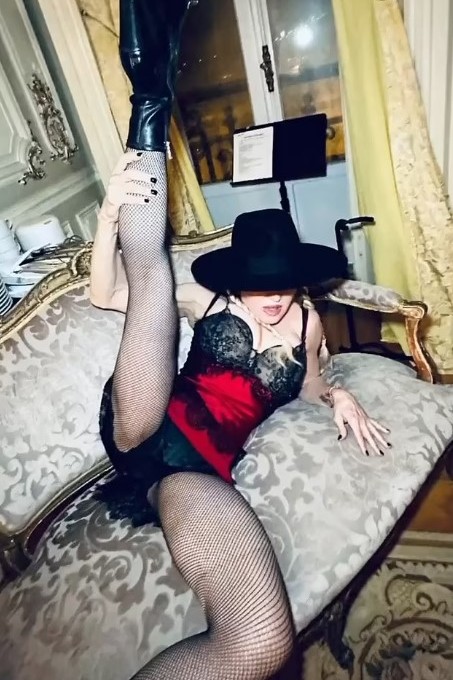 The slideshow featured Madonna in a series of S&M and bondage-themed outfits, coupled with moves reminiscent of Jennifer Lopez in the movie 'Hustlers,' all set to the backdropp of her song 'Fever.' The 65-year-old diva fearlessly showcased her toned legs, even flashing an eye-popping crotch shot in a red and black outfit with high-heeled boots.
Fans were left in awe, with some expressing their astonishment with comments like 'oh my God!' and 'She is a naughty one!' Notably, TV host Kelly Ripa showed her approval by hitting the 'like' button. The chart-topping singer received heaps of praise, being hailed as 'beautiful' and a 'queen.' One fan highlighted Madonna's enduring success, noting, 'It's amazing how Madonna is still selling out stadiums like she did back in the '80s.'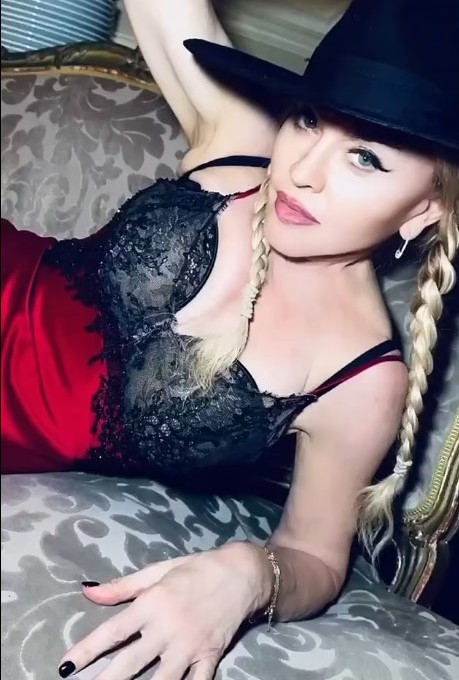 Madonna, born Madonna Louise Ciccone, showcased a variety of outfits, including a little red lace and silk nightie, a pewter and black catsuit, and a black corset with stockings and boots. The edgy ensemble featured safety pin earrings, reminiscent of punk rock fashion, and black chunky platform boots towering at 10 inches high.
The 'Truth Or Dare' star sprawled out on an ornate gray-patterned sofa with gilded wood edges, set against golden curtains. The provocative slideshow captured Madonna in various poses, exuding confidence and showcasing her slender and toned physique.
Earlier this week, reports surfaced about Madonna's recent hospitalization, raising concerns about her health. However, the pop icon kicked off her 'Celebration' tour, and sources suggest her children, mindful of her well-being, have encouraged her not to 'push herself' too hard.
Despite Madonna's health scare, the global music sensation seems to be in fantastic shape, displaying strength during her dance sequences on the tour. The 'Celebration' tour marks Madonna's return to the stage after her hiatus, and fans can expect a show that blends her timeless hits with a visually stunning and provocative performance.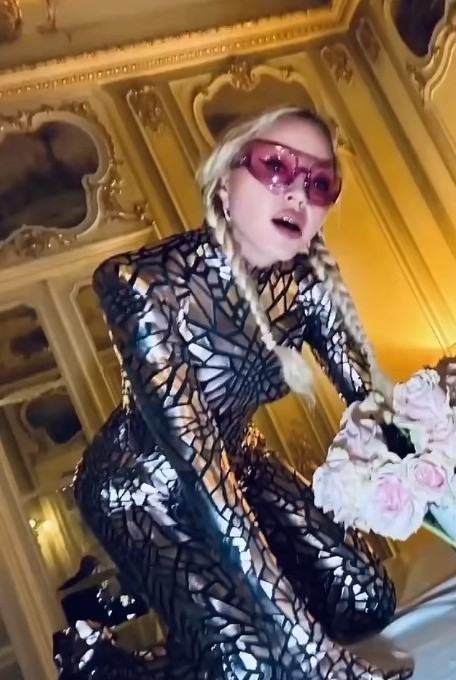 Stay tuned for more updates on Madonna's 'Celebration' tour and her continued influence on the music and entertainment scene. #Madonna #CelebrationTour #PopIcon**
Is Madonna Still singing: Yes, Madonna is still singing in 2023. She is currently on her "Celebration Tour," which is a retrospective of her four-decade career. The tour began in October 2022 and is scheduled to end in April 2024.
In addition to touring, Madonna is also working on new music. She has said that she is working on a new album, but she has not released any details about it yet.
Madonna is also involved in several business ventures. She has her own clothing line, perfume line, and skincare line. She is also a co-owner of the record label Interscope Records.
Madonna is still very active in the entertainment industry, and she is showing no signs of slowing down. She is one of the most successful and influential entertainers of all time, and she continues to inspire and entertain fans around the world.
Madonna is 64 years old as of August 4, 2023.
Madonna age: 64 years old (born August 16, 1958)
Madonna Wikipedia: https://en.wikipedia.org/wiki/Madonna
Madonna Instagram: @madonna (18.9 million followers)
Madonna daughter: Lourdes Leon (25 years old)
Madonna Daughter: Madonna has several children. As of my last knowledge update, she has six children, including biological and adopted children. Their names are Lourdes Leon, Rocco Ritchie, David Banda, Mercy James, and twins Stella and Estere Ciccone. Please note that family details might change, and it's advisable to check the latest sources for the most recent information.
Madonna Instagram: Madonna's official Instagram account is a platform where she shares updates about her life, music, and other ventures. You can find her on Instagram by searching for her username, which is likely to be @madonna.
Madonna Wikipedia: You can find detailed information about Madonna on her Wikipedia page. The content on Wikipedia is regularly updated to provide the latest information about her life, career, and achievements.
Madonna Age: Madonna was born on August 16, 1958. As of now, in 2023, she would be 64 years old.