Mae Muller: Eurovision Experience and Resilience Fuels Her Artistic Journey
While her Eurovision experience may not have ended with a trophy, it became a pivotal chapter in her artistic journey. In this article, we'll delve into Mae's Eurovision story, her coping mechanism, and how her new album, "Sorry I'm Late," has played a crucial role in her creative life.

The Eurovision Spiral and Coping Mechanism

Eurovision, a global spectacle watched by millions, can be both thrilling and daunting. Mae Muller found herself in the midst of this grand competition, representing the UK in the Eurovision contest. However, the outcome was not as she had hoped, finishing in 25th place. It was a moment that could have easily left her feeling defeated and discouraged.

Yet, Mae Muller chose a different path. Instead of dwelling on the disappointment, she turned to humor as a coping mechanism. She recorded a TikTok video that playfully addressed her Eurovision experience, captioning it with, "when someone asks me how well I did at Eurovision," and concluded with her miming, "ask me another question."

In her own words, she was "still spiraling" when she created that TikTok video. Mae admitted to feeling hurt and upset by the Eurovision outcome initially. It's a testament to her resilience that she chose to address it in her unique way. She wanted to avoid the narrative of doom and gloom, preferring that people didn't pity her.

This coping mechanism allowed her to regain control of her story, transforming a potentially devastating moment into one where laughter and light-heartedness prevailed. Mae found solace in knowing that it wasn't the end of the world, and her audience shared in her laughter.

Embracing Support and Post-Eurovision Success

Mae Muller didn't face the Eurovision disappointment alone. She felt the support of her fans and acknowledges that people were on her side throughout the journey. Despite the pressure of the competition, she managed to be herself and have fun with her fans.

One of the highlights of her Eurovision journey was the reception of her entry, "I Wrote a Song," outside the competition arena. The song garnered substantial airplay, amassed over eight million streams on Spotify, and secured a spot in the UK top 10. Mae Muller looks back on this achievement with pride.

While the Eurovision experience was a rollercoaster, Mae cherishes the positive aspects and acknowledges the love and support she received. Her songs, known for their candid and comedic lyrics, resonate with a wide audience. She cites Lily Allen's "Alright Still" as a major influence and a favorite album from her formative years. Like Lily, Mae's songs are conversational, relatable, and humorous.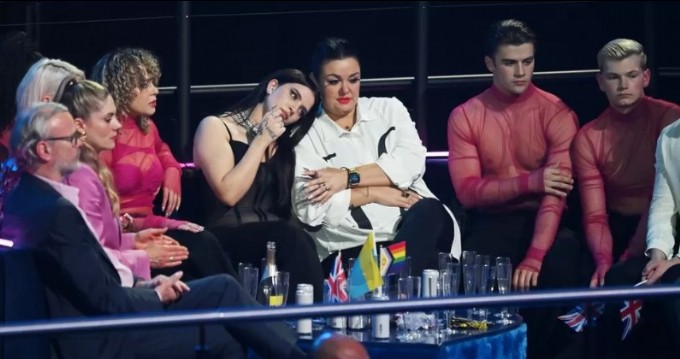 Balancing Artistic Expression

Writing songs is Mae Muller's way of processing emotions and feelings, a form of artistic expression that has become integral to her identity. However, the intensity of the Eurovision competition temporarily disrupted her songwriting process. The demands and pressures of the event left her with no time to write for six months.

Mae's new album, "Sorry I'm Late," was initially scheduled for release in March but had to be postponed after she became the UK's Eurovision entry. This delay, while unplanned, allowed her to refocus her creative energies. Instead of twiddling her thumbs post-Eurovision, she had an entire album to promote, keeping her engaged and motivated.

The Exciting Release of "Sorry I'm Late"

The release of "Sorry I'm Late" marks a significant milestone in Mae Muller's career. It's a moment she describes as both real and surreal. She's immensely proud of her work and eagerly anticipates the response from her audience. This album represents a culmination of her creative journey and her determination to persevere.

Now that the album is out, Mae is eager to return to the studio. She missed the creative atmosphere and is ready to immerse herself in the world of music once again. Her journey, which included moments of laughter, resilience, and artistic growth, continues to inspire fans and aspiring artists alike.

As we celebrate Mae Muller's achievements and her ability to turn challenges into opportunities, we look forward to her future contributions to the world of music. Her story reminds us that creativity and resilience can lead to remarkable artistic journeys, regardless of the obstacles faced along the way.
Mae Muller, the rising British singer-songwriter, has garnered attention from various media outlets, including coverage by The Sun.
Mae Muller's real name is Amelia Hope Muller.
While specific details about Mae Muller's parents are not widely known, her family has been a source of support throughout her music career.
Mae Muller's Wikipedia page provides comprehensive information about her background, career, and achievements. It's a valuable resource for fans and those interested in her music journey.
As of [current year], Mae Muller is [age] years old. (Please updat with her current age)
Mae Muller collaborated with renowned artist Mika on her hit single "I Don't Want Your Money." Their collaboration received widespread acclaim and recognition.
Mae Muller represented the UK in the Eurovision Song Contest, showcasing her musical talent on a global stage. Although she didn't win, her participation was a significant milestone in her career.
Mae Muller maintains an active YouTube channel where she shares her music videos, behind-the-scenes content, and updates. Fans can subscribe to stay updated on her latest releases and creative projects.
Mae Muller YouTube
Mae Muller Eurovision
Mae Muller Mika
Mae Muller Age
Mae Muller - Wikipedia
Mae Muller Parents
Mae Muller Real Name
Mae Muller: The Sun