Maisie Smith flaunts hersmooth abs in a tiny bikini top and boho skirt in racy mirror selfies
The former EastEnders, 21, sent temperatures soaring as she showed off her toned abs in a barely-there powder pink bikini top and a green boho skirt which she wore around her hips.
Maisie appeared in her element as she showed off her very individual style in the look and while she wore white fluffy boots, her cropped crochet jumper did little to keep her warm.
The Strictly star pouted for the camera as she struck a series of poses and uploaded a video of herself modelling the interesting outfit.
She captioned the shot: 'Pearly girly', and Max, 34, commented: 'Yep... You're unreal'.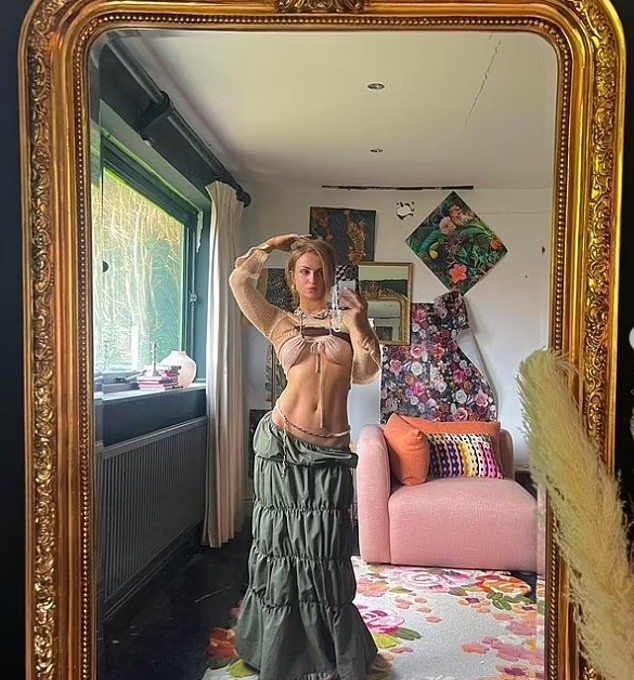 It seems Maisie is really digging this look as it is not the first time she has posted herself rocking the eclectic outfit.
Her TikTok video, in fact, was given a 'sensitive content' warning which left fans confused and wondering if it was down to the racy outfit.
In the clip, Maisie posed in a pink dressing gown and slippers in the first clip while her singer beau donned a grey sweatshirt and matching tracksuit bottoms.
As the video transitioned the loved-up couple looked at each other before swapping into racy matching his and hers outfits.
Last month, Max shared an adorable clip of him asking girlfriend Maisie to move in with him.
The smitten singer took to Tiktok to reveal his sweet plan to take their relationship to the next level.
He shared that he had hidden a set of keys in a bag of pick n' mix for her to find when they went to the cinema together.
Maisie, who has been with Max since summer 2022, was none the wiser at first.
She eventually realised her name was on the keys when she looked into the bag and pulled them out.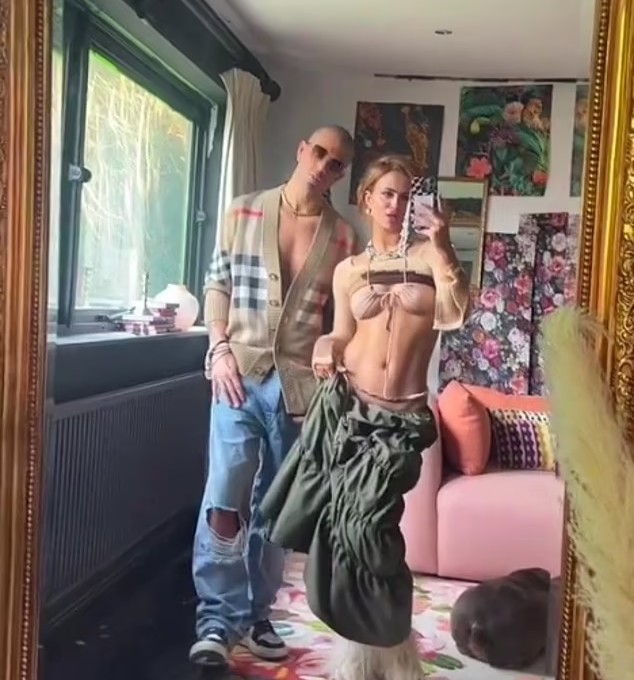 After she read the tag she laughed and said: 'I love you', to which Max quipped: 'As that a yes?' as the lovebirds celebrated their happy news.
It came as Maisie and her boyfriend Max suffered backlash over controversial Instagram snaps they posted for on Valentine's Day.
The couple shared pictures of a rose-filled room including the lavish gifts Max had bought Maisie, such as Louboutin heels and a teddy.
But some fans were not impressed after spotting a Balenciaga gift bag placed on their bed, amid the current controversy surrounding the brand.
The fashion house recently sparked outrage among consumers over its use of children in a campaign for BDSM-styled bags and its inclusion of a legal ruling on child porn in the background of another image.
'Who's still buying Balenciaga after all what's come out,' questioned one follower on Maisie's post.
Another echoed: 'Balenciaga really?? What chance do we have if people with your two platforms are sharing this!'
'Wow you really still buy and wear Balenciaga??' added another to the wave of comments.