Manchester United's Managerial Woes: Is Erik ten Hag Next in Line?
The Manchester United managerial role, often seen as one of the most prestigious jobs in football, has a track record of taking even the most accomplished coaches and casting them adrift. A recent case in point was David Moyes, who, almost a decade ago, found himself ousted from the role and his uncertain demeanor told the story. His eyes displayed doubt, uncertainty, and anxiety.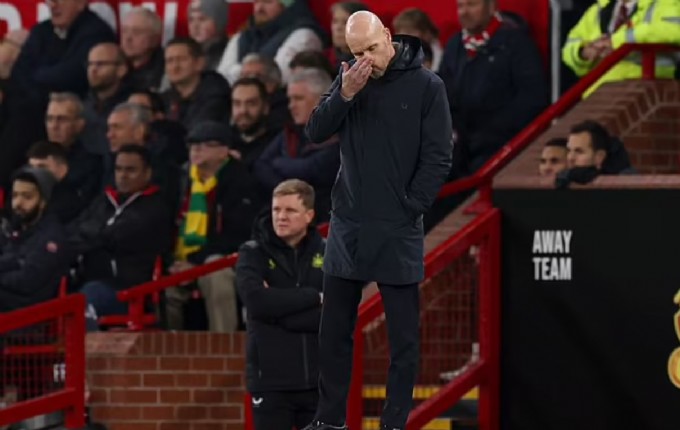 Moyes, a respected manager before his stint at United, eventually found his groove once more. However, there's something about managing Manchester United that can strip away one's confidence and composure, leaving them exposed and vulnerable. This phenomenon appears to be occurring again, with Erik ten Hag, the current manager.

The decline of Manchester United under Ten Hag's leadership has been stark this season. The team seems to be plummeting like an elevator with its cables cut, descending into darkness. A recent clash against Manchester City showcased their struggles, but it was their performance against Newcastle's second-string side in the Carabao Cup that was particularly dire.

This raises questions about the future of Ten Hag as United's manager. The display against Newcastle was not just bad; it was alarmingly weak and seemed almost self-destructive. If Ten Hag doesn't find a solution quickly, he may face the same fate as his predecessors – being sacked.

Ten Hag certainly deserves more time, especially to field his first-choice team with players like Lisandro Martinez, Luke Shaw, and Rafael Varane when they are fit. However, it's worth pondering who would take the reins if Ten Hag were to be dismissed. Manchester United is no longer the same attractive prospect for managers. The club faces numerous challenges, including an aging squad, unstable ownership, and heightened competition in the Premier League.

Arsene Wenger, who knows what a formidable United team looks like, recently expressed his sympathy for the club. He noted the team's lack of hope, confidence, quality, and spirit. This sentiment from a seasoned manager speaks volumes about United's current state.

The Manchester United managerial role is approaching a point where it's seen as a potential career-damaging move. The club's issues run deep, and it's unclear who would willingly step into this role. The current environment is highly unstable and toxic, and managers often leave with a tarnished reputation.

While the allure of managing Manchester United remains, the challenges make it nearly impossible. The club is years away from being competitive at the highest level. It has become a place for desperate or financially motivated managers, a far cry from its storied past.

In conclusion, Manchester United's managerial role has become a perilous position. The next manager, whether it's Ten Hag or someone else, will face immense challenges that even the most accomplished managers may struggle to overcome. The club's glorious past seems like a distant memory as it navigates its turbulent present.

Danny Drinkwater's Interview Exposes Football's Deep-Rooted Misogyny
In a recent interview with Danny Drinkwater on the High Performance podcast, a troubling glimpse into the deep-rooted misogyny that exists in football dressing rooms emerged. Among the self-pity and candid revelations, Drinkwater's use of language was telling.

He admitted to a period during his time at Chelsea when he went out drinking and sought to engage with women. While English football has made progress in some areas, this episode exposed the underlying attitudes that still persist in the sport.

It's essential to acknowledge and address these issues to promote a more inclusive and respectful environment in football. Misogynistic behavior and language have no place in the sport.

Declan Rice Booing: A Reminder of the Importance of Respect
Tribalism is a fundamental aspect of football, but it shouldn't come at the cost of respect, gratitude, and understanding. Recently, West Ham fans booed Declan Rice when he returned with Arsenal, which raises questions about acknowledging a player's contributions to a club.

Rice, a former West Ham player, had made a significant impact at the club and brought in substantial revenue when he left. The booing at his return demonstrated a lack of appreciation and respect.

Respecting and honoring past players is a crucial part of football culture, and it's essential for fans to remember the positive contributions of former players, even if they've moved to rival clubs.

Port Vale's Remarkable Journey in the Carabao Cup
Port Vale, a club with a storied history, is set to make a significant return to the spotlight as they prepare to host Middlesbrough in the Carabao Cup quarter-finals. For fans of the club, this is an exciting moment, and it's a testament to the enduring magic of cup competitions.

Back in 1994, Port Vale hosted Manchester United in a memorable encounter, which featured emerging talents like David Beckham and Paul Scholes. Although they lost, Port Vale's journey showcased their potential.

This underlines the essence of cup competitions, offering smaller clubs a chance to shine and create remarkable stories. While critics may argue that these competitions are losing relevance, they continue to provide hope and inspiration to football fans. Port Vale's journey reminds us of the magic that cup competitions can bring.

In conclusion, the Manchester United managerial role is no longer the highly coveted position it once was, reflecting the club's ongoing challenges. The issue of misogyny in football, as revealed in Danny Drinkwater's interview, underscores the need for greater respect and inclusivity in the sport. Declan Rice's booing serves as a reminder of the importance of recognizing a player's contributions. Finally, Port Vale's success in the Carabao Cup demonstrates the enduring allure and magic of cup competitions in football.