Margot Robbie Enjoys a Stylish Day at Perth Beach with Husband Tom Ackerley
Despite her global fame, Margot showed that she is still deeply connected to her Australian roots. On this sunny day, the 33-year-old actress was all smiles, basking in the glory of her homeland with her husband, Tom Ackerley, by her side.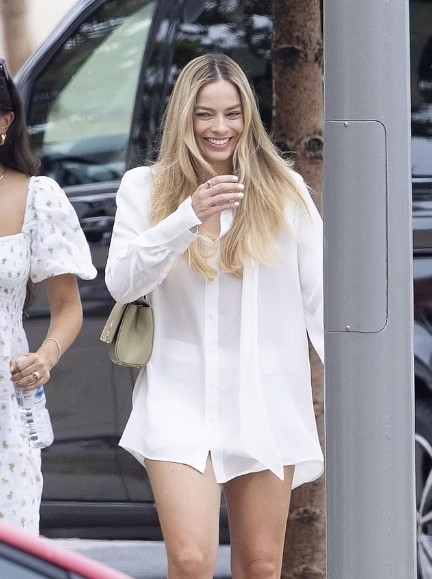 Margot's day out at Scarborough Beach was a fashion statement in itself. She effortlessly flaunted her perfectly toned legs, catching the eyes of onlookers and paparazzi alike. Her outfit was a testament to her impeccable sense of style and her ability to stand out in any crowd.
The centerpiece of her beach attire was a long-sleeved, transparent white blouse that gracefully flowed with the ocean breeze. Paired with this was a pair of chic mini-shorts that elegantly covered just the top of her thighs. The combination of the blouse and shorts highlighted her remarkable figure, and the entire ensemble exuded a casual yet sophisticated charm.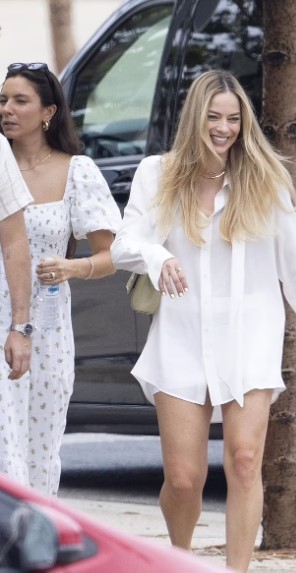 In the footwear department, Margot opted for comfort without compromising style. She chose a pair of classic white Crocs that provided the ideal balance between relaxation and fashion. Her choice of accessories was equally impressive. The actress donned designer sunglasses that not only shielded her eyes from the sun but also added an extra layer of glam to her overall look. Furthermore, she carried a luxurious handbag, a subtle nod to her affinity for luxury fashion.
Margot's attention to detail didn't stop there. A gold necklace adorned her neck, and her nails were meticulously manicured, completing her glamorous beach look. Her luscious blonde locks cascaded in loose waves around her shoulders, embodying the quintessential beachy vibe.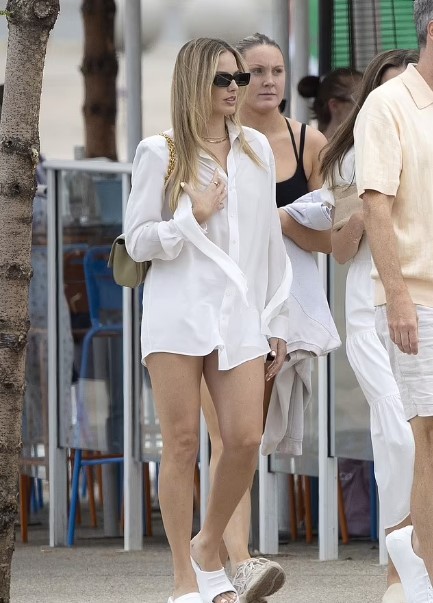 However, the day was not just about fashion. Margot and Tom enjoyed the idyllic beach setting, taking in the beauty of the Australian coastline, and relishing the tranquility of the ocean waves. The couple's shared moments were captured by photographers, showcasing their affectionate and loving bond.
Margot Robbie, hailing from Dalby, a small town in Queensland, Australia, has always had a strong connection to her homeland. Despite her Hollywood career and global fame, she remains proud of her Australian roots and frequently returns to her home country to reconnect with her family and the local culture. Notably, her brother, Cameron Robbie, is an influencer who continues to reside in Australia.
Margot's love for Australia and her people is evident in her interviews and public appearances. She has expressed how much she misses her homeland after relocating to Los Angeles for her career. During an appearance on Nine's Today Show in January, Margot emphasized the warmth and hospitality of her fellow Australians, as well as the correct pronunciation of her name, which is often mispronounced in the United States.
"It's nice to be home and see the reaction," Margot said, reflecting on the enthusiastic response she receives from her Australian fans. The actress cherishes her moments in Australia, especially when she gets to attend premieres and interact with her admirers.
However, this visit home was not without its controversies. Margot stirred the pot when she decided to don a Halloween costume that drew the attention of the media and fans alike. The actress, known for her bold and daring choices, chose to dress up as the vigilante character "V" from the cult film "V For Vendetta" for a Halloween party in Los Angeles.
The choice of costume, while striking and memorable, raised eyebrows within the industry. The Screen Actors Guild-American Federation of Radio and Television Artists (SAG-AFTRA) had issued guidelines advising actors not to post photos of costumes based on characters from struck content. This guidance was aimed at preserving the integrity and reputation of characters from movies and TV shows that were subject to labor disputes or other industry issues.
Margot's decision to ignore the protocol garnered attention and sparked discussions within the entertainment industry. Some praised her for her boldness and creativity, while others questioned whether it was appropriate to use characters from such content as costumes.
Nonetheless, Margot Robbie continues to captivate audiences worldwide, not only with her acting talent but also with her fashion choices and her commitment to her Australian heritage. Her day at Perth Beach with husband Tom Ackerley was yet another instance where she effortlessly combined style and sophistication while celebrating the beauty of her homeland.
Margot's career has been on a meteoric rise, with her performances earning her numerous accolades and critical acclaim. She has become a household name in Hollywood and has established herself as one of the industry's leading actresses.
Her breakthrough role came in the iconic film "The Wolf of Wall Street" alongside Leonardo DiCaprio, which catapulted her to global stardom. Since then, she has taken on a variety of challenging roles, showcasing her versatility as an actress.
Her portrayal of Harley Quinn in the DC Extended Universe has been particularly noteworthy, with her performance in "Suicide Squad" and its spin-off, "Birds of Prey," receiving praise from fans and critics alike. Margot's ability to bring depth and complexity to her characters has earned her a dedicated fan base and numerous awards.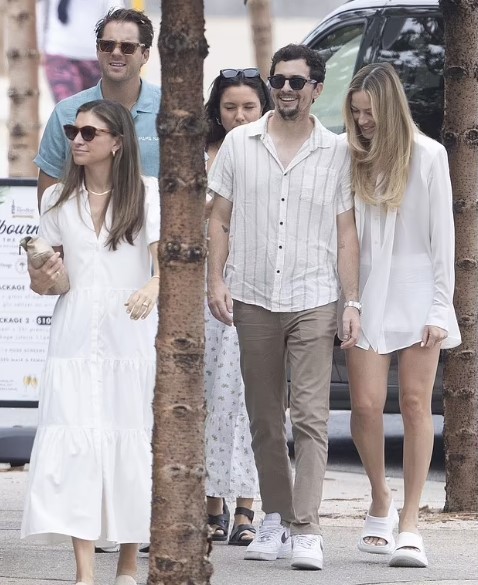 Margot's acting prowess is not limited to the big screen; she has also ventured into producing. She co-founded the production company LuckyChap Entertainment, which has been involved in creating and developing a range of successful projects, including the acclaimed film "I, Tonya," which earned Margot an Academy Award nomination for her portrayal of Tonya Harding.
Moreover, Margot is set to reprise her role as Harley Quinn in the upcoming film "The Suicide Squad," a sequel to the 2016 film. The film is highly anticipated by fans and is expected to further solidify Margot's status as one of Hollywood's most influential actresses.
Her passion for storytelling and her commitment to championing women in the film industry have also led to her involvement in producing female-centric projects that empower women both in front of and behind the camera.
Margot's influence extends beyond her work in entertainment. She has been a vocal advocate for gender equality and has used her platform to raise awareness about important social and environmental issues. Her commitment to sustainability and eco-conscious living has inspired many to make more environmentally friendly choices.
In addition to her professional accomplishments, Margot's personal life has been a subject of interest for her fans and the media. Her relationship with husband Tom Ackerley is often the focus of public attention, and the couple's appearances together are met with adoration from fans.
Margot and Tom first met on the set of the film "Suite Française," where Tom worked as an assistant director. Their relationship developed over time, and they eventually tied the knot in a private ceremony in 2016. The couple's strong bond and public displays of affection have made them one of Hollywood's most beloved pairs.
Margot's undeniable charm and charisma have also made her a sought-after fashion icon. Her red carpet appearances are eagerly anticipated, and she consistently dazzles with her fashion choices. Her style ranges from classic elegance to daring and avant-garde, reflecting her willingness to take risks and experiment with her looks.
In 2020, Margot was announced as the global brand ambassador for Chanel's fragrance and beauty lines, further solidifying her status as a fashion icon.
Does Margot have a child?
No, Margot Robbie does not have a child as of November 2023.
How much did Margot Robbie get paid for Barbie?
Margot Robbie reportedly earned $50 million in salary and box office bonuses for her work on the film Barbie.
Is Margot Robbie a mother?
No, Margot Robbie is not a mother.
Does Margot Robbie have a family?
Yes, Margot Robbie has a family. She has two younger siblings, Cameron and Lachlan Robbie, and her parents are Sarie Kessler and Doug Robbie. She is also married to film producer Tom Ackerley.
Margot Robbie: Unveiling the Actress's Age, Net Worth, and More
Margot Robbie, the celebrated Australian actress, has garnered attention for her work in the entertainment industry. In this article, we delve into various aspects of her life, from her age to her net worth, and her iconic role as Harley Quinn.
Age and Early Life: Margot Robbie was born on July 2, 1990, making her 33 years old as of 2023. She hails from Dalby, a town in Queensland, Australia, and has made a name for herself in Hollywood through her talent and hard work.
Instagram Controversy: Margot Robbie's Instagram account generated quite a buzz when it was reportedly deleted in 2022. This unexpected occurrence left fans and followers puzzled. The reasons behind the account deletion were not widely known, but it stirred curiosity and discussions among her admirers.
Brisbane Connection: Margot Robbie's ties to Brisbane are notable, as she is an Australian native. Her early life and upbringing in Queensland undoubtedly have had a significant influence on her career and personality.
Net Worth: Margot Robbie's net worth has been a subject of interest for many. Her successful acting career and ventures in the film industry have contributed to her substantial wealth. As of my last knowledge updat in January 2022, her estimated net worth was around $26 million, but it's essential to note that her net worth may have changed since then due to her continued success in the entertainment industry.
Children: Margot Robbie has been known to maintain a private personal life. Information about her having children was not available in my knowledge database up to January 2022. It is advisable to check the latest updates from reputable sources for any changes in her family life.
Harley Quinn: Margot Robbie's portrayal of Harley Quinn in the DC Extended Universe has been a highlight of her career. She first played the character in "Suicide Squad" (2016) and reprised the role in the spin-off film "Birds of Prey" (2020). Her captivating performance has earned her a dedicated fan base and critical acclaim, establishing her as an iconic Harley Quinn.
Twitter Presence: Margot Robbie's Twitter presence has been a source of interaction and communication with her fans. It is a platform where she shares insights, news, and thoughts. Fans can stay updated on her activities and interests by following her Twitter account.
Margot Robbie's age, net worth, and her iconic role as Harley Quinn have made her a prominent figure in the entertainment industry. While her Instagram account's disappearance generated intrigue, her ties to Brisbane and active presence on Twitter continue to engage her followers. For the latest information on Margot Robbie's life and career, it is recommended to refer to official sources and her social media profiles.