Margot Robbie's Barbie-Themed Looks Off the Red Carpet During Global Press Tour Revealed
Just days before the release of the Greta Gerwig-directed film, the actress's stylist, Andrew Mukamal, provided a glimpse of the fabulous looks that might have been overlooked amid the Barbie-themed excitement.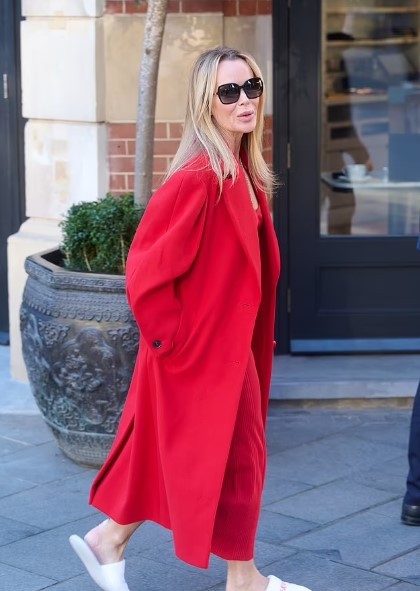 In these behind-the-scenes snapshots, the 33-year-old Australian actress exudes charm and style in a range of outfits that pay homage to the beloved Barbie doll.
Robbie's glamorous ensembles include a sleek pink metallic Versace dress that perfectly accentuated her enviable figure. Paired with a white box bag and transparent pink shades, she stood confidently in white heeled loafers and eye-catching bubblegum pink socks.
The versatile actress then appeared in a yellow tweed Chanel co-ord, reminiscent of Cher Horowitz's iconic style from the 90s classic film "Clueless." Sporting a cropped jacket and a tight miniskirt that showcased her toned midriff, Robbie added a furry purse with a gold chainlink strap and elegant white heels.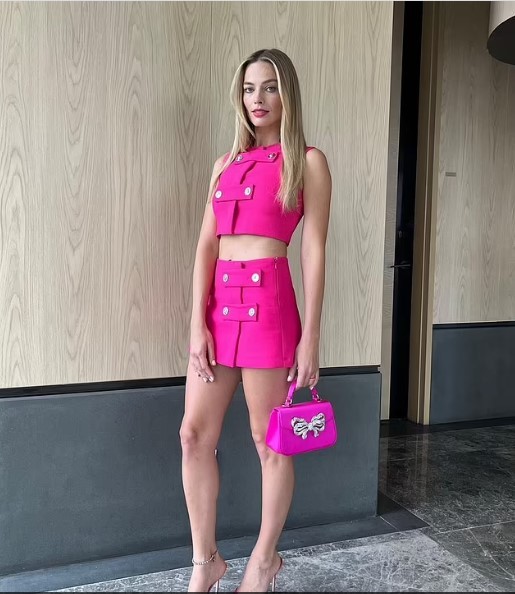 For another captivating look, Robbie donned a striking hot pink Versace ensemble, complete with a matching handbag and kitten heels. The Academy Award nominee radiated confidence in a sleeveless crop top and an ab-baring skirt adorned with large silver buttons, showcasing her fit physique.
Embracing her playful side, one photo in Mukamal's collection captured Robbie within a life-sized Barbie doll box, donning a pink Versace minidress. She struck a pose that seamlessly blended glamour with a sense of fun.
In a final captivating image, Robbie showcased her legs on the front of a pink Lamborghini while wearing a magenta Valentino dress paired with matching stiletto heels.
Margot Robbie's dedication to embodying Barbie's essence both on and off the screen is evident. In a recent interview with PEOPLE, she discussed her commitment to creating an authentic Barbie experience for fans. Collaborating with renowned designers like Chanel, Valentino, Versace, Pucci, and Schiaparelli, Robbie aimed to seamlessly integrate Barbie references with high-end fashion.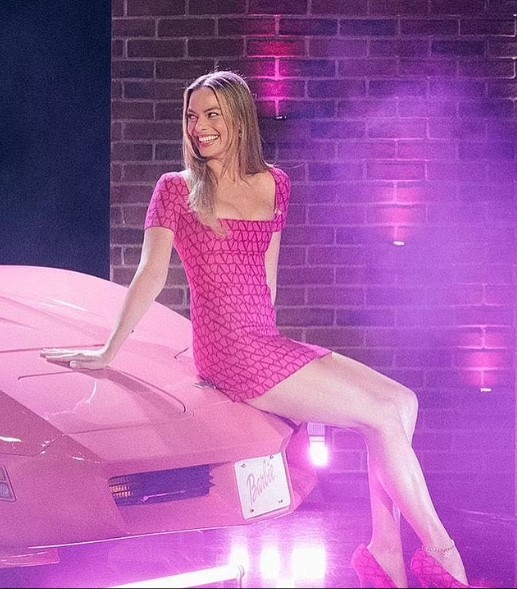 As the leading lady and producer of this much-anticipated film, Robbie passionately pursued her vision. She even confidently expressed her belief that the movie could achieve remarkable commercial success, likening it to iconic films that have reached the billion-dollar mark.
Robbie's portrayal of Barbie is set to resonate with audiences on a deeper level, thanks to the thoughtful script and direction by Greta Gerwig. The film is not only expected to be a box office success but also to deliver a message of self-acceptance and empowerment.
"Barbie" is scheduled to hit theaters on Friday, July 21, promising a unique blend of style, substance, and inspiration for fans around the world.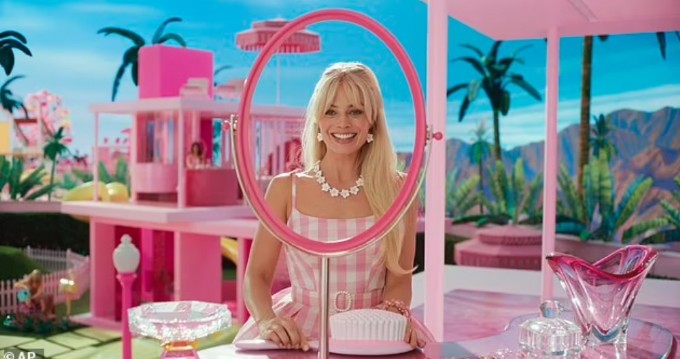 Barbie Movie Salary: Margot Robbie is set to star as Barbie in an upcoming film, which is being directed by Greta Gerwig. While the exact salary for her role in the Barbie movie has not been publicly disclosed, it's common for A-list actresses like Robbie to earn substantial paychecks for their lead roles in major studio films. Robbie's involvement in the project, along with her status in the industry, likely contributes to a significant salary.

The Wolf of Wall Street: Margot Robbie gained widespread recognition for her role as Naomi Lapaglia in "The Wolf of Wall Street" (2013), directed by Martin Scorsese. In the film, she starred alongside Leonardo DiCaprio. While I don't have the specific details of her salary for this film, it's worth noting that "The Wolf of Wall Street" was a major production with a high-profile cast and director, and Robbie's performance received critical acclaim.

Please note that my information might be outdated, and I recommend checking more recent sources for the latest information on Margot Robbie's projects, earnings, and career developments.