Maura Higgins, Jourdan Dunn, and Leomie Anderson Turn Heads at KSI vs Tommy Fury Fight with Sizzling Looks
However, it was the off-screen glamour that caught the attention of onlookers as celebrities graced the event.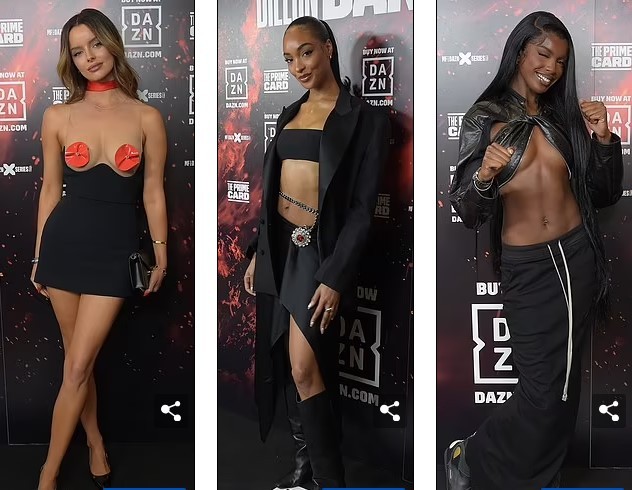 Former Love Island star, Maura Higgins, 32, certainly stole the limelight with a daring and provocative black dress. The risqué outfit featured a see-through top section, sparing little to the imagination. To maintain modesty, strategically placed red poppies provided subtle coverage while showcasing her long and enviable legs in the mini dress.

Model Jourdan Dunn, 33, made a striking appearance in a chic black ensemble, offering a glimpse of her toned midriff. She layered a black tube top under a long, open coat of the same color, adding an edgy touch to her look. A black skirt with a front split and an asymmetrical hem completed her fashion-forward attire. Dunn finalized her ensemble with high-heeled black leather boots, a decorative silver brooch at her waist, and a chain accentuating her midriff.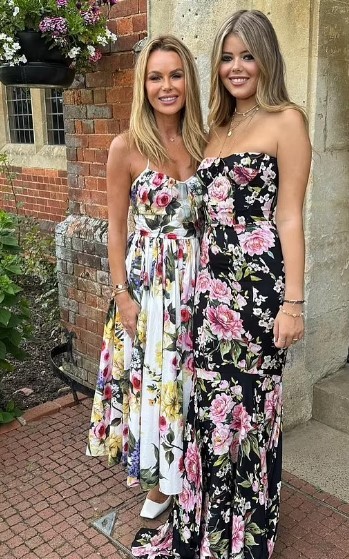 Leomie Anderson, 30, rocked the red carpet with a flaunting display of her impeccable physique. Her black leather top featured a daring crossover design, exposing her entire midriff. She paired it with a long black skirt and comfortable black and white trainers for a stylish, yet practical appearance.

Social media sensations KSI and Tommy Fury battled it out in the boxing ring in what promised to be an epic showdown. KSI, weighing in at 181.3lbs, faced Tommy Fury, who tipped the scales at 182.6lbs. As the two fighters stepped on the scales, they engaged in their final face-off before the eagerly anticipated bout.

KSI, a YouTube sensation, entered the ring following a recent 'no decision' fight against Joe Fournier, during which his TKO victory was overturned after a post-fight review.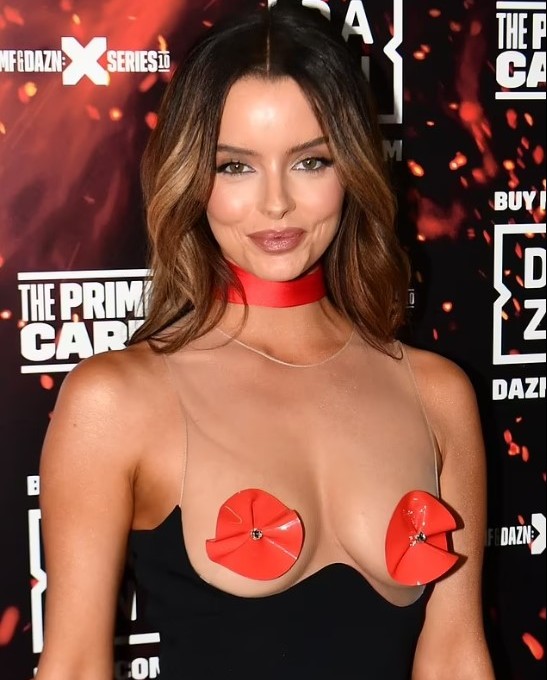 Meanwhile, Tommy Fury, a former Love Island star turned professional boxer, entered the fight with a split-decision win against Jake Paul earlier in the year. The night's co-main event featured WWE star Logan Paul in a return to the boxing ring as he faced off against Dillon Danis.

The fight garnered the attention of millions of fans eager to watch Tommy Fury in action. While many will be watching, there are two special faces in the crowd that Tommy will be counting on for support – his fiancée Molly-Mae and his brother, Tyson Fury.

Tommy and Molly-Mae, who met on Love Island in 2019 and got engaged in July, form a dynamic power couple. Tommy has shown unwavering support for Molly-Mae's influencer career, and she, in turn, stands by his side during his matches.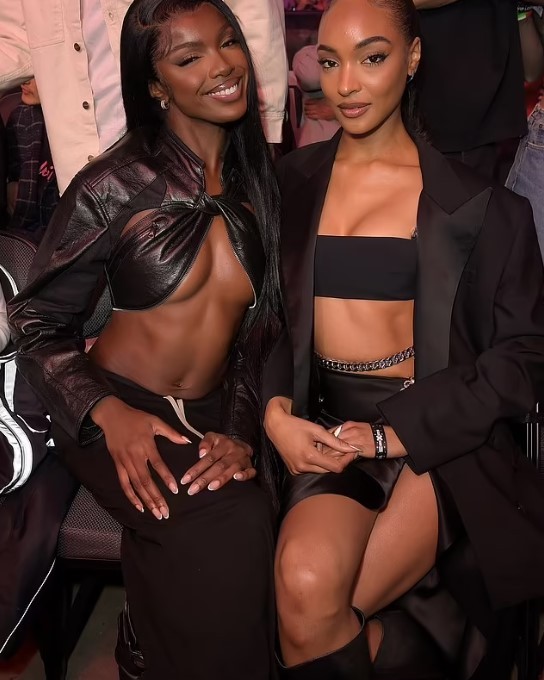 However, Molly-Mae may choose to avert her gaze during the fight. Tommy revealed that his partner "hates" the sport and avoids watching or discussing it. He acknowledged her support, despite her discomfort, acknowledging that watching her partner in the ring is not an easy experience for her.

Molly-Mae endured a 10-week separation from Tommy as he engaged in intensive training for the fight. Tyson and Tommy's father, John Fury, will also be present to support Tommy, with John being actively involved in the fight's buildup.

KSI offered his thoughts ahead of the bout, teasing that it would be a long day for Tommy. He projected confidence and assured that he knows what to do, suggesting that Tommy may struggle under the mounting pressure. The atmosphere was undoubtedly electric as fight night approached, promising a thrilling spectacle for fans.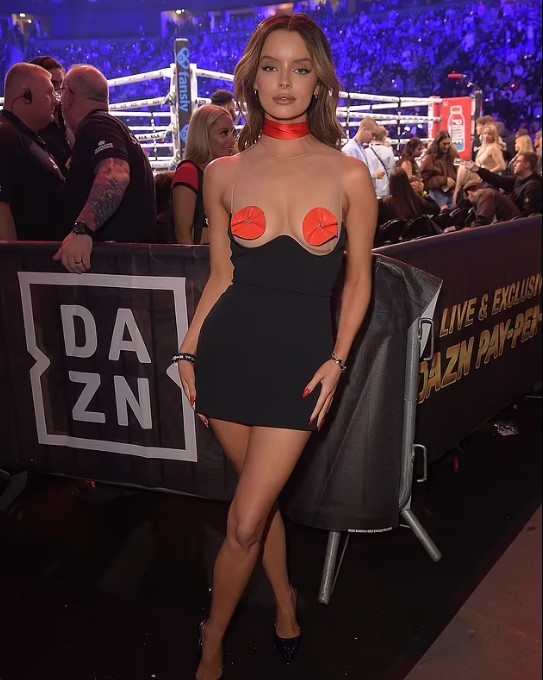 Maura Higgins Net Worth: Discover Maura Higgins' estimated net worth and her journey to success.

Maura Higgins Age: Learn more about Maura Higgins' age and key milestones in her life.

Maura Higgins' Outfit at the Boxing Match: Explore Maura Higgins' stunning outfit at the KSI vs. Tommy Fury boxing match.

Maura Higgins Love Island Season: Find out which season of Love Island Maura Higgins appeared on and relive the moments that made her a fan favorite.

Does Maura Higgins Have a Child?: Get the latest information about Maura Higgins' family life and whether she has any children.

Maura Higgins Love Island 2022: Stay updated with Maura Higgins' involvement in Love Island 2022 and any exciting developments.

Maura Higgins Love Island USA: Learn about Maura Higgins' journey to Love Island USA and her experiences in the American version of the show.

Maura Higgins Instagram: Dive into Maura Higgins' Instagram profile to discover her latest updates, fashion, and lifestyle.
KSI Net Worth: KSI, whose real name is Olajide "JJ" Olatunji, is a British YouTuber, musician, and boxer. As of my last knowledge updat in September 2021, his net worth was estimated to be around $20 million. However, this figure may have changed since then due to his various endeavors.

KSI Unit: KSI's "unit" typically refers to his YouTube channel's subscriber count, video views, or fans. He has a significant following on YouTube and social media platforms.

KSI Height: KSI stands at a height of approximately 6 feet 0 inches (183 cm). His physical attributes, including his height, have been subjects of discussion among fans.

KSI Boxing: KSI transitioned from YouTube into professional boxing. He gained recognition for his amateur boxing match against fellow YouTuber Joe Weller and went on to have professional boxing matches against Logan Paul.

KSI Twitter: KSI maintains an active presence on Twitter, sharing updates about his various projects, music releases, and interacting with fans. His Twitter handle is @KSI.

KSI Prime: There isn't specific information readily available about "KSI Prime." It could potentially refer to a paid service or platform associated with KSI, but additional context is needed to provide accurate information.

KSI vs. Tommy Fury: KSI and Tommy Fury are both known for their boxing careers. Their potential match would generate significant attention from fans, but as of my last update, this fight hadn't taken place yet. You may want to check the latest updates regarding this match.

KSI YouTube: KSI is widely recognized for his YouTube channel, where he started by creating gaming content and later transitioned into vlogs, music, and other forms of entertainment. He has millions of subscribers on his YouTube channel, and his videos have garnered billions of views.