Max Verstappen Holds off Lewis Hamilton to Win the US Grand Prix
The race kept fans on the edge of their seats, with Hamilton coming tantalizingly close to a long-awaited win.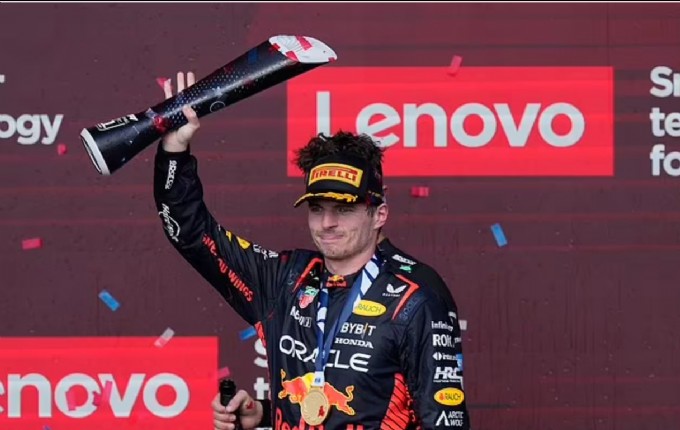 Hamilton's hopes soared as he initially matched the early leader, Lando Norris, lap for lap. He seemed poised for victory on a track where he has a history of success. However, two critical events altered the course of the race.

Firstly, Mercedes extended Hamilton's first stint, which would later be a pivotal factor. Secondly, Max Verstappen, often referred to as "Max The Machine," showcased his racing prowess once again. Despite starting from the sixth position, Verstappen and his Red Bull team made strategic choices that ultimately led to his 15th win of the season and 50th of his career.

Verstappen's victory margin over Hamilton was a mere 2.2 seconds, marking a significant milestone as he joined the exclusive "half-century club" alongside Hamilton (103), Michael Schumacher (91), Sebastian Vettel (53), and Alain Prost (51).

Lewis Hamilton displayed a never-say-die spirit as he secured the runner-up position. In the closing stages of the race, he made a remarkable pass on Norris, who ultimately finished third. Both British drivers demonstrated their skill and determination but were unable to achieve their hopes of victory, settling for a commendable podium finish.

Norris, celebrating his 100th grand prix, made a blazing start and outpaced Charles Leclerc to take the lead in the early stages of the race. The climb uphill, surrounded by a sun-baked crowd of spectators, was a sight to behold, and the drivers navigated it flawlessly.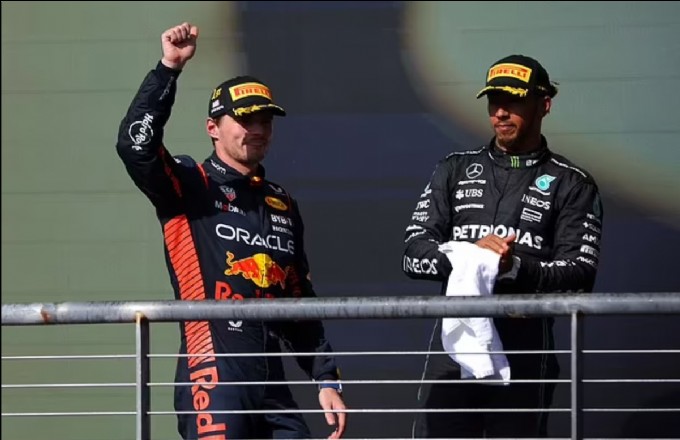 Hamilton, initially relegated to fourth place, showcased relentless driving, harnessing the speed of his upgraded Mercedes to make significant progress. He moved from fourth to third after a skillful pass on Carlos Sainz. With DRS enabled, Hamilton continued his charge and secured second place by overtaking Leclerc at Turn 12.

With Norris leading, Hamilton embarked on a pursuit to catch the front-runner, although he remained four seconds behind. The Texan sun bore down on the circuit, witnessed by none other than Prince Harry, who observed the race with keen interest from the Mercedes garage.

However, the dynamic of Formula 1 racing often hinges on the undeniable prowess of Max Verstappen. Despite a rare qualifying error when he exceeded track limits, Verstappen's sixth-place start did not deter him. He advanced to fifth and steadily progressed through the ranks, overtaking Sainz and Leclerc.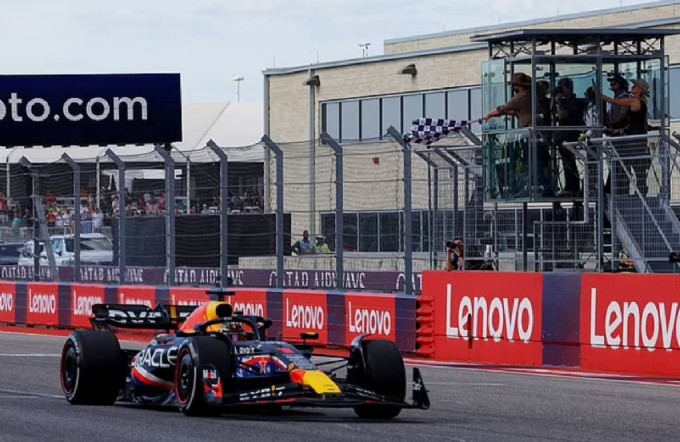 As the race unfolded, the spotlight turned to Norris and Hamilton. The two British drivers, hailing from Glastonbury and Stevenage, respectively, raced lap for lap, hoping to claim the coveted top step on the podium.

Norris maintained a narrow lead of approximately two seconds over Hamilton, setting the stage for an intense battle between the promising young talent and the seasoned champion.

The race's turning point arrived as pit stops became a pivotal factor. Norris, opting for fresh tires after 17 laps, ceded the lead to Hamilton. The tantalizing prospect of Hamilton securing his first win in 686 days loomed.

The critical question was whether Hamilton could successfully execute a one-stop strategy, and his exchange with his race engineer, Peter Bonnington, offered insight into the challenge he faced. The laps took their toll on the tires, and Hamilton's response indicated the daunting task ahead.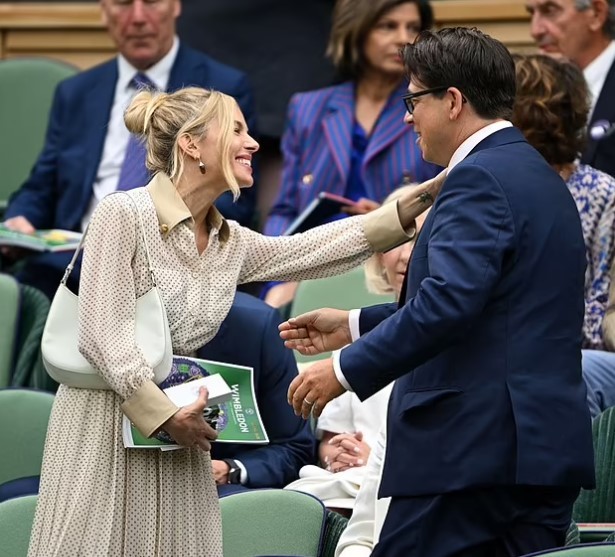 The race's tension reached its peak as Verstappen came into play. He had made the fastest lap, a stunning 2.7 seconds quicker than the rest. Hamilton's pit stop, albeit belated, had the unexpected consequence of returning him behind Verstappen, setting the stage for a dramatic showdown.

Verstappen's pursuit of Norris unfolded swiftly, culminating in a pass for the lead. Norris briefly contested the position, but Verstappen's dominance was undeniable. While Verstappen charged ahead, Hamilton steadily closed the gap.

The race's final twist hinged on tire strategy, with the top three drivers all requiring another pit stop. The importance of making the right decisions came to the forefront. As events unfolded, it became evident that Red Bull Racing and Max Verstappen were once again the ones to trust.

In a season characterized by intense competition and strategic brilliance, Max Verstappen clinched his 15th victory of the season, securing his position as one of Formula 1's elite drivers. The relentless battle between Verstappen and Hamilton continues to captivate racing enthusiasts worldwide.

In the world of Formula 1, one truth remains constant: trust in Red Bull, trust in Verstappen.

The 2023 season unfolds with exhilarating races and unexpected outcomes, promising excitement for motorsport fans across the globe.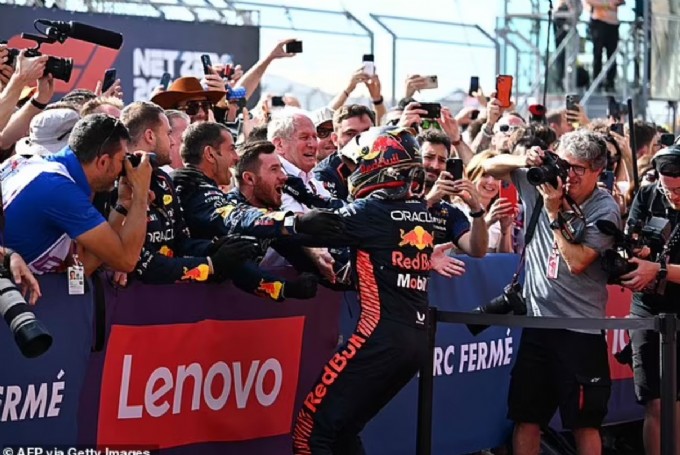 Max Verstappen Net Worth: Max Verstappen's net worth is estimated to be in the tens of millions of dollars. His earnings come from his salary as a Formula 1 driver, endorsements, and various business ventures. As one of the sport's brightest stars, his net worth continues to grow.
Max Verstappen Age: Max Verstappen was born on September 30, 1997, which makes him a young and highly successful driver. He has a long and promising career ahead of him.
Max Verstappen Salary: Max Verstappen's annual salary in Formula 1 is substantial, often making him one of the highest-paid drivers on the grid. The exact figures can vary from season to season due to contract negotiations.
Max Verstappen Wins: Max Verstappen has accumulated numerous Grand Prix wins in his career. As of my last knowledge updat in September 2021, he had secured multiple victories, with the potential for more wins as his career progresses.
Max Verstappen Championship: While Max Verstappen has not yet won a Formula 1 World Championship as of my last update, he has consistently been a strong contender in the championship standings. He is widely seen as a future world champion.
Max Verstappen Song: There is no widely known song specifically associated with Max Verstappen. However, like many public figures, he may have been referenced in songs or featured in music-related events.
Max Verstappen Car: Max Verstappen drives for the Red Bull Racing Team in Formula 1. The car he drives changes from season to season as teams develop new models. The Red Bull Racing car is highly competitive and designed to maximize Verstappen's driving skills.
Max Verstappen Dad: Max Verstappen's father, Jos Verstappen, is a former Formula 1 driver. Jos played a significant role in Max's early racing career, providing guidance and support as he rose through the ranks of motorsport.
Lewis Hamilton Net Worth 2023:Lewis Hamilton's net worth was estimated to be around $285 million at that time. His net worth has likely continued to grow due to his racing career, endorsements, and business ventures.
Lewis Hamilton Wife: As of my last update, Lewis Hamilton was not married. However, his romantic life and relationships might have evolved since then, so it's a good idea to consult current sources for up-to-date information.
Lewis Hamilton Age: Lewis Hamilton was born on January 7, 1985, which makes him around 38 years old as of October 2023.
Lewis Hamilton Shakira: There is no widely known association or relationship between Lewis Hamilton and Shakira. Both are prominent figures in their respective fields (Formula 1 and music), but there is no publicized connection between them.
Lewis Hamilton Championships: As of my last update, Lewis Hamilton had secured multiple Formula 1 World Championships, becoming one of the most successful drivers in the sport's history. The exact number of championships can vary based on any additional wins since September 2021.
Lewis Hamilton Wins: Lewis Hamilton has accumulated numerous Grand Prix wins throughout his career. His win count was impressive as of my last update, and it's important to refer to recent statistics to get the most accurate and up-to-date count.
Lewis Hamilton Retirement: As of my last update, Lewis Hamilton had not announced his retirement from Formula 1. However, career decisions can change over time, and it's advisable to verify the latest news to determine if he has made any retirement announcements or changes to his racing career.
US Grand Prix Tickets: If you're interested in purchasing tickets for the US Grand Prix, you can typically find them on official Formula 1 ticketing websites, as well as through authorized ticket sellers. The availability of tickets, pricing, and seating options may vary depending on the circuit and the specific race year. Be sure to check the official Formula 1 website or the official website of the hosting circuit for ticket information.
Las Vegas Grand Prix: As of my last knowledge updat in September 2021, there was no Formula 1 Grand Prix race in Las Vegas. Please consult the latest Formula 1 race calendar and official sources for any developments or announcements regarding a Las Vegas Grand Prix.
US Grand Prix Qualifying: Qualifying sessions for the US Grand Prix, as with other Formula 1 races, typically occur on the day before the main race. The specific schedule and timing of the qualifying sessions can be found on the official Formula 1 website or race-specific websites closer to the event date.
US Grand Prix Schedule: The schedule for the US Grand Prix can vary depending on the year and the circuit hosting the race. Formula 1 races typically include practice sessions, qualifying sessions, and the main race. To obtain the most accurate and up-to-date schedule for a specific US Grand Prix, visit the official Formula 1 website or the official website of the hosting circuit.
Miami Grand Prix: The Miami Grand Prix was announced as a new addition to the Formula 1 calendar for 2022. It is expected to take place at the Miami International Autodrome. The event aims to bring Formula 1 racing to the city of Miami, Florida. For information on tickets, schedules, and updates regarding the Miami Grand Prix, consult official Formula 1 sources and the Miami Grand Prix's official website.
US Grand Prix Standings: The Formula 1 World Championship includes drivers' and constructors' standings. These standings can be found on the official Formula 1 website, which is regularly updated throughout the racing season. The standings show how drivers and teams are performing in terms of points earned.
US Grand Prix Location: The location of the US Grand Prix can vary from year to year. Formula 1 races have been hosted in different locations within the United States. Common host cities include Austin, Texas, where the Circuit of The Americas is located, and Miami, Florida, for the Miami Grand Prix. The specific location for each year's race is determined by the race calendar, so it's essential to check the official Formula 1 website for location details for a particular season.
US Grand Prix Live: Formula 1 fans can watch the US Grand Prix live through various broadcasters and streaming services. The official Formula 1 website provides information about where to watch races live in different regions. You can also check with local broadcasters, streaming platforms, or cable providers that have broadcasting rights for Formula 1 races.